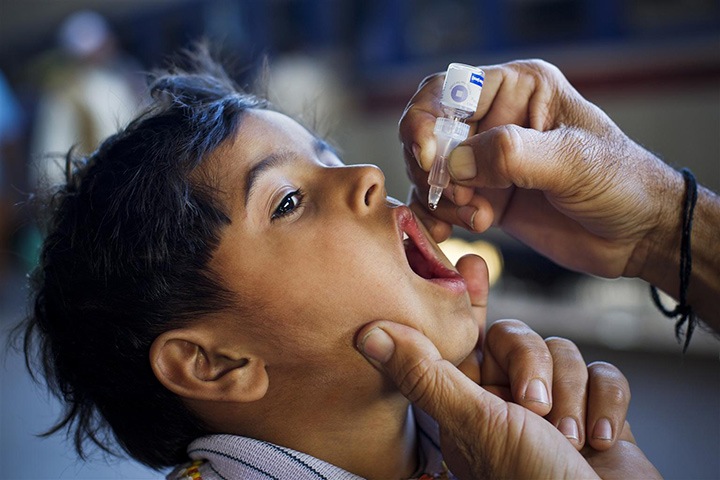 IPCC spend Over a billion US dollars on Polio Eradication: Results and examples from Nigeria
Abuja, 23 August, 2017 – The Chairman, International Polio Plus Committee (IPPC), Mr Michael McGovern, has disclosed that Rotary International has spent close to 1.7 billion US dollars on polio eradication with most of the funding going to Nigeria's polio programme.
Mr McGovern disclosed this when he paid a courtesy visit to the Country Representative of the World Health Organisation (WHO) Nigeria, Dr Wondimagegnehu Alemu, at his office in Abuja. The Chairman of the IPPC disclosed that "We have invested close to $1.7bn in the eradication of polio globally with the largest funding being invested in Nigeria due to the size of the country, the quality of the program and number of children that need to be reached"
The IPPC Chairman who was in the company of Rotary International Polio Plus Director Carol Pandak, the National Polio Plus Chair Dr Tunji Funsho, and local Rotarians expressed satisfaction with ongoing polio eradication activities particularly noting WHO's role in controlling polio outbreaks in Nigeria. "The work that WHO does to help get those drops in the mouths of children, the staff that they have, health workers and all polio eradication personnel that they fund, we couldn't be any prouder than to support them."
Mr McGovern noted that "despite the disappointment a year ago when four cases of wild poliovirus were detected in Borno", the government rose to the challenge when it mounted robust national and international border campaigns. The Chairman expressed his appreciation to the government and partners for taking up the challenge in Borno very seriously stating "this is one of the real battle-fronts in the effort to eradicate polio."
Earlier in his speech at the meeting with the Rotarians, Dr Alemu expressed his appreciation with the visit and highlighted the important role played by Rotary and Rotarians in polio eradication particularly acknowledging their role in advocacy and financial support.
The Team Leader of the WHO Expanded Programme Immunisation (EPI) Dr Fiona Braka while noting the progress that has been achieved in polio programme in Nigeria however disclosed the challenges currently facing the programme in the North East especially in areas of Borno "where accessibility is still a challenge". She however disclosed that various innovations that include Reaching Every Settlement (RES), Reaching Inaccessible Communities (RIC) and transit point vaccinations are currently being implemented to reach children in areas that are inaccessible.
Since the launch of the global polio initiative in 1988 over fifteen (15) billion US dollars has been raised to support polio eradication activities globally. These funds which have gone into supporting the implementation of polio campaigns, operations and other polio activities have assisted greatly in reducing the number of wild polio cases from about 350,000 at the start of the initiative to nine (9) confirmed cases so far in 2017.