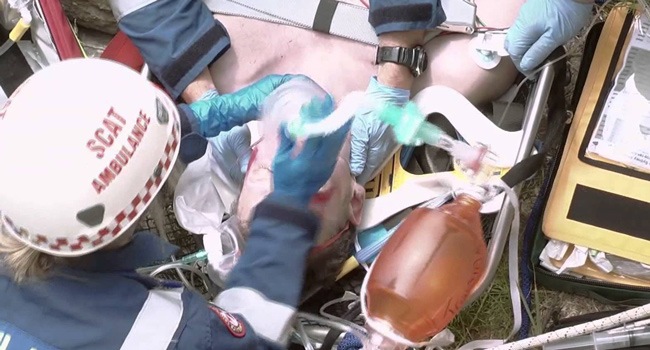 RSI indications from australian HEMS
Advanced airway management including rapid sequence intubation (RSI) is a fundamental component of advanced prehospital care.
Securing airway patency and protection is an essential skill in caring for the multiply injured patient. It maximises oxygenation of critically injured patients, enables their safe transport to hospital, facilitates neuroprotection as well as rapid in-hospital investigation and definitive care.
The extra time spent on scene securing an airway (even by skilled clinicians) is one of the greatest controversies in prehospital care . This time is often offset by the time saved during the transport and in-hospital phases of resuscitation as long as it is performed safely and expeditiously. Prehospital RSI scene times of less than 20min are achievable and should be the target during training.
Prehospital RSI is potentially more risky than in-hospital RSI because of the difficulties of the prehospital environment and therefore every effort must be made to ensure the safety of the procedure. In aviation and military settings it is well accepted, that the higher the acuity of the situation, the greater the need to remove individual procedural preference and the greater the need to adhere to a standard operating procedure.
The manual below describes a system for prehospital RSI; however, many of the principles may be translated directly to in-hospital practice, particularly in skill- or resource-limited settings where retrieval team equipment and expertise may be required to provide the most safe and expedient airway management.
[document url="https://nswhems.files.wordpress.com/2011/09/rsimanual2-0final.pdf" width="600″ height="600″]