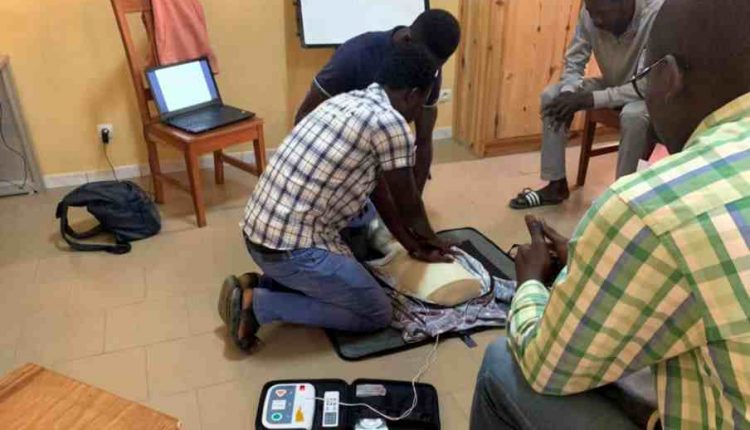 The importance of Cardiopulmonary Resuscitation: early intervention can save a life
The importance of Cardiopulmonary Resuscitation: over 400,000 people in Europe suffer an out-of-hospital cardiac arrest every year, 60,000 in Italy alone
However, in Europe, cardiopulmonary resuscitation is started before the arrival of the ambulance in only 58% of cases. In Italy, in 33% of cases.
This is why it is essential to raise awareness of cardiopulmonary resuscitation: being able to recognise a cardiac arrest and intervene promptly can save a life
What is cardiac arrest and how to recognise it
Cardiac arrest is an extremely serious event that occurs when the heart can no longer circulate blood and deliver oxygen to the body. Suddenly, a person in cardiac arrest
loses consciousness and does not wake up unless called and shaken;
stops breathing normally and making other movements.
The difference between cardiac arrest and heart attack
Do not confuse the more common myocardial infarction with cardiac arrest.
In fact, myocardial infarction can be the cause of the latter, but it requires different treatment and if recognised promptly can be treated effectively in hospital.
DEFIBRILLATORS, VISIT THE EMD112 BOOTH AT EMERGENCY EXPO
Cardiopulmonary resuscitation, what to do in case of cardiac arrest
Once these signs have been recognised, it is essential to act immediately as follows
immediately call for help on the single emergency number 112 where active or on 118 (Europe and Italy);
send another witness to find an AED semiautomatic defibrillator;
perform cardiopulmonary resuscitation.
How to perform cardiopulmonary resuscitation (CPR)

In the absence of or while waiting for the defibrillator and while waiting for help, you should immediately begin cardiopulmonary resuscitation manoeuvres, which is performed in simple steps:
place your hands over the centre of your chest;
compress quickly, 2 times per second, without interruption
let the chest rise between compressions without removing the hands.
When we call 112/118, the operator who answers will help us to recognise the cardiac arrest and will guide us to do the necessary manoeuvres even if we do not know them or do not remember them and can tell us if an AED is available nearby.
Cardiopulmonary resuscitation can, and should, be performed by anyone witnessing a cardiac arrest and is essential to save a life.
DEFIBRILLATORS OF EXCELLENCE IN THE WORLD: VISIT THE ZOLL BOOTH AT EMERGENCY EXPO
ECMO (Extra Corporeal Membrane Oxygenation)
ECMO replaces the function of the heart and lungs using a machine very similar to the one used for extracorporeal circulation.
In refractory cardiac arrest patients, ECMO is only an effective treatment if these patients have not suffered irreparable brain damage before arriving at the hospital caused by the interruption of circulation and consequently of oxygenation.
To prevent this from happening, anyone can partly replace the function of the heart with cardiac massage by providing at least some of the oxygen that the cells need.
This is why cardiopulmonary resuscitation is so important: those who survive a cardiac arrest often owe it to the preparedness and readiness of the people next to them at the time.
Read Also:
Inflammations Of The Heart: Myocarditis, Infective Endocarditis And Pericarditis
Heart Murmurs: What It Is And When To Be Concerned
Source: