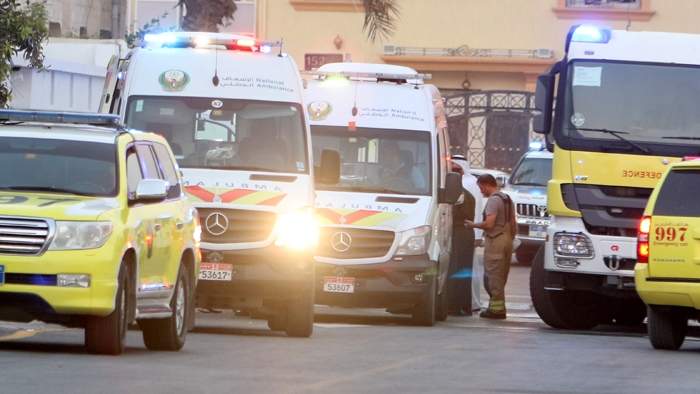 中東の救急車サービスの将来はどうなるのでしょうか?
中東地域のEMSの将来は何が変わるのでしょうか? 救急車と緊急サービスは、より効率的であらゆる状況に直面する準備ができるように、テクノロジーとガイドラインを開発しています。 これで何が期待できますか?
The future of EMS in the Middle East is one of the main topics that has been discussed in the last years. It was also one of the main topics reported during アラブ健康2020. Ahmed Al Hajri, CEO UAEの国立救急車 shares his opinion related to the future of EMS in the ME. This will be a quick overview of the EMS system in the Middle East region regarding ambulances, protocols, equipment and education however this ideas need to be adapted and implemented according to the country needs.
The example of the National Ambulance of UAE in the future of the EMS in the Middle East

The National Ambulance believes and decides to take this experience and to implement it according to National Ambulance needs in terms of response time, type of emergency response vehicle, level of emergency personal, the patient population in the North Emirates, the scope of practice, education and training needed per level, including dispatch system and communications with other facilities.
On the occasion of Arab Health 2020, we wish to know more about this changings and we talked with アヘド・アル・ナジャール, Clinical Education Manager of National Ambulance of UAE, who is now working on education improvements.
EMSの将来の患者輸送システム:中東でのニュースはどれだったでしょうか?
「私たちは、過去15年間の救急医療サービスの開発全体を検討する必要があります。 中東だけでなく、この地域での経験は、次のようなタイプのニーズから始まりました。 緊急車両 そして、どのような目的(基本、高度、専門)のために、その後、機器のアップグレードを含め、これらの車両を使用しなければならない人員の教育と訓練を行います。
挽き目 練習の範囲 統合されており、地域医療、公衆衛生、病院、外傷センター、その他の救急医療システムの一部であるヘルスケアシステムの特殊なアップグレードなど、多くのシステムも統合されています。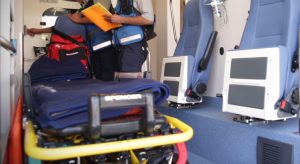 From 2005 to 2010 there were different guidelines for ambulance specification according to the needs, safety and the one who is driving the ambulance and other training specifications needed for a ground ambulance or air ambulance. EVOS started to represents an important step toward ensuring ambulance safety on the roads. In addition to training improvements, technology has been developed that provides ambulance drivers with automatic, audible feedback when they are not driving according to standards.
2011により、中東および他の近隣諸国では、EMTレベルが修正、更新され、救急医療学位としての国家EMTプログラムおよび学士号プログラムの開発が開始されました。 の改善と開発 EMS教育 まだゆっくりと動きますが、強い影響があります。
15 years ago we started the EMS service with nurses, due to the needs at that stage most of the oil and gas and remote location companies asked to develop such approach to cover the gap in finding national EMTs / Paramedics, therefore, we start developing a specific program for them to become EMTs, called RN to EMT Transition program so they could operate on ambulances and EMS Operation. From 2007 we started establishing more nurses to work in remote medicine and remote paramedics, but we call them remote Medics/remote Nurse.
2011によって隣国の1つで状況が変化し、教育プログラムが4年学位プログラムになり始めました。または他の国では卒業証書(職業プログラム)として1年学位プログラムになりました。
トレーニングの実践が変更されただけでなく、各レベルの学習目標を強化することによりプログラムを教える教育方法も変更されました。 さらに、改善と開発には、リモート診断ユニット、視覚遠隔医療ユニット、ECGモニター、換気装置などの機器が含まれます。 数年前、私たちは非常に基本的な救急車を使用していました。
Now we dispose of a mobile ICU vehicle, we have vehicles dedicated to emergency response, Bio-protection Unit, Gynecology and obstetrics, portable Satellite multipurpose Teleclinic, Four Wheel (Quad) Emergency buggy and medical advance team. Personally, we believe that there is still so much more to come because of the technology in high speed in favour of saving life faster and in a shorter time for emergency response. EMS Response of the Future Can Connect New Technology to Save Lives."
Patient care on the ambulance: how do you see the future of emergency devices like stretchers?
" 世界の緊急ストレッチャー市場 is driven by increasing the number of road accidents across the globe. Therefore there is a forward movement in technology as automation in the emergency stretchers. However, there are much scientific evidence and researches came in the EMS in supporting or not supporting for the use of 固定化 devices and Ultrasound units in prehospital setup.

However, there still are many pieces of evidence which are not clear in the matter of ambulance devices and there is still more researches needed in a different environment, and so the addressee finds in a situation that is not forced to utilize a specific device, but in case he can. The most important fact is to minimize the complications of the patients on-site.
Future of the ambulance equipment is still wide, especially for us that now are using a wide section of 遠隔医療 protocols of transportation patients and data sharing with the facilities before we arrive. So the exact future of one single device is hard to see, but we can assure that technology will surely improve and will give us new methodologies of work.
There are many technology investments coming like flyboard dual-aviation devices could shorten the response time too. There is some experience in using Medical Evacuation Pod which designed to access inaccessible remote locations, also drone flies in rapidly to secure area including utilizing medical drone rapidly transports an AED と medical care supplies to remote areas. In conclusion, investing in current and future technology can help us save time reaching patients, accomplish important EMS system tasks, present us with a high return on our investment in technology, save money on personnel and in operational areas and, most importantly, save additional lives."
気候変動はどうですか? 温度が高すぎて脱水のリスクがある救助活動の課題に直面する必要がありますか?
"At the moment, this is not a problem in the region because there are no areas that can be considered so remote unless in an environmental emergency which is rare at the current status. So, the probability that a first responder suffers from 脱水 or 疲労 is very low. We can apply this more in other regions or countries espouse to multiple 野火 と ハリケーン.
国立救急車 is now establishing an Emirati EMT program 3rd batch based on updated teaching methodologies, wireless information technology, flipping classroom, medical simulation to teach effective communication in EMS, integration of the education with other services and techniques which will permit us to enhance what's taught in the classroom and are great examples of education that can be bridged into practice.
EMTの生徒の批判的思考を強化して、生徒の対応を迅速化します。 現在、 国立救急車の対応 時間は平均9分以内です。」
Ambulance dispatch: which are the aims you manage to reach in the Middle East?
"In the US: An estimated 240 million calls are made to 9-1-1 in the U.S. each year. In many areas, 80% or more are from wireless devices. More than 90% of the world's road-traffic fatalities occur in developing countries, according to the 世界保健機関. With the world. In the North, Emiratis-National Ambulance received 115,000 calls per year.
挽き目 派遣 支援の要請によって定義され、その後、対応する救急車チームとデータが迅速に共有されます。 重要な患者情報をチームのすべてのメンバーに同時に送信すると、通信エラーの機会が減ります。 すべての部門には必要な重要なデータがあり、並行して作業して、最も効果的な方法で適切なケアを提供できます。
技術の開発は再び人々の jobs 簡単、効率的、効果的です。 最初のレスポンダーから病院までのケアシステムのすべてのプロバイダーは、通常、Voice over Internet Protocolの使用を含む複数のモバイルデバイスにアクセスできます。技術の絶え間ない改善のおかげで、開発に関してはまだまだあります。
Emergency dispatch and ambulance response have never been more important. With ageing populations in many countries, increases in chronic disease around the world (and especially in Western nations), economic difficulties in many communities leading to limited or declining resources, increased use of emergency services as primary care by the uninsured, and increasing expectations from the public,154,155 emergency services agencies need strong, evidence-based cases for their practices and a deep foundation of research on which to base decisions. ディスパッチャ themselves, having finally obtained recognition as public safety and public health professionals will also benefit from participating in research that validates their professional value."
Are you thinking to help other friendly countries which still have no possibility of building an ambulance service of high-quality like yours?
"In 2006 we started in フィリピン, インドネシア と ナイジェリア and we are interested to support the friendly countries in the EMS field. There are professionals and laypeople in many countries that are better prepared for emergencies through his efforts. We will sure extend hands to the countries who are most in need of support. For what concerns me, personally I'm helping improving emergency medical services and cardiovascular care education centres in ジャカルタ, Indonesia."
読んだりする
Discover the National Ambulance Service UAE