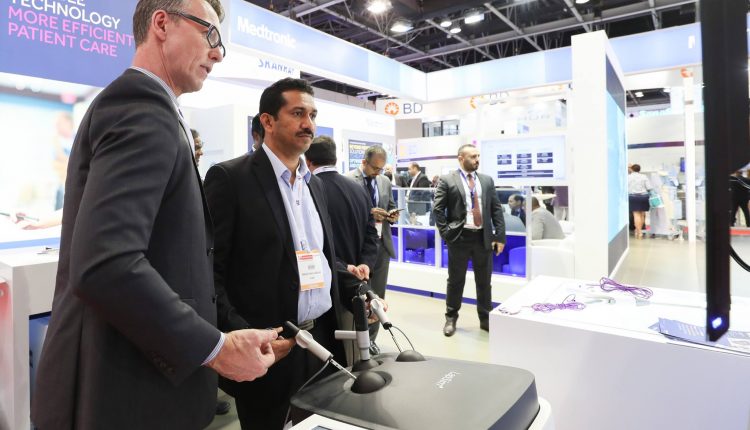 Arab Health: 10 important exhibitors you should never miss
Who is waiting for you at Arab Health with outstanding products and services?
After 44 years Arab Health remains the most important Exhibition among the MENA countries for medical and emergency devices. What do you need to know about the main sponsors?
Arab Health is the heart of healthcare in the Middle East. 4.500 companies will show their products and solutions there, giving you the right one at the right price.
As the largest collection of healthcare product manufacturers and service providers under one roof, Arab Health is too big to be walked and visited in one time.
Whether you're looking to EMS pre-hospital solutions or medical innovations, here are ten not-to-miss exhibitors that Emergency Live suggests you to visit during your time in Arab Health.
BOOTH O.S33 – Spencer EMS
The Cinco Mas stretcher for every ambulance around the world

The leading European EMS brand Spencer has been inventing solutions for emergency since 1989. Spencer answered the most complex problems of pre-hospital care, and its medical devices represent the avant-garde solution in the transportation field. During Arab Health Spencer will discover a new solution for the multi-level stretcher: Cinco Mas. This stretcher implement new features for facing all the difficult situation that a rescuer has to resolve. Cinco Mas is the compact, lightweight self loading stretcher with 5 adjustable heights created for maximum ease of use. Unlocking of the varying heights is done by a moulded frame positioned along the entire front of the stretcher. Its operation mode has been designed to prompt the operator for correct use when changing configuration.
BOOTH M.C10  – CLARIUS
Portable ecography for EMS and more
No cables, no extra monitors, no problematic interfaces. Yes, Clarius is not the best image solution if you want to compare it with a hospital device, but it is a good option if you are thinking about a smart solution for healthcare providers in out-of-hospital context. Furthermore, the Clarius Scanners have been tested to meet the IEC 60601-1-12 standard and the RTCA DO-160G, Category U2 requirements for rotary winged aircraft. If it fits the HEMS needs, why do you want a different solution in the back of your ambulance? The most interesting feature? Of course, the app. It will have more than 20 preset for realizing your exams. You are ready to scan with a click. Saving time, giving to the A&E an immediate visual of the problems and getting ready for the transport in a quick is the right choice on any occasion.
BOOTH S3.D30 – Dräger
New solutions for ICU and NICU
Dräger is an international leader in the fields of medical and safety technology. "Technology for Life" is the guiding philosophy, and the solutions presented during Arab Health are on that pathway of development. In 2019 the company will launch a new Segment Hospital Communication Approach, positioning Dräger as the specialist in critical care. As Neonatal Intensive Care Unit developer, Dräger has a new solution for developing countries.
For example, MiraCradle® is a CE marked neonatal cooler that enables controlled cooling of newborn infants to support therapeutic hypothermia (TH) for birth asphyxia. The product has been developed with patented Phase Change Material (PCM) to maintain the temperature of the infant at 33–34°C (91.4–93.2 F) for the entire treatment duration of 72 hours, consistent with current best practices. Leveraging sophistication in material engineering, the product offers temperature specificity by current servo-devices less than one-fifth of the cost.
BOOTH S1.H59  – Devilbiss
Suction unit and aerosol therapy solutions for Emergency Care
In respiratory distress, each second counts. More precisely, every breath counts. This is why thinking about an aerosol delivery solution in your ambulance is good, but choosing a high-performance solution is not an option. Devilbiss will present at Arab Health the new AirForceOne mini, which is the ideal solution for aerosol delivery. Devilbiss is also the producer of the most compact and portable suction unit in the world, used in the most performing suction systems for ambulance providers. All the Devillbiss solution use modern compressor-technology which are lightweight, low noise, user-friendly and really small.
BOOTH SA.F51 – Ambu
Invasive procedures and airways. Bronchoscopy in a new category

Ambu has launched the aScope BronchoSampler: An integrated sampling solution, which complements the Ambu® aScope™ 4 Broncho, to improve the bronchoscopic sampling workflow and level of safety in the intensive care setting. With this launch, Ambu has once again brought innovation to the single-use bronchoscopy category to benefit both clinicians and their patients.
BOOTH S2.B10  – MASIMO
New integrated diagnostic intelligence
Communication from the target to the hospital is every day more vital for patients. As request by more physicians, the integrated software solution is growing up in the past year. Now MASIMO – one of the biggest company in healthcare solutions for monitoring – present a new update of the IRIS integrated software. Iris DMS is designed to address the challenges of maintaining many patient monitors in a complex hospital environment. Iris DMS securely connects over a hospital's existing network to all connected Masimo devices to provide an easy-to-use dashboard that allows Biomedical Engineers and IT professionals to view detailed diagnostic information about connected Masimo devices at a glance, without the need to physically interact with each device. If you are building your EMS service from scratch and you need a fleet of the ambulance that can interact immediately with the A&E point, this could be one of the right solutions.
BOOTH H1.G19 – ZOLL
Monitors, ventilators and new solutions for tracking patients
ZOLL Medical Corporation, an Asahi Kasei Group Company, develops and markets medical devices and software solutions that help advance emergency care and save lives while increasing clinical and operational efficiencies. With products for defibrillation and monitoring, circulation and CPR feedback, data management, therapeutic temperature management, and ventilation, ZOLL provides a comprehensive set of technologies that help clinicians, EMS and fire professionals, and lay rescuers treat victims needing resuscitation and acute critical care. Now with new help in terms of information and insurance. ZOLL acquires Payor logic at the beginning of 2019. That could mean a lot of good news for EMS services. Could you imagine a way to reduce your administrative delay for self-payment, time spent in administrative questions and answers? It could be really close to reality.
BOOTH Z3.C51 – 3B Scientific
Training and debriefing, focus on new mannequins
Analyze the training scenario from all angles and let the team work together on their own is really important. Healthcare providers could have new solutions, new evidence by training sessions organized high-quality audio-video software. 3B Scientific had a unique tool that makes it possible With four cameras, zoom in/out and a recording system, and the qubeAV is the system for having the whole training for debriefing. Using the stationary microphone, the instructor can always intervene by giving instructions or comments in the scenario. It is one of the solutions presented during Arab Health by the group's oldest site in Budapest/Hungary began its manufacturing history in 1819, making 3B Scientific the most experienced group of companies in the industry.
BOOTH H7.B50 – INTERSURGICAL
A new airway management tool
Intubation and airway management is the first bullet point in the Ambulance checklist. Renewing the setting is vital. If you have proper training paramedics and professionals, you can start to see a new solution that can reduce cost-effectiveness and improve efficiency in your services. One of the interesting device presented at Arab Health will be from INTERSURGICAL. The new i-view video laryngoscope is a masterpiece of design and capability. Where availability of a video laryngoscope may be limited due to the cost implications of purchasing reusable devices for multiple sites, i-view provides a cost-effective solution, by combining all the advantages of a fully integrated video laryngoscope in a single use, disposable product. It is a solution that you must to see during the exhibition.
BOOTH S1.F50 – SPACELABS HEALTHCARE
Cybersecurity at a glance
Hospitals today face increasingly frequent and costly cybersecurity threats. During Arab Health you can encounter an interesting exhibitor like Spacelabs, a company committed to ensuring the safety, security, and integrity of the software for transmitting data among the structures. To this end, Spacelabs employ a standards-based approach for continual improvements in the protection of the software products and systems, and to protect the confidentiality, integrity, and availability of patient information. Spacelabs has developed a cybersecurity program that is based on National Institute of Standards and Technology's 800-53 requirements and augmented as required by the DISA Secure Technical Implementation Guidance (STIG).