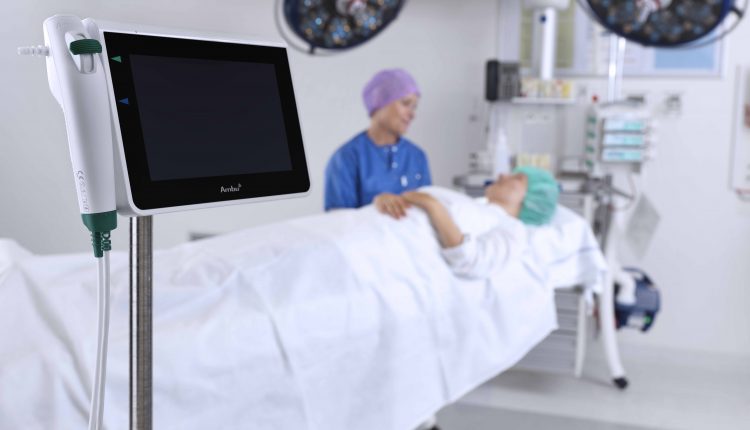 Introducing the Ambu® aScope BronchoSampler™ – Ambu sets new standards for single-use devices.
Ambu has once again brought innovation to the single-use bronchoscopy category to benefit both clinicians and their patients.
Ambu has launched the aScope BronchoSampler: An integrated sampling solution, which complements the Ambu® aScope™ 4 Broncho, to improve the bronchoscopic sampling workflow and level of safety in the intensive care setting. With this launch, Ambu has once again brought innovation to the single-use bronchoscopy category to benefit both clinicians and their patients.
User-focused innovation
The aScope BronchoSampler is a one-of-a-kind system that simplifies the entire bronchoscopic sampling workflow. When the clinician performs a bronchoscopic sampling as part of bronchoalveolar lavage (BAL) or bronchial wash (BW), the system makes the entire procedure smoother – from system assembly to sample procurement.
Eliminates one of the main frustrations clinicians currently face
A vacuum bypass in the new system enables switching between suction and sampling without a suction tube switch – one of the main hindrances in the current workflow. As a sterile, closed-loop system, the aScope BronchoSampler helps reduce the risk of sample loss and guarantees sample quality from start to finish. This supports accurate and timely diagnostics and improves safety for both patients and clinicians.


An innovative, integrated system
The aScope BronchoSampler is designed to work seamlessly with the aScope 4 Broncho. It comes with all the critical components needed to perform BAL and BW procedures effectively and efficiently. And because it's always ready when you are, the aScope BronchoSampler minimises the significant risks to patients that can result from equipment and workflow delays.
"I am particularly proud of two of the goals we have achieved with this launch," says CEO Lars Marcher. "First, we wanted to ensure quality and simplicity in clinical procedures within intensive care settings. Next, we wanted to help clinicians in the ICU achieve a more efficient workflow. With the aScope BronchoSampler, we do both. It's a good example of user-focused innovation."
Part of a broader range of single-use endoscopes
In 2009, Ambu launched the world's first single-use flexible video scope and is currently the global market leader within single-use bronchoscopes. The key benefit of Ambu's single-use products is that patients are not exposed to cross-contamination from devices that have been used on other patients.
Read more
The Ambu® aScope BronchoSampler™ is CE marked and registered on the US FDA Medical Device Listing. Exact launch timing may differ from market to market. Read more on ambu.com/BronchoSampler.