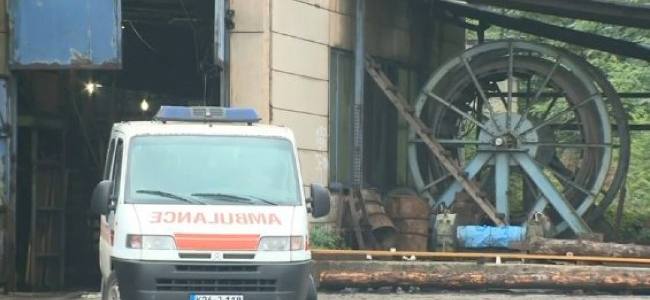 Bosnia, 29 miners rescued in Zenica, Bosnia Hertzegovina
Bosnia-Herzegovina (Associated Press) – One by one, rescue workers pulled 29 miners out of a trouble-plagued coal mine Friday after it had collapsed a day earlier in central Bosnia. Officials halted rescue efforts, believing that five men who remained deep underground were dead.
Their faces smeared with coal dust and lined with worry and exhaustion, the rescued men emerged from the Zenica mine to cries of joy from their families after spending the night trapped more than 500 meters (1,600 feet) below the surface.
"He is alive!" Admira Durakovic, whose husband Amir was among the miners, cried out before breaking down, sobbing and shaking.
The men looked tired and shaky. Twenty-six miners were taken to a hospital, six of them badly hurt, but none suffered life-threatening injuries, doctors said.
Esad Civic, manager of the Zenica mine, said the rescue effort had been halted after the 29 miners were pulled out.
Families of those who were left behind broke down in tears as authorities closed down the pit entrance. Rescue worker Amir Arnaut said they did everything possible to save the men.
"We could not reach that group of people," he said. "We could only reach that first group."
Nuraga Duranovic, a mining inspector, said the deaths cannot be officially confirmed until the bodies are found.
Alija Celebic, a retired miner, waited for his son Bego, among the 29 who escaped.

"He was hurt in the mine just few weeks ago, and now this!" Celebic said. "All is good as long as he is alive!"
The union leader at the coal mine, Mehmed Oruc, said two tunnels in the mine collapsed Thursday evening following a gas explosion triggered by a minor earthquake near the town of Zenica.
He said 22 other miners managed to get out of the pit Thursday, two of whom were injured.
It was the third incident at the Zenica mine this year. Sixteen miners were hurt in two previous gas explosions, the most recent less than four weeks ago. The mine was the site of one of the greatest mining tragedies in Bosnia's history, when 39 miners died in a gas explosion in 1982.
Families and union leaders accused the management of responding poorly to the latest collapse, particularly in initially claiming that only eight workers were trapped. Union leaders said authorities brought in rescue machinery seven hours after the blast.
Mine manager conceded that the Zenica mine — once among the most modern in Europe — is now far from the world standard, following Bosnia's 1992-95 war that impoverished the country.
Muris Tutnjic, one of the miners who escaped Thursday, came to the site Friday to show his support. He said the underground blast "just blew us away."
"I was alone. … Thank God I managed to pull myself out," Tutnjic told The Associated Press. "My colleagues … they were some 200, 300, maybe 400 meters (yards) away from me, they got covered."
___
Jovana Gec contributed from Belgrade, Serbia.