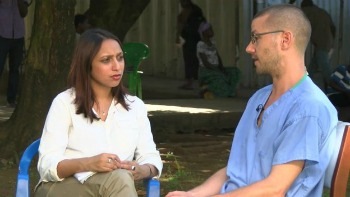 Ebola outbreak: British nurse back to help after recovery
The British nurse who has returned to Sierra Leone after recovering from Ebola has told the BBC he is "frustrated" by the "woefully slow" international response to the outbreak. William Pooley is back at the heart of the crisis, treating patients in the capital Freetown
It's 8am and a queue of desperate-looking people are standing outside the gates of Connaught Hospital in Freetown.
The 18-bed Ebola isolation ward, run by the British-based King's Sierra Leone Partnership, has been at capacity for three months.
But a bed has become free overnight after another patient, a man in his 30s, passed away. It's one in, one out, and the medic deciding who will get a bed first today is British nurse Will Pooley.
There are four people lying in the recently erected white screening tent. Patients are assessed and then put inside the tent if they are suspected of having Ebola.
Bed wait
All four patients look gaunt and terrified. One woman lies on the floor retching. She can barely keep her eyes open. This morning, however, she is the "lucky" one who will be given a bed. Many like her have died on the floor of this tent before a space has become free.
The others will have to wait. No one knows how long for, and whether they'll still be alive when the next bed becomes free.
This is the crisis Will has chosen to return to.
"It's really good to be back. I never meant to leave Sierra Leone. I didn't want to go, so being back feels like I'm back where I should be. I feel like I'm doing a worthwhile job… I'm a nurse and this is where they need nurses."
Infected
It was almost three months ago to the day that Will found out he'd been infected with Ebola while he was working at a government treatment centre in Kenema, 300km (186 miles) from the capital.
He had come to Sierra Leone to work at a hospice in Freetown, but when Ebola started devastating the east of the country, he went straight to the epicentre to try to help.
His team was overstretched, and he fell sick within weeks of arriving. He says he still doesn't know how he became infected.
"It's really hard to say. A lot of healthcare workers I've spoken to that have got sick say you don't know when you've made a mistake or if something has happened, or if there's been some exposure from some other route like outside the hospital.
"I would imagine it would have been on the hospital grounds.
"I expect it didn't happen while I was wearing personal protective equipment. It seems like a lot of healthcare workers get infected outside the isolation areas, in the surrounding areas. But for me I can't pin it down."

Immunity
Will was flown back to the UK on an RAF plane on 24 August and taken to the Royal Free Hospital, where doctors treated him with the experimental drug ZMapp.
"I was scared, especially on the plane I was scared when I started feeling unwell. I had no experience of Ebola patients in a decent care setting.
"The patients I had been looking after in Kenema would die, really unpleasantly, and there wouldn't be a great deal you could do to stop their suffering. So they would suffer horribly before dying.
"I was facing a less grisly situation, because I knew that if it went the worst way I still wouldn't suffer in the way patients do here."
But after receiving treatment in the UK, Will says he feels much safer returning to continue the fight against Ebola because he believes he has built some immunity to the virus after successfully fighting it off once.
"I haven't been told I have guaranteed immunity, because no-one knows that for sure. But the scientific consensus suggests that I'm pretty much covered, probably."
Social outcast
Will is not the only one making the most of his potential immunity. Trainee nurse Bilkisu Alfleda, 23, has also started working at the Connaught Hospital after being treated and discharged from the Ebola isolation ward there in August.
She lost 17 members of her family to Ebola, including her father and brothers. She was then thrown out of her family home because the community were scared of her.
"When I go to my house I don't have anyone to talk to, even my friends ignore me. But when I come to the hospital I feel loved. I feel like I belong," she says.
She says working alongside another survivor helps give her the courage to carry on despite being a social outcast.
"The coming of Will just inspired me because if Will is willing to come and work for my fellow Sierra Leoneans, why should I not come? We work as a team, we feel we are all brothers and sisters."
'Going to die'
The death rate in Sierra Leone has rocketed since Will left in August, particularly in and around the capital.
A total of 5,586 people have been infected in the country, 1,187 have died and cases continue to rise sharply in some areas.
"Seeing what the situation is in the country is difficult. The isolation unit here we are seeing lots of people dying, the beds are never empty for a moment," says Will.
"So coming back it's hard to see all the same stuff I was seeing a few months ago [in Kenema] is happening now in the capital.
"This all could have been prevented. We're many months down the line now. A lot of the response has just been woefully slow.
"It never had to be as bad as it is and it's still going to continue and many people are still going to die when – if the response had been better – or if now the response was sped up, deaths could be prevented.