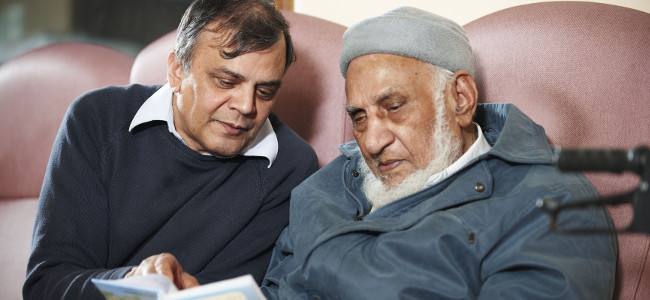 London could be the world's first dementia friendly city
Parliamentarians from across the capital and beyond are meeting with NHS England (London) dementia experts to pledge to transform London into the world's first dementia friendly city.
More than 40 MPs and decisions makers will join Eileen Sills CBE, Clinical Director for the London Dementia Strategic Clinical Network and Chief Nurse at Guy's and St Thomas' Hospital, to be trained as 'Dementia Friends' and help spread the message of support for the estimated almost 80,000 people with dementia in London. [1]
The training includes the showing of Barbara's Story, a drama-based video developed by Guy's and St Thomas' Hospital, which demonstrates the huge effect that small changes to attitude, behaviours and actions can have on a person living with dementia. The video is based on real life experiences and is designed to help everyone understand what it is like to live with this condition – helping to create a more dementia-friendly capital.
Dementia is not going away. One in three Londoners currently over 65 will die with dementia, with the number of people diagnosed with the disease in London expected to double over the next few years. Two thirds of people with dementia live in the community and 39 per cent of people with dementia report feeling lonely, compared with 24 per cent of over-55s. [2]
For this reason, NHS England has made dementia care and awareness one of its top priorities and has established networks of expert clinicians which are been tasked with improving care, outcomes and support for those living with the disease.

Eileen Sills CBE, Clinical Director for the London Dementia Strategic Clinical Network said: "I am passionate about making London the first dementia friendly city, so I'm delighted that so many London MPs have supported this pledge today.
"We want all Londoners to become more aware of the condition so as to make our community a kinder place for people with dementia to live. We've seen it's the small things that make the biggest difference – the smiles, the eye contact, the time. By raising this kind of understanding we can improve the lives of people living with dementia as they go shopping, play sport, go to museums, the cinema or theatre, and visit friends and family without fear."
To help them spread the word in their constituencies, MPs were given the full set of Barbara's Story DVDs, a 'little book of friendship' with ideas and tips on helping people living with dementia and a badge to publically show their support.
All Londoners are encouraged to watch Barbara's Story on YouTube, visit the Dementia Friends website to receive further training, and join in the pledge on Twitter by using #DementiaLDN.
[1] Alzheimers Society: Alzheimer's Society England: Mapping the Dementia Gap 2012, Progress on improving diagnosis of dementia, 2011-2012
[2] Alzheimers Society: Alzheimer's Society England: Mapping the Dementia Gap 2012, Progress on improving diagnosis of dementia, 2011-2012