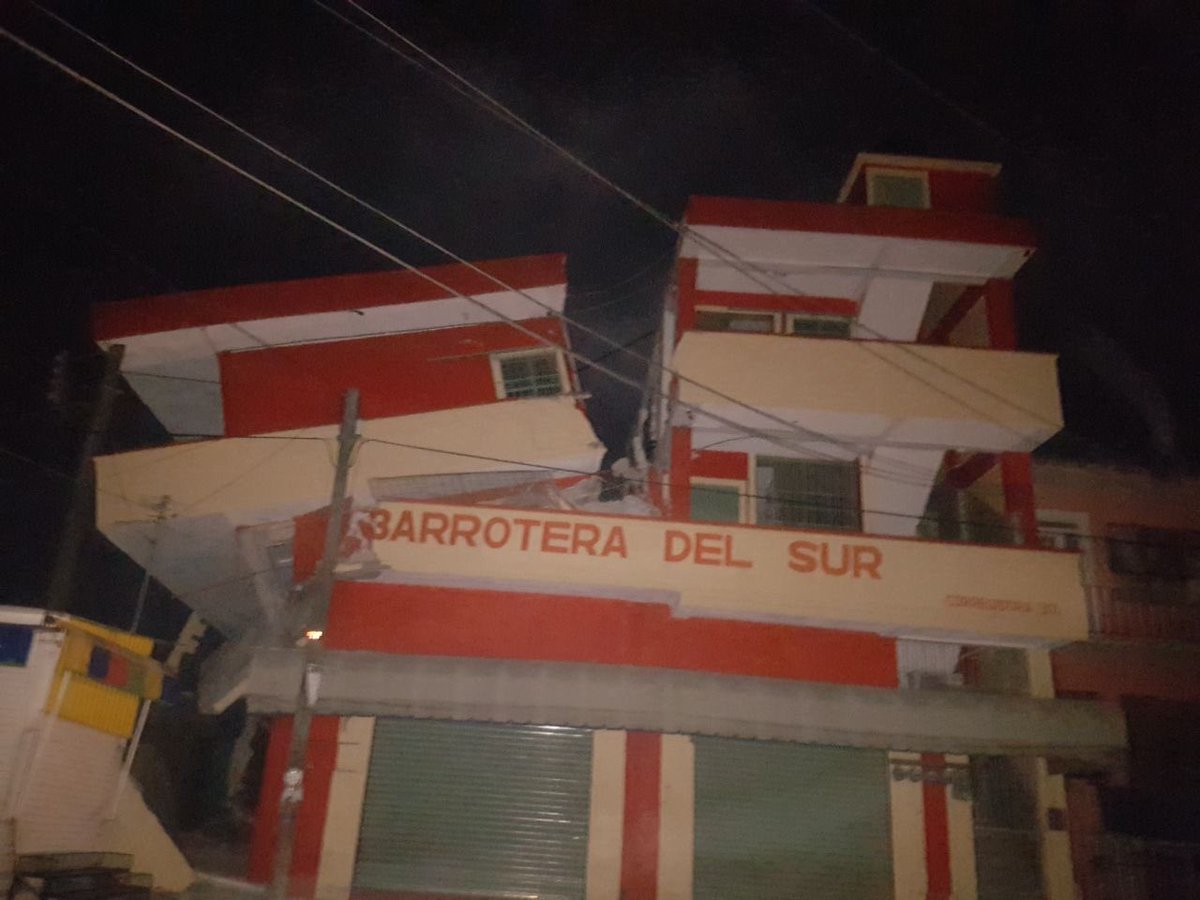 Magnitude 8.2 earthquake in Mexico, tsunami warning issued
An earthquake of a magnitude 8.2 struck off the coast of Mexico late on Thursday local time. The Pacific Tsunami Warning Center (PTWC) launch a Tsunami Warning for the coast of Chapas.
The massive 8-magnitude earthquake cause damages in the region. In Mexico City buildings sway violently and people flee into the street in panic, The capital city is 690km far from the epicenter. The U.S. Geological Survey said the earthquake had a magnitude of 8.0 and its epicenter was 165 kilometers (102 miles) west of Tapachula in southern Chiapas state not far from Guatemala. It had a depth of 35 kilometers.
Magnitude 8.2 earthquake in Mexico, tsunami warning issued
Prev
1 of 6
Next

The U.S. Tsunami Warning System said the earthquake was a potential tsunami threat to several Central American countries, including the Pacific coastlines of Guatemala, Honduras, Mexico, El Salvador and Costa Rica. It said the threat was still being evaluated for Hawaii, Guam and other Pacific islands.
Even in distant Mexico City the quake was felt so strongly that frightened residents gathered in the streets in the dark, often in their pajamas, fearing that buildings would collapse.
Tsunami waves of more than 3 meters, or nearly 10 feet, above the tide level are possible along some coasts of Mexico, the PTWC said.
It added that tsunami waves of 0.3 to 1 meters above the tide level were possible for some coasts of the Cook Islands, Ecuador, French Polynesia, Guatemala and Kiribati.
Tsunami waves of less than 0.3 meters above tide level were possible Colombia, Costa Rica, El Salvador, Hawaii, Honduras, Jarvis Island, Nicaragua, the Northwestern Hawaiian Islands, Palmyra Island, Panama and Peru.
EVALUATION OF THE TSUNAMI
———-
* AN EARTHQUAKE WITH A PRELIMINARY MAGNITUDE OF 8.2 OCCURRED
OFF THE COAST OF CHIAPAS, MEXICO AT 0449 UTC ON FRIDAY
SEPTEMBER 8 2017.
* TSUNAMI WAVES HAVE BEEN OBSERVED.
* BASED ON ALL AVAILABLE DATA… HAZARDOUS TSUNAMI WAVES ARE
FORECAST FOR SOME COASTS.
TSUNAMI THREAT FORECAST
———————–
* TSUNAMI WAVES REACHING MORE THAN 3 METERS ABOVE THE TIDE
LEVEL ARE POSSIBLE ALONG SOME COASTS OF
MEXICO.
* TSUNAMI WAVES REACHING 0.3 TO 1 METERS ABOVE THE TIDE LEVEL
ARE POSSIBLE FOR SOME COASTS OF
AMERICAN SAMOA… ANTARCTICA… COOK ISLANDS… ECUADOR…
EL SALVADOR… FIJI… FRENCH POLYNESIA… GUATEMALA…
KIRIBATI… NEW ZEALAND… SAMOA… TOKELAU… TUVALU…
VANUATU… AND WALLIS AND FUTUNA.
* TSUNAMI WAVES ARE FORECAST TO BE LESS THAN 0.3 METERS ABOVE
THE TIDE LEVEL FOR THE COASTS OF
AUSTRALIA… CHILE… CHINA… CHUUK… COLOMBIA… COSTA
RICA… GUAM… HAWAII… HONDURAS… HOWLAND AND BAKER…
INDONESIA… JAPAN… JARVIS ISLAND… JOHNSTON ATOLL…
KERMADEC ISLANDS… KOSRAE… MALAYSIA… MARSHALL
ISLANDS… MIDWAY ISLAND… NAURU… NEW CALEDONIA…
NICARAGUA… NIUE… NORTHERN MARIANAS… NORTHWESTERN
HAWAIIAN ISLANDS… PALAU… PALMYRA ISLAND… PANAMA…
PAPUA NEW GUINEA… PERU… PHILIPPINES… PITCAIRN
ISLANDS… POHNPEI… RUSSIA… SOLOMON ISLANDS…
TAIWAN… TONGA… VIETNAM… WAKE ISLAND… AND YAP.
* ACTUAL AMPLITUDES AT THE COAST MAY VARY FROM FORECAST
AMPLITUDES DUE TO UNCERTAINTIES IN THE FORECAST AND LOCAL
FEATURES. IN PARTICULAR MAXIMUM TSUNAMI AMPLITUDES ON ATOLLS
AND AT LOCATIONS WITH FRINGING OR BARRIER REEFS WILL LIKELY
BE MUCH SMALLER THAN THE FORECAST INDICATES.

* FOR OTHER AREAS COVERED BY THIS PRODUCT A FORECAST HAS NOT
YET BEEN COMPUTED. THE FORECAST WILL BE EXPANDED IF
NECESSARY IN SUBSEQUENT PRODUCTS.
RECOMMENDED ACTIONS
——————-
* GOVERNMENT AGENCIES RESPONSIBLE FOR THREATENED COASTAL AREAS
SHOULD TAKE ACTION TO INFORM AND INSTRUCT ANY COASTAL
POPULATIONS AT RISK IN ACCORDANCE WITH THEIR OWN
EVALUATION… PROCEDURES AND THE LEVEL OF THREAT.
* PERSONS LOCATED IN THREATENED COASTAL AREAS SHOULD STAY ALERT
FOR INFORMATION AND FOLLOW INSTRUCTIONS FROM NATIONAL AND
LOCAL AUTHORITIES.
ESTIMATED TIMES OF ARRIVAL
————————–
* ESTIMATED TIMES OF ARRIVAL -ETA- OF THE INITIAL TSUNAMI WAVE
FOR PLACES WITHIN THREATENED REGIONS ARE GIVEN BELOW. ACTUAL
ARRIVAL TIMES MAY DIFFER AND THE INITIAL WAVE MAY NOT BE THE
LARGEST. A TSUNAMI IS A SERIES OF WAVES AND THE TIME BETWEEN
WAVES CAN BE FIVE MINUTES TO ONE HOUR.
LOCATION REGION COORDINATES ETA(UTC)
————————————————————
PUERTO MADERO MEXICO 14.8N 92.5W 0548 09/08
SALINA CRUZ MEXICO 16.5N 95.2W 0551 09/08
ACAPULCO MEXICO 16.9N 99.9W 0552 09/08
SIPICATE GUATEMALA 13.9N 91.2W 0604 09/08
ACAJUTLA EL SALVADOR 13.6N 89.8W 0610 09/08
LAZARO CARDENAS MEXICO 17.9N 102.2W 0619 09/08
BALTRA ISLAND ECUADOR 0.5S 90.3W 0804 09/08
HIVA OA FRENCH POLYNESIA 10.0S 139.0W 1248 09/08
CHRISTMAS ISLAN KIRIBATI 2.0N 157.5W 1422 09/08
MALDEN ISLAND KIRIBATI 3.9S 154.9W 1426 09/08
FLINT ISLAND KIRIBATI 11.4S 151.8W 1426 09/08
PAPEETE FRENCH POLYNESIA 17.5S 149.6W 1450 09/08
RAPA ITI FRENCH POLYNESIA 27.6S 144.3W 1502 09/08
PENRYN ISLAND COOK ISLANDS 8.9S 157.8W 1505 09/08
TUBUAI FRENCH POLYNESIA 23.3S 149.5W 1510 09/08
RAROTONGA COOK ISLANDS 21.2S 159.8W 1609 09/08
PUKAPUKA ISLAND COOK ISLANDS 10.8S 165.9W 1619 09/08
NUKUNONU ISLAND TOKELAU 9.2S 171.8W 1652 09/08
PAGO PAGO AMERICAN SAMOA 14.3S 170.7W 1705 09/08
APIA SAMOA 13.8S 171.8W 1714 09/08
WALLIS ISLAND WALLIS AND FUTUN 13.3S 176.3W 1746 09/08
FUNAFUTI ISLAND TUVALU 7.9S 178.5E 1751 09/08
FUTUNA ISLAND WALLIS AND FUTUN 14.3S 178.2W 1812 09/08
TARAWA ISLAND KIRIBATI 1.5N 173.0E 1832 09/08
SUVA FIJI 18.1S 178.4E 1915 09/08
KAINGAROA CHATH NEW ZEALAND 43.7S 176.3W 1955 09/08
WAITANGI CHATHA NEW ZEALAND 43.9S 176.6W 1957 09/08
ESPERITU SANTO VANUATU 15.1S 167.3E 1959 09/08
ANATOM ISLAND VANUATU 20.2S 169.9E 2020 09/08
CAPE ADARE ANTARCTICA 71.0S 170.0E 2155 09/08
POTENTIAL IMPACTS
—————–
* A TSUNAMI IS A SERIES OF WAVES. THE TIME BETWEEN WAVE CRESTS
CAN VARY FROM 5 MINUTES TO AN HOUR. THE HAZARD MAY PERSIST
FOR MANY HOURS OR LONGER AFTER THE INITIAL WAVE.
* IMPACTS CAN VARY SIGNIFICANTLY FROM ONE SECTION OF COAST TO
THE NEXT DUE TO LOCAL BATHYMETRY AND THE SHAPE AND ELEVATION
OF THE SHORELINE.
* IMPACTS CAN ALSO VARY DEPENDING UPON THE STATE OF THE TIDE AT
THE TIME OF THE MAXIMUM TSUNAMI WAVES.
* PERSONS CAUGHT IN THE WATER OF A TSUNAMI MAY DROWN… BE
CRUSHED BY DEBRIS IN THE WATER… OR BE SWEPT OUT TO SEA.
TSUNAMI OBSERVATIONS
——————–
* THE FOLLOWING ARE TSUNAMI WAVE OBSERVATIONS FROM COASTAL
AND/OR DEEP-OCEAN SEA LEVEL GAUGES AT THE INDICATED
LOCATIONS. THE MAXIMUM TSUNAMI HEIGHT IS MEASURED WITH
RESPECT TO THE NORMAL TIDE LEVEL.
GAUGE TIME OF MAXIMUM WAVE
COORDINATES MEASURE TSUNAMI PERIOD
GAUGE LOCATION LAT LON (UTC) HEIGHT (MIN)
————————————————————-
SALINA CRUZ MX 16.2N 95.2W 0541 0.48M/ 1.6FT 20
PURETO ANGEL MX 15.7N 96.5W 0517 0.29M/ 1.0FT 24
HUATULCO MX 15.8N 96.1W 0514 0.69M/ 2.3FT 12
NEXT UPDATE AND ADDITIONAL INFORMATION
————————————–
* THE NEXT MESSAGE WILL BE ISSUED IN ONE HOUR… OR SOONER IF
THE SITUATION WARRANTS.
* AUTHORITATIVE INFORMATION ABOUT THE EARTHQUAKE FROM THE U.S.
GEOLOGICAL SURVEY CAN BE FOUND ON THE INTERNET AT
EARTHQUAKE.USGS.GOV/EARTHQUAKES -ALL LOWER CASE-.
* FURTHER INFORMATION ABOUT THIS EVENT MAY BE FOUND AT
PTWC.WEATHER.GOV AND AT WWW.TSUNAMI.GOV.
* COASTAL REGIONS OF HAWAII… AMERICAN SAMOA… GUAM… AND
CNMI SHOULD REFER TO PACIFIC TSUNAMI WARNING CENTER MESSAGES
SPECIFICALLY FOR THOSE PLACES THAT CAN BE FOUND AT
PTWC.WEATHER.GOV.
* COASTAL REGIONS OF CALIFORNIA… OREGON… WASHINGTON…
BRITISH COLUMBIA AND ALASKA SHOULD ONLY REFER TO U.S.
NATIONAL TSUNAMI WARNING CENTER MESSAGES THAT CAN BE FOUND
AT NTWC.ARH.NOAA.GOV.