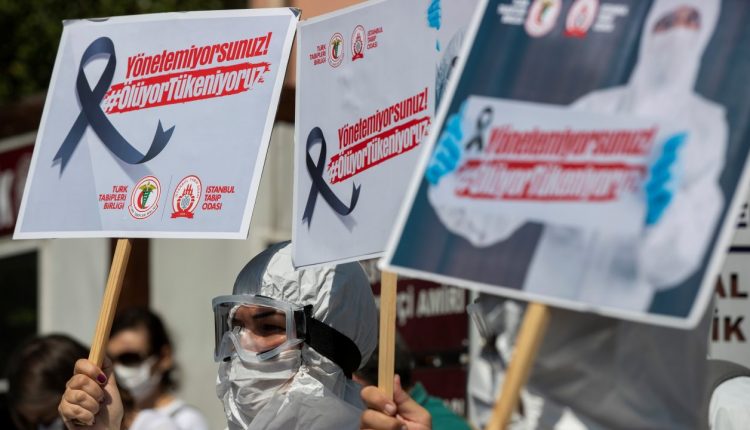 Turkey, the Medical Association of Istanbul: the government lies about the pandemic numbers from COVID-19
COVID-19 in Turkey, Medical Association of the capital's unmistakable tone: the government of President Recep Tayyip Erdoğan would lie about the numbers of the coronavirus pandemic.
On the occasion of the funeral of Salih Kanli, the last Turkish doctor in order of time to be killed by COVID-19, representatives of the Istanbul Medical Chamber, an order that brings together doctors from the capital Ankara, launched a very tough attack: "They can tell all the success stories they want, but we are dying.
According to the organization TTB, the association of Turkish doctors (the equivalent of the Italian Fnomceo), to date, there are at least 120 health workers killed by the coronavirus, of which 52 doctors.
It is laconic Pinar Saip, a member of the executive committee that brings together doctors and nurses: "We are dying".
Osman Öztürk, of the İstanbul Medical Chamber, identifies the Justice and Development Party (Akp) as the main responsible party, by its "wrong policies and practices".
The numbers published by the Turkish Ministry of Health would be bogus, and the government would be telling success stories, but health workers "know the truth".
Covid-19 in Turkey: are the numbers true?
According to data from the Turkish Ministry of Health, the total number of victims is 9,445, the infected people are 351,413. In the last 24 hours, the dead are 74, and the new cases 1,894.
The hospital occupancy rate is 48.1%, the total number of intensive care beds has reached 65.2% and ventilators are used at 32.1% of maximum capacity.
In fact, however, there are many "tricks" that Turkey, understood as political leadership, would have adopted to sweeten the figure: for example, it is only since October 15, and after bitter controversy, that the government has decided to include in the statistics also the asymptomatic although positive in the lists to be sent to WHO, the World Health Organization.
Before it sent only the symptomatic ones.
It is obvious that for Turkey is really a lacuna the gap between its political leadership and the medical-health leadership: the Turkish people clearly need real and chorally supported solutions.
Read Also:
COVID-19 In Romania: At Bucharest Hospital, A Robot Kills The Coronavirus With UV Rays
Source: