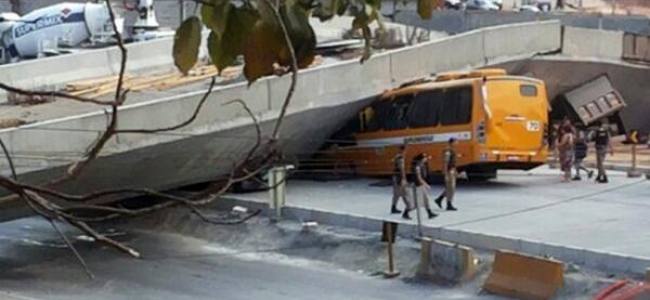 Two kills by a collapsed overpass built for the Brazil World Cup
AFP – An unfinished highway overpass being built for the World Cup in Brazil collapsed Thursday in Belo Horizonte, the city due to hold a semifinal match. At least two people were killed and injuring 19. The tragedy in Belo Horizonte turned the fervor gripping the nation as it prepared for quarter finals Friday to mourning. Large-screen TV public gatherings to watch the game Friday against Colombia in another city, Fortaleza, were scratched.

"It was like an earthquake. The ground shook violently," Daniel Magalhaes, who was near the site at the time of the accident, told Globo. "I heard a deafening sound. I looked and saw the collapsed overpass." Two people were killed and 19 injured, the mayor´s office said. One of the fatalities was the bus driver. Three other vehicles, two trucks and a car, were also hit.