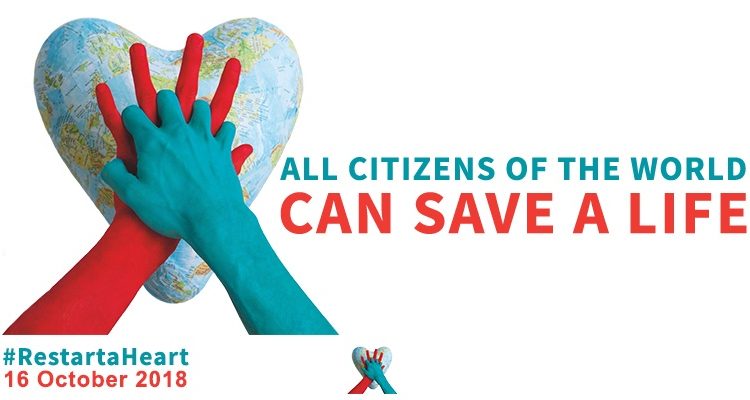 16 October 2018: World Restart a Heart Day (WRAH) - All citizens of the world can save a life
Promoted by ERC and ILCOR, the World Restart a Heart Day is about to arrive
On 16 October 2018, we will be celebrating the first ever World Restart a Heart (WRAH) initiative with events all around the world taking place on or around that date.
The aim is to increase awareness about the importance of bystander CPR and to also increase actual bystander CPR rates worldwide.
How to restart a hear?
1. CHECK
Make sure it is safe to approach:
Check for any response from the victim
Tilt the head back, lift the chin and check breathing
If breathing is absent or not normal, CPR is needed
2. CALL
Call 112 and follow their instructions.
If someone is there to help, ask them to call 112 for you, and let them fetch an AED
Cardiac compressions are most important for survival.
Do not delay or interrupt cardiac compressions
3. COMPRESS
Place both hands in the centre of the chest
Compress the chest 5 to 6 cm 100-120 times / min to the rhythm of "Stayin´Alive"
If you learned how to do it, provide 2 rescue breaths between every 30 compressions, otherwise pump the chest continuously
Push hard and fast. Don't worry, you can't do any harm
If an AED arrives, switch it on immediately and follow the instructions
Once the emergency services arrive, continue until you are told to stop
Well done! Doing something saves lives and is ALWAYS better than doing nothing.
TAKE A LOOK HERE TO DISCOVER WHAT'S ON IN YOUR REGION!
RESTART-A-HEART_2018_A2_IDD