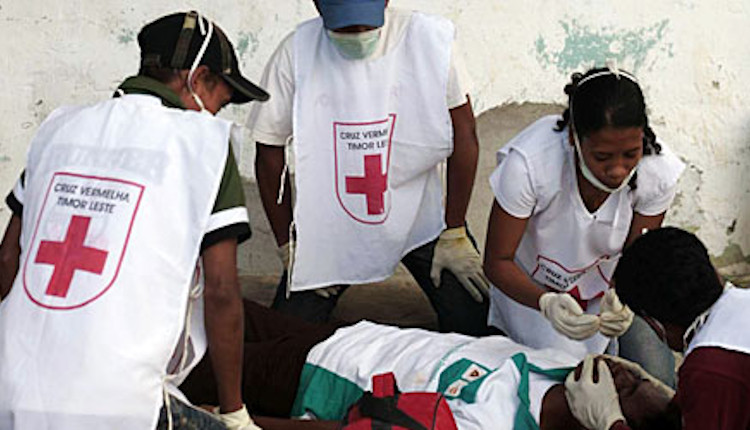 A 4-tons anti-COVID medical supply for Timor Leste Red Cross by the Indonesian Red Cross (PMI)
Timor Leste Red Cross was given medical supplies to fight against COVID-19 by the Indonesian Red Cross (Palang Merah Indonesia – PMI).
The donation of medical supplies for COVID-19 mitigation by the Indonesian Red Cross (PMI) to Timor Leste is part of ongoing efforts to strengthen the spirit of collaboration between the two associations.
Medical supplies arrived in Timor Leste, at the Red Cross Center last week, according to the Jakarta Post. The Indonesian Embassy in Dili allegedly announced that the donation comprehended protective equipment (PPE), including 500 masks, 500 protection suits, 500 glasses, 500 face shields, 10,000 packages of disinfectant, 10 sprayers and 10 thermometers.

Palang Merah Indonesia communicated that the 4-tons material should be used by 13 districts in Timor Leste to handle COVID-19. Currently, the shortage of medical supplies is concrete and many associations are suffering this situation. Also, like the PMI, Sahat Sitorus, Indonesian Ambassador to Timor Leste declared.
More about the Indonesian Red Cross (Palang Merah Indonesia)
The PMI is a member of the International Federation of Red Cross and Red Crescent Societies. As Indonesia is one of the very few Muslim-majority countries in Asia, they use the Red Cross as their symbol.
Until now, the Indonesian Red Cross has 34 Regional departments (at a provincial level) and around 408 branches (at a city level).
READ ALSO

REFERENCES