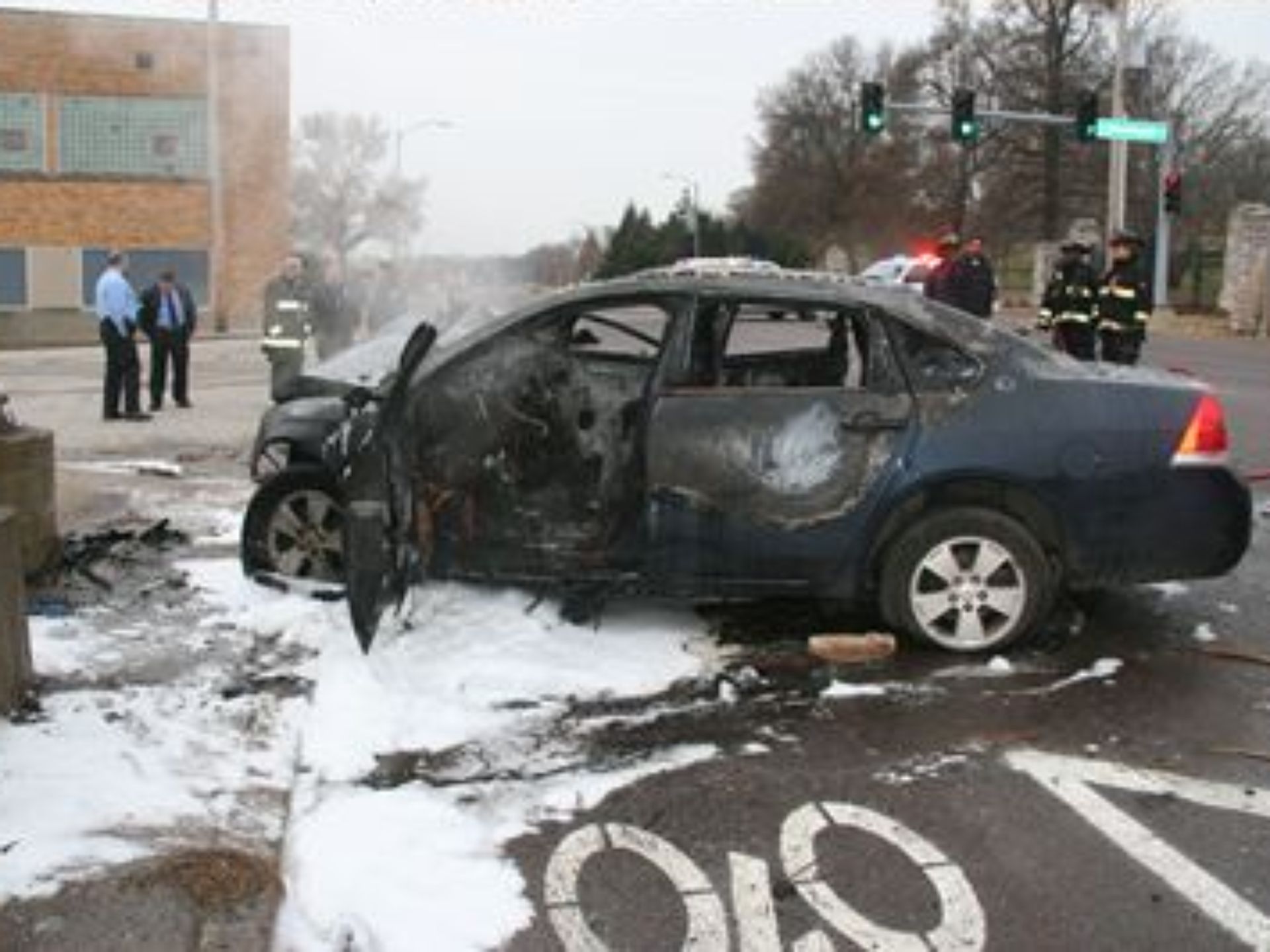 St. Louis: Off-duty firefighters make daring rescue
KSDK ST. LOUIS – Three people are clinging to life after a fiery car crash. But without the heroics of some off-duty St. Louis firefighters, the crash victims may not have survived at all. The crash happened at North Broadway and Humboldt around 7:00 Saturday morning. The car hit a traffic signal and caught fire trapping three people, two men and a woman, inside the burning wreckage.
Firefighter Frank Carter Jr. arrived first and says the situation was grim. Two of the victims were burning alive. "All the doors were locked, the passenger door was damaged so we could not get inside," Carter Jr. said. Firefighters Vincent Smith and Licole McKinney arrived a few minutes later. They said there was already a crowd of people around the crash by the time they arrived. Those bystanders were incredibly helpful when it came time to rescue the victims from the car.
"One man was talking on his cellphone to his wife or girlfriend. I told him to call 911 and tell them we have a car fire with people trapped," Smith said. "We utilized them to go get objects. We utilized their muscle to help with the victims."
Civilians used bricks and tire irons to smash out the car's windows and allow the firefighters to get inside. But the job wasn't that easy. Since the firefighters hadn't yet made it to work, they didn't have the gear they would normally use for a rescue like this. So, they had to improvise using whatever they had around them.

"This is the worst feeling that you could possibly have when you are trained and you do have the skills, but you don't have the equipment," McKinney said. "Once we were able to get the female patient out I just saw Vincent putting her hair out and her face out using his shirt." "I just pulled it off and kind of patted her as we pulled her body out," Smith said.
McKinney and one of the civilians received minor burns during the rescue, but she says the story could have ended much differently had the two groups not formed a team.
"I don't think it was us. I don't think it was them. It was a collaboration of us all working together."
On Saturday night two of the victims were in critical condition and one victim was in serious condition. The cause of the crash was still unknown.
A fire department spokesman says the firefighters will likely be up for some awards for their bravery.