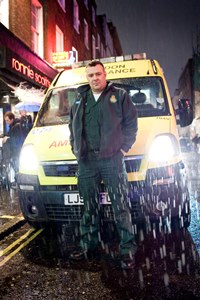 Are you an exhausted paramedic?
Demoralized by his own job and "no longer proud to wear the uniform". This is how an experienced NHS paramedic in Wales describes his feeling about his job. In an open heartbreaking letter, he expresses all his sorrow and how much exhausted he is.
"I have been a member of the hard-working Welsh Ambulance Service NHS Trust for many years now.
And it fills me with a deep sadness to finally admit that I'm not sure how much longer I can continue in this role I used to love.

When I joined the service, I was under no illusions of the long hours and personal sacrifice that went hand in hand with being a paramedic.
I wanted a career I enjoyed, one in which I looked forward to going to work, to challenge me, but above all to give me job satisfaction.
Sadly, this is no longer the case and, like so many of my fantastic colleagues, I'm wondering when I should cut my losses and look for a career change.
I have seen my working conditions get increasingly worse with time and now, unfortunately, these are considered "the norm".
I consistently spend a large majority of my time sitting outside the emergency department with sick or injured patients and worried members of their families.
This affects me in many ways. Firstly, I do not feel this is part of my role as a member of the emergency medical service (EMS).
I am not a nurse and do not feel fully equipped to take on the roles and responsibilities of another highly-trained healthcare professional.
This is despite paying for myself to gain further higher education qualifications to extend my clinical knowledge.
Secondly, a large portion of my time is spent apologising and trying to justify this terrible situation.
I am used as a figure for patients and families to vent their anger, worry and dissatisfaction.
This recently became even more apparent when I found myself in the same situation, but as a civilian, trying to placate my worried family members when my elderly father was kept waiting outside the emergency department (ED) in an ambulance.
Both ED and EMS staff do a fantastic job under immense pressure, in what appears to be a hopeless situation.
On more than one occasion, I have found a staff member silently crying in a sluice or toilet, almost beaten by the enormous stresses of the job, only for them to wipe their tears and emerge to face the public once more with a caring smile. This is not sustainable.
While we wait outside the ED, we are unable to attend further 999 calls.

We are acutely aware of this, and this is one of the hardest issues for me to deal with personally.
I know all to well from personal experience, the hopeless desperation of a rapid response vehicle (RRV) paramedic, waiting on scene back up with a very poorly patient.
I hate and fear being in that situation, although it happens all to often these days, and I worry greatly about my colleagues when they share similar experiences with me.
It sends a shiver down my spine every time I hear a desperate call from control, broadcast over the radio, begging for any available crews as they have a life-threatening job which needs an immediate response, but no resources to send.
What if that is my family? I obviously sincerely hope and pray it's not, but it is someone else's family, and the fact of knowing they are now in that situation which I constantly dread, gives me absolutely no relief.
I feel upset, hopeless, ashamed, guilty and desperate in my empathy.
I am no longer proud to wear my uniform.
I feel utterly deflated as family and friends tell me of their experiences of waiting for ambulances or entry to the ED.
I feel cross of the way we are portrayed in the media and the increasing lack of respect we are now afforded, which both offends me, as well as fear for my safety, and that of my colleagues.
This situation has become intolerable and that is before even raising the issues of consistently late meal breaks, late finishes and poor pay.
I can only touch on these subjects, as the act of sitting down to write this, and actually address the effect my career now has on me, has I'm ashamed to say, reduced me to tears.
Morale has never been so low and I'm afraid it's contagious.
I have never known so many staff miserable in their jobs, not wanting to come to work, seeking medical attention and taking medication for conditions directly due to working conditions.
When you are working with a colleague for 10 to 12 hours straight, who is struggling as such, of course it affects me, my mood and my resilience too.
This I then take home with me. My family used to be so proud of my profession and as such, took on the sacrifices the job entails.
But now as I come home tearful, exhausted, frustrated and depressed, I see the negative effects it has on them too.
The current situation of my once beloved job as a paramedic is affecting my mood, my health, happiness and home life, I have to ask myself, is it really worth it?"