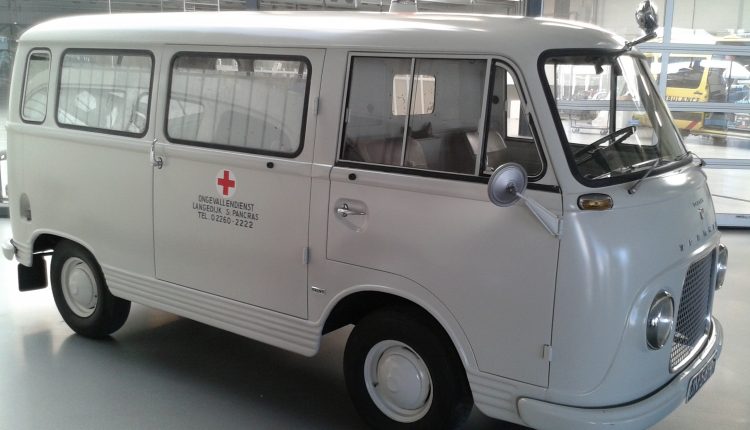 Emergency Museum / Holland, the National Museum of Ambulance and First Aid of Leiden
Holland / The association of the National Ambulance and First Aid Museum (Nationaal Ambulance- en Eerste Hulp Museum) was created in 1988 and manages the museum in the Dutch city of Leiden

Holland : The museum displays the private collection of Dr. Volckmann, a collector specialized in ambulances and first aid equipment
The foundation took place as a recognition by the municipality of Groningen on the occasion of his retirement from the medical profession.
In addition to being the founder of the museum, Volckmann is also the author of a famous training book dedicated to the ambulance and rescue industry.
The museum is run entirely by volunteers and comprehend a large collection of historic equipment, such as first aid kits, resuscitation equipment, oxygen therapy devices, medical books, uniforms, insignia and patches.
In addition, various ambulances (some visible in the photos) of great historical value are exhibited, for example, a 1945 Dodge Ambulance, a 1965 Nekaf Willis, a 1985 Mercedes 260, a 1996 Mercedes Vito and two Chevrolet Ambulances from 1968 and 1985.
AMBULANCE, THE BEST STRETCHERS ON THE SPENCER BOOTH AT EMERGENCY EXPO
A beautiful example of a Mercedes Ambulance is also exhibited at the "Spadoni Emergency Museum", a museum specialized in emergency and rescue vehicles and equipment located in the province of Parma, Italy.
For several years, former surgeon Hans Waldeck was president of the foundation and director of the museum's archive.
Since 30 June 1989, the collection has been housed in the Automobielbedrijf De Grooth building. After an expansion of the museum space, in 1991 there was a temporary reopening presented by an officer of the Queen.
After this and other transfers, the museum's collection ended up inside a large garage in Apeldoorn in May 2004, where it became accessible to the public again together with the collection of the Dutch Police Museum.
Unfortunately, also this solution only lasted until 2007, after which it was necessary to find a new solution. Since 2012, the museum has been located in the city of Leiden in the building of the Regional Ambulance Facility.
Holland, the museum is now open to a limited extent and by reservation only due to the limited space

A beautiful example of an important national museum that had its origins from the private collection of a doctor who wanted to protect and make available to the public these vehicles and equipment that would otherwise have risked being lost, guaranteeing their usability and conservation for the future generations.
Read Also:
Emergency Museum: The London Ambulance Service And Its Historic Collection / Part 1
Emergency Museum: The London Ambulance Service And Its Historic Collection / Part 2
Source:
Nationaal Ambulance- en Eerste Hulp Museum; 112Groningen.nl; Travel Experiences of Xandra; Ambulanceblog.nl; Wikipedia.org;
Link:
http://www.ambulancemuseum.nl/Home/
https://112groningen.nl/Drenthe/nieuws/3753/ambulancezorg-dag-op-verkeerspark-assen.html
https://travel-experiences-of-xandra.blogspot.com/2014/01/300-jaar-geschiedenis-van-de-politie-in.html?m=1
https://www.ambulanceblog.nl/nationaal-ambulance-en-eerste-hulpmuseum/
https://nl.wikipedia.org/wiki/Nationaal_Ambulance-_en_Eerste_Hulpmuseum