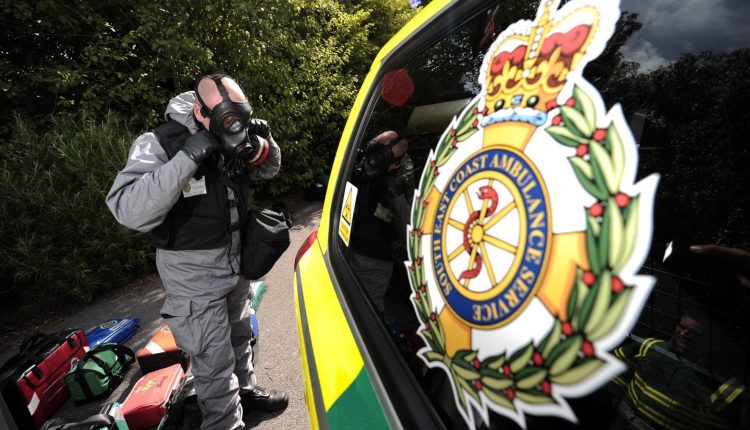 How does HART train its paramedics?
A special team of ambulance paramedics and responders trained to provide life-saving care at major incidents that has dealt with more than 2,300 emergency calls since its creation in 2013. Let's check the training of the Hazardous Area Response Team (HART) out!
The Hazardous Area Response Team (HART) paramedics – which is part of the Welsh Ambulance Service – provide clinical care in hostile environments like industrial accidents and natural disasters, as well as chemical, biological, radioactive, nuclear and terrorist incidents.
Hazardous Area Response Team (HART) paramedics preparation
Of the calls dealt with since its launch, more than 40 involved flooding, a further 40 involved a firearm or other weapon, and more than 140 meant working at height, in a confined space or on tricky terrain.
Staff are deployed to major road traffic collisions, like the one outside Rhws Primary School in June, in which nine people were injured, and large-scale fires, like the one in Clydach Vale in March, which left a former workingmen's club destroyed.
The team was also involved in the multi-agency search for missing schoolgirl April Jones in Machynlleth last October. Chris Sims, Welsh Ambulance Service HART manager in Wales, has been reflecting on a challenge-filled first year. He stated that the introduction of HART in Wales is a huge step forward for the Welsh Ambulance Service, and now means we can provide clinical care to patients in difficult environments.
How does HART train its paramedics?
Prev
1 of 8
Next
Hazardous Area Response Team (HART) paramedics: training basis
HART in Wales is part of a UK network of HART teams, whose members are skilled ambulance professionals with additional training. Throughout the year we've attended a number of challenging incidents where, in partnership with other agencies, our training and equipment has helped to get access to a patient and support our operational crews.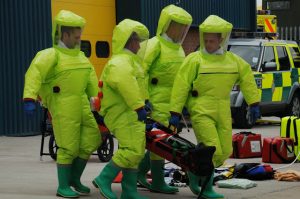 The Bridgend-based HART complements the existing Special Operations Response Team (SORT), whose members are trained to provide decontamination and mass oxygenation at such incidents.The specially trained personnel work 24/7 across Wales, and can also called upon to give clinical care to patients outside of a major incident.
Elwyn Price-Morris, chief executive of the Welsh Ambulance Service, added: "The creation of HART marked a significant development in the history of the Welsh Ambulance Service.
"We hope that HART is not in serious action too often, but knowing that they exist here in Wales gives us all some peace of mind that their expertise is available if and when they are needed."
HART paramedics – How can this organization be defined?
Hazardous Area Response Team (HART) are comprised of specially recruited and trained personnel who provide the ambulance response to particularly hazardous or challenging incidents, and in some cases where there is a mass casualty incident.
Utilising HART: Effective mobilisation of HART resources & the benefits to patients
These incidents may involve Chemical, Biological, Radiological or Nuclear (CBRN) or other hazardous materials, or could involve incidents such as train crashes, large-scale motorway accidents, building collapses or significant fires, and could be the result of an accident or caused deliberately.
Hazardous Area Response Team (HART) paramedic – Where are the teams based?
HART paramedic teams are based in each of England's eleven NHS Ambulance Trusts, which means they are able to cover the whole of the country, in some cases working together on specific incidents. Scotland has its own equivalent Special Operations Response Teams (SORT), whilst Wales has a Welsh HART team. View details of each HART team here.
Hazardous Area Response Team (HART) paramedics – How do they operate?
HART teams work alongside the police and fire & rescue services within what is known as the 'inner cordon' (or 'hot zone') of a major incident. The job of the HART teams is to triage and treat casualties and to help save lives in very difficult circumstances. They are also there to look after other emergency personnel who may become injured whilst attending these difficult and challenging incidents.
Part of the Model Response
HART forms part of the health response in support of the National Capabilities Programme being led by the Home Office, which aims to ensure that fewer lives would be risked or lost in the event of a terrorist-related attack, or accidental CBRN incident. Within this, the key objective is to improve CBRN response capabilities towards ensuring that, "if a terrorist attack occurs, the response from all concerned will be quick and effective with the result that lives are saved and the impact on property and the environment is minimised."  (Office for Security & Counter-Terrorism: "Prepare")
The latest HART Service Specification can be found here.
The Strategic Mandate for HART
The national strategic mandate for HART can be located across a range of central government priorities.  Provided here is a brief summary of the principle national drivers for HART.
Source: Philip Robinson on Blogger