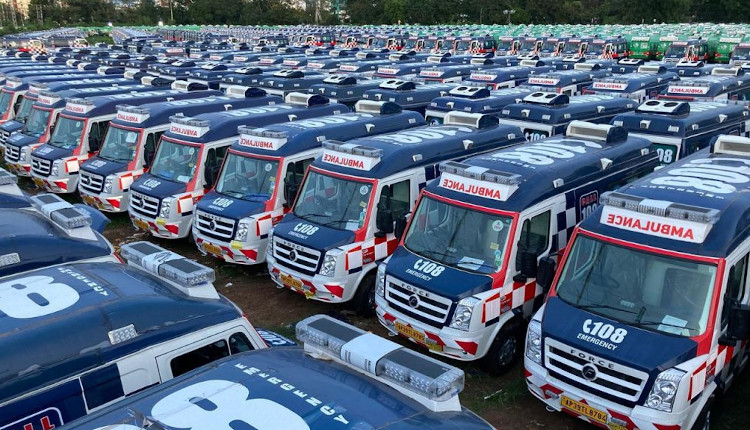 NHS in Andhra Pradesh: a fleet of over 1,000 new ambulances landed in India
The first international partnership of NHS in India. The South Central Ambulance Service NHS Foundation Trust (SCAS) helped the UK to support the fight against COVID-19 and other diseases in India by donating 1,000 new ambulances.
Serving 66 million people in Andhra Pradesh is the aim of the donation of these new ambulances. As reported by an official press release, SCAS is part of a not-for-profit consortium in partnership with Aurobindo Pharma Foundation (APF) and they launched 108 Emergency Response Services (the equivalent of the UK's 999 service) and 104 Mobile Medical Unit Services (the equivalent of the UK's NHS 111 service) in order to support Indian communities in their fight to COVID-19 and other diseases.
Healthcare in India: steps of improvement thanks to new ambulances
At the beginning of the year, the Indian Government has announced the re-organization of the healthcare system all over the country. At the beginning of July 2020, India launched a huge investment programme to improve public healthcare in the country. The deep differences between private and public healthcare in India, form a quality point of view, induced the government to take important measures to it.
Inspired by the 'free at point of contact' NHS ambulances services available in the UK, national and local government initiatives plan to address the wide gaps in provision over the coming years.
The Director of Planning and Performance Forecasting at SCAS, Steve West visited Andhra Pradesh area with colleagues to help support APF during the competitive tender process undertaken by the regional government. When the contract has been signed he stated that this launch has seen over 1,000 new ambulances going live, which are going to support the existing 350 emergency vehicles already in service on-site.
New ambulances in India by the UK: a real opportunity of unity to support communities fighting COVID-19
Since the impact of COVID-19 over the last few months, SCAS staff have continued to provide virtual support to APF to continue the launch of new services, as well as help, tackle the pandemic in India. The agreement between SCAS and APF will be on force up to 2027, with a detailed development plan.
The plan will include clinical guidelines and governance, education, wider healthcare system development and a workforce development programme that will see staff from both APF and SCAS travelling to work and learn together in the two countries.
"This partnership between Aurobindo Pharma Foundation and South Central Ambulance Service is a new area for India and I am convinced that it is going to be a success. I would like to congratulate Honourable Chief Minister Jaganmohan Reddy for his foresight in choosing this approach and a partnership with UK experts," concluded Dr Andrew Fleming, British Deputy High Commissioner to Andhra Pradesh and Telangana.
Below the official post and video

SCAS launches innovative 7-year international partnership with @AurobindoO. 1st phase: 1,000+ new emergency ambulances & mobile medical units rolled out. Find out more: https://t.co/luNDkmKchE @UKinHyderabad @NHSEngland @NHSsoutheast pic.twitter.com/rIrDbmAWZM

— South Central Ambulance Service (@SCAS999) July 13, 2020
READ ALSO
SOURCE