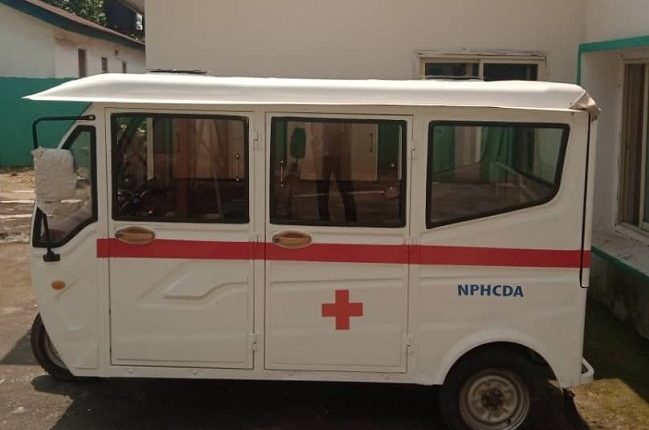 Nigeria, Abia Central adopts tricycle ambulances: complete, useful for traffic and rural areas
Abia Central, the area of Nigeria where the tricycle ambulances have been adopted, is one of 36 states that make up the African country
The tricycle ambulances were donated by the National Primary Health Care Development Agency (NPHCDA)
This weekend, Senator Theodore Orji took delivery of the unusual ambulances, which will be destined for health centres in the Abia area.
The tricycle ambulances were manufactured in Nigeria and feature everything you see in a regular four-wheeled ambulance, including stretcher, oxygen masks and cylinders, phone accessories, seats for a doctor and other medical personnel and other medical equipment and accessories .
CARDIORESPIRATORY ARREST, VISIT THE ZOLL STAND AT EMERGENCY EXPO AND LEARN MORE ABOUT DEFIBRILLATORS
According to Senator Orji, since most of the primary health centres are in the rural areas, the ambulances are designed to beat the traffic and are very compatible with the rural environment.
Explaining further, the Abia State Liaison Officer to the Senator, Hon Ifeanyi Umuere, said the ambulances came as part of Orji's persistence, stating that Abia Central is among the first two senatorial zones in Nigeria to receive ambulances from NPHCDA.

The first set of ambulances will be deployed to Ukome Health Centre, in Umuahia North Local Government Area of the state.
The other ambulance, he said, would be deployed to Umuariaga Health Centre in Ikwuano Local Government Area.
Read Also:
Becoming A Nurse In Nigeria: Training Course, Salary And Career Prospects
Nigeria, Which Are The Most Used Stretchers And Why
Maternal And Child Health, Pregnancy-Related Risks In Nigeria
Source: