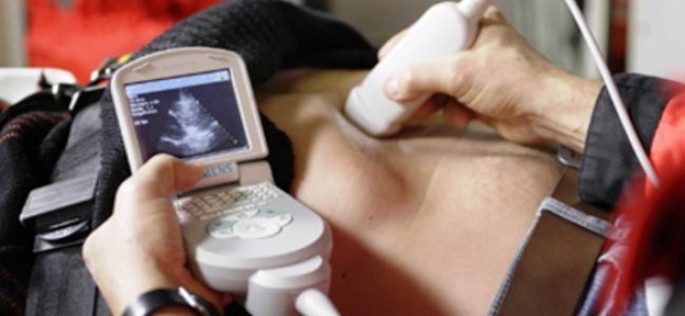 Pre-hospital ultrasound assessment in emergencies
Point-of-care ultrasound (US) is a proven diagnostic imaging tool in the emergency department (ED). Modern US devices are now more compact, affordable and portable, which has led to increased usage in austere environments.
Point-of-care ultrasound (US) has been established as an ideal imaging modality when used by trained emergency physicians in the clinical setting.
It can rapidly and accurately diagnose many life-threatening conditions including hemoperitoneum, pericardial effusion, cardiac tamponade, pneumothorax, and abdominal aortic aneurysm.
Arguably, it has become the initial imaging modality of choice in critically-ill patients because of its portability, ease of use, speed, and provision of dynamic real-time information without exposing patients to ionizing radiation. These attributes make US an attractive tool in the prehospital setting.
Pre-hospital use of ultrasound: outcome of the study
However, studies supporting the use of US in the prehospital setting are limited. The primary outcome of this pilot study was to determine if paramedics could perform cardiac ultrasound in the field and obtain images that were adequate for interpretation. A secondary outcome was whether paramedics could correctly identify cardiac activity or the lack thereof in cardiac arrest patients.
Methods: study design and setting
We performed a prospective educational study using a convenience sample of professional paramedics without ultrasound experience.
Eligible paramedics participated in a 3-hour session on point-of-care US. The paramedics then used US during emergency calls and saved the scans for possible cardiac complaints including: chest pain, dyspnea, loss of consciousness, trauma, or cardiac arrest.
Results of the study and conclusions
Four paramedics from two distinct fire stations enrolled a total of 19 unique patients, of whom 17 were deemed adequate for clinical decision making (89%, 95%CI 67%–99%). Paramedics accurately recorded 17 cases of cardiac activity (100%, 95%CI 84%–100%) and 2 cases of cardiac standstill (100%, 95%CI 22%–100%).
Our pilot study suggests that with minimal training, paramedics can use US to obtain cardiac images that are adequate for interpretation and diagnose cardiac standstill. Further large-scale clinical trials are needed to determine if pre-hospital ultrasound can be used to guide care for patients with cardiac complaints.