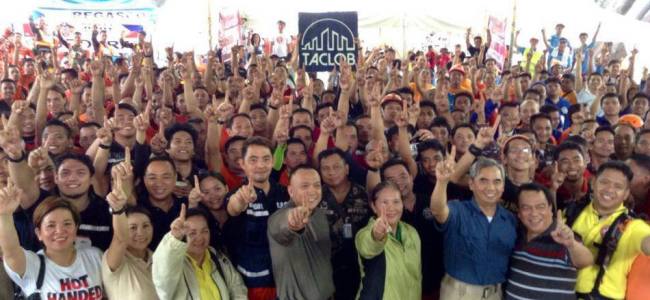 Rescue March: Creating awareness and camaraderie in the rescue community
The Rescue March which stands for Rescue Mass Assembly for Rescue & Care for Humanity gathered over 400 participants from the various rescue units in Metro Manila representing the Armed Forces of the Philippines, Local Government Rescue Units, Private Institutions, Volunteer Rescue Groups, and Non-Government Organizations.
The event was organized by ORANGE HELMETS, a Humanitarian and Emergency Response Operator (HERO) and force multiplier during disaster operations. The lead convenor for this event is Mr. Martin Aguda, a practicing Emergency Management Professional and advocate of disaster preparedness, who pushed the idea to the rescue community, the government, and to the public.
The assembly and starting area was at the Bonifacio Global City in Taguig where participants gathered at 3:00 am fully kitted in their Personal Protective Equipment (PPEs) and carrying the "tools of their trade" such as spine boards, forcible entry tools, rescue ropes, trauma kits, and portable radios. Some units even brought small boats and life vests and other lifesaving and rescue equipment to meet the challenges that they anticipate would be part of the event. The march was also participated in by several government, private and volunteer ambulance services who served as stand by medics.
The idea behind the Rescue March was to simulate an anticipated 7.2 magnitude earthquake that would happen in Metro Manila and how rescuers would respond to that event. The scenario presumes that roads and transportation would be unsafe or unavailable for use so rescuers would have to go on foot across the city to search for survivors.  They would also need to bring as much gear as they can carry to be able to do what they need to do. They must also have enough provisions to sustain themselves during the operations as supplies may be unavailable in the first few hours or even days after the disaster. And finally each team must communicate using portable radios as telephone networks are assumed to be damaged or overloaded.
Rescue Units that joined the event entered teams composed of seven members with a team leader, communications officer, medical specialists, rope rescue specialists, and volunteer or career rescuers to complete the team. Each team was relayed instructions by radio from a centralized "command post' through their respective communications officers who then relays the instructions to each team leader to deploy and delegate tasks to each member as needed.

The event was also a test for its participants in terms of each unit's capability to respond to an anticipated disaster in the city. Along the route each team were given tasks to perform to simulate scenarios that they may encounter during the real thing.
One such task was to choose a team member to act as a casualty and be strapped and carried to a spine board. The team had to demonstrate their first aid skills, knowledge in using their equipment properly, and the physical endurance to carry their "patient" the rest of the march route.
The event served as a wakeup call to Metro Manila's approximately 12 Million residents (http://www.nso-ncr.ph) that everybody should be prepared for the next big earthquake that is projected to happen. This prediction is based on studies done by local and international scientific institutions that a major seismic event will occur along the Marikina West Valley Fault which originates from Angat, Bulacan and extends all the way to Calamba, Laguna.
The march ended with all the participants gathering at the Quezon Memorial Circle for an approximated distance of 17.5 kilometers. At the rallying point assembly area participants were given water and rice porridge, a staple food distributed to both rescuers and survivors during a disaster.
The event also served to build camaraderie and recognition of all the participants from all the participating rescue units. It was a way to show the public that there are people who take the warning of a major earthquake very seriously and they are getting prepared not just to survive it but to help others when that time comes.