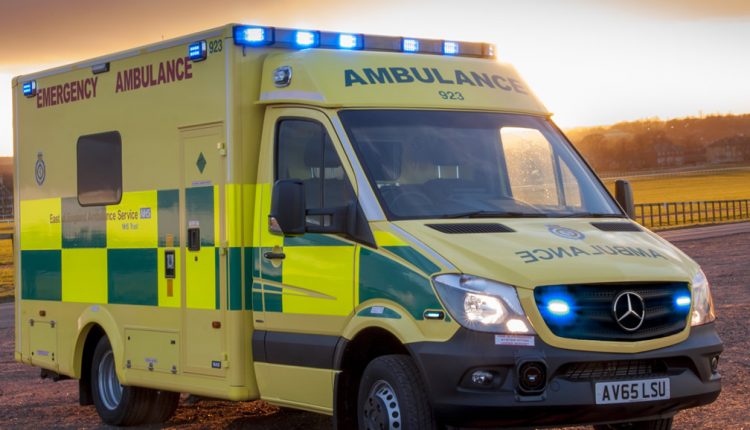 TOP 5 EMS job opportunities worldwide - Europe, Canada, India and China
EMS professionals, are you looking for a new job?
Every day EMS and rescue professional can find online new ideas for getting a better life, improving their jobs. But if you need some suggestions for keeping your skills in service for another kind of job, involved in the EMS or in the industrial business around the health sector, here we are!
Emergency Live will show you every week some of the most attractive position in Europe about EMS and rescue activities. Are you dreaming of operating as a paramedic Zermatt? Would you like to see every day the beautiful heritages of Rome driving an ambulance? (No, really, you don't know what it is driving an ambulance in Rome!)
Well, we show you the TOP 5 job position you can reach directly with our links!
LOCATION: LIVERPOOL (UK)
PARAMEDIC
Salary: £33,000 per annum
Posted: 2 May 2019
Closes: 27 Jun 2019
Job Type: Permanent & Full-time
Business Unit: Health Services
Region / Division: UK & Ireland
Role Responsibility:
G4S Health Services has been one of the leading providers to all justice health environments since 2005. Working across Secure, Custody and Sexual Assault Referral Centres (SARC) across the UK, we provide primary care and forensic healthcare to a wide range of patients.

HMP Altcourse in Liverpool is a Category B local prison receiving sentenced and remand young offender and adult male prisoners from the courts in Merseyside, Cheshire and North Wales. The prison can accommodate 1,324 prisoners in safe custody.

At HMP Altcourse we are committed to providing the highest standards of healthcare to prisoners in our care. Our healthcare team is staffed 24 hours a day and is made up of qualified Nurses and Health Care Assistants.

Our staff approach their work in prisons and secure settings with professionalism and commitment that lays the foundations for improved services and recognises the dignity of the individual.

We have an opportunity for a Paramedic to join our team.
LOCATION: ALBERTA (CANADA)
REGISTERED PCP PARAMEDIC
As an Emergency Medical Technician, you will transport ill or injured patients from scenes of emergency and/or between facilities. This includes operating ambulances or other modes of transportation, assessing emergency scenes and patients. You may treat patients by administering minor medications, basic life support (BLS) airway adjuncts, and semi-automated defibrillation. You may also lead the BLS crew in delivering clinical care during patient transport or at emergency scenes. You will assist with ensuring that ambulances or other Emergency Medical Services (EMS) vehicles, such as transfer vans, are properly stocked and equipped. Alberta Health Services EMS requires the proof of the successful completion of the Functional Abilities Recruitment Evaluation (F.A.R.E.) test via the certificate provided by the Lifemark organization for all applicants external to AHS or internal to AHS, who do not already hold a clinical position within AHS EMS (VESST, Clinical Educator, EMR, PCP, ACP and Community Paramedic). Your F.A.R.E. test must be completed within 6 months of the date of your application. Alberta Health Services EMS may verify results with Lifemark to ensure the candidate has successfully completed the test. Please contact Lifemark at www.lifemark.ca/alberta-health-services to find more information on the F.A.R.E. test and how to book your evaluation.

Classification: Registered PCP-Paramedic 2190
Union: HSAA Facility PROF/TECH
Department: Oyen EMS Ambulance
Primary Location: Oyen – Big Country Hospital
Multi-Site: Not Applicable
FTE: 1.00
Posting End Date: 13-MAY-2019
Employee Class: Regular Full Time
Date Available: 10-JUN-2019
Hours per Shift: 8.4
Length of Shift in weeks: 2
Shifts per cycle: 10
Shift Pattern: Days, Evenings, Nights, On Call
Days Off: Saturday/Sunday
Minimum Salary: $27.25
Maximum Salary: $34.40
Vehicle Requirement: Driver's License, Vehicle Provided
Required Qualifications:
Completion of an accredited Primary Care Paramedic program. Active registration with Alberta College of Paramedics (ACP) as Primary Care Paramedic. Current Basic Cardiac Life Support – Healthcare Provider (BCLS-HCP). Must hold a valid Class 4 Alberta Operator's Licence with no more than six (6) demerits. Completion of the Functional Abilities Recruitment Evaluation (F.A.R.E.) test taken no more than six months prior to the application date.
LOCATION: PETERBOROUGH (UK)
POSITION: CLINICAL ADVISOR
The Role:

Due to expansion we are seeking professional, enthusiastic, well-motivated individuals with a passion for caring and the ability to build a rapport with people over the telephone.

As a Clinical Advisor for ourNHS111 Service, you will assess the health and clinical needs of patients contacting the service and use critical thinking and clinical judgement to agree a course of action with patients using the NHS Pathways clinical triage system.

Job Summary:

This is an ideal role for someone looking for a new challenge and wanting to be part of an exciting team where your role makes a difference. We offer various working options to fit around personal commitments in particular evenings, weekends or overnights, full or part-time hours on fixed rota patterns with the opportunity to pick up extra shifts should you wish to do so.

Role Expectations:

You are keen on self-development and happy to receive feedback on your performance whilst having the opportunity to learn new skills. You must be a registered nurse, paramedic or other suitably qualified healthcare professional. (NMC, HCPC etc) with a minimum of 1 year front line experience and be able to:

Carry out complex clinical triage, providing assessment, advice and information to the patient
Utilise your professional judgement in referring callers to other agencies as appropriate
Respond to and assist call handlers in the management of critical situations.
LOCATION: CHENGDU (CHINA)
EMERGENCY DEPARTMENT NURSE
1. Work under the guidance of the director of the emergency department and the head nurse. ;
2. Seriously study various first-aid technical principles and operating procedures, and strengthen operational skills training;
3. Strictly implement the rules and regulations and operating procedures of the emergency room;
4. Seriously implement emergency medical orders and strictly implement the check-up system to prevent the occurrence of adverse events;
5. Proficiency in the nursing work of various dangerous, urgent and severe complications;
6. Strictly observe during the first aid process, understand the patient's reaction, and find out the problem in time or report it to the doctor;
7. Carefully observe the condition and make timely records;
8. Do a good job in first-aid knowledge and psychological care for patients;
9. Actively participate in various academic activities and improve the quality of first aid;
10. Do a good job in registering relevant materials.
Functional category: Nurse/Nursing Keyword: Three-year work experience WeChat sharing
Contact information
Working address: No. 2, Section 2, Jiefang Road, Jinniu District, Chengdu Map
company information
Our school was built in 1954. The traffic is very convenient. It is located at No. 2, Section 2, Jiefang North Road, Chengdu, Sichuan Province. The hospital is a non-profit national second-class general hospital owned by the whole people; provincial, municipal, district medical insurance and a number of commercial medical insurance institutions insured fixed-point medical contract units; medical teaching hospitals; baby-friendly hospitals.
The hospital is in the northern reform of Chengdu. On May 18, 2015, the whole company moved to No. 2, Section 2, Jiefang North Road, Jinniu District. The hospital is building a new hospital on the original site. The new hospital is three-story. After three years, the hospital will return the original site to No. 5, Xinghui East Road, Jinniu District, Chengdu.
The hospital has 300 beds, 44 senior professional and technical personnel, and 74 intermediate professional technicians. Open cardiovascular, neurological, tumor, digestive, respiratory, renal, endocrine and other internal medicine and liver, gallbladder, chest, brain, urinary, plastic surgery, general surgery, minimally invasive intervention, maternity, integrated Chinese and Western medicine, eyes, ears, nose , throat, oral, pediatric, skin and sexually transmitted diseases, testing, radiation, ultrasound, pathology, anesthesia and other professional departments.
The hospital has CT machine, large X-ray machine, blood purification instrument, real-time three-dimensional color ultrasound, dynamic ECG monitor, blood gas analyzer, fully automated analyzer, various endoscopes, endoscopes, prostate gasification and electric resectoscopes, etc. High-end technology and equipment.
LOCATION: NELLORE (INDIA)
AMBULANCE DRIVER
Competencies:
He must have good communication skills and humble approach to patients
He must have basic knowledge of vehicle Maintenance skills.
He must have the knowledge of roads and areas across the Bangalore city
He must have knowledge of reading the maps and travelling outstation to any part during the outstation calls
He must have a knowledge of using personal protective equipments in shifting a patient

Job Responsibilities:
He must have good driving skills of ambulances and other vehicles.
Responsible for the maintenance of Ambulance during the breakdown.
He must have to be well versed with the roads and areas across city and must be ready to travel outstation at any point of time
Identify strategic points where ambulance is placed in the city/ all local places in Bangalore.
To know how to handle the basic emergency situation under any circumstance.
Should never respond to any calls apart from the calls from the control room and should not allow any unauthorized personnel to travel in the ambulance
Responsible to keep the ambulance control informed about the whereabouts of the vehicle continuously
Responsible to carry all the relevant documents pertaining to vehicle and take care of them.
To know to use personnel protective equipments in transporting patients
To know to handle accident patients or other emergency cases in terms of shifting quickly to the hospital
To inform the ERP during any needle stick injury or comes in contact with any body fluids
To know to assist the nursing or paramedic in the best possible way.
He needs to maintain all vehicles neat and clean all the time.
Needs to be punctual in duties and prior information have to be given before taking leave.
Has to maintain the ambulance records daily during and after every call
Has to be helping hand to the emergency department during busy schedules
Has to be punctual, and must be ready for attend the duties during emergencies