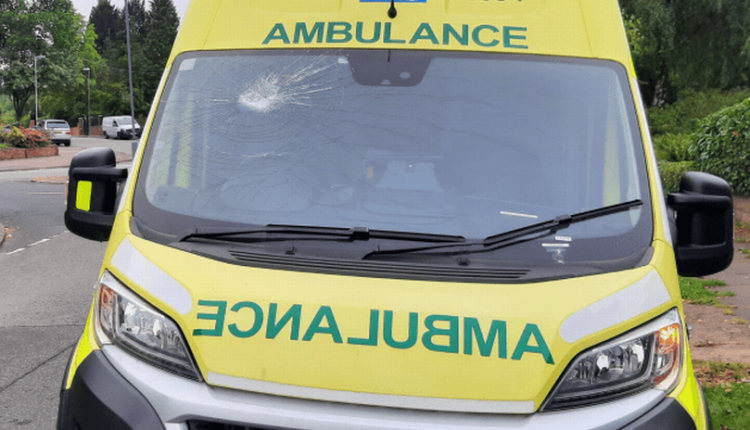 UK, object thrown at ambulance on emergency call out
UK / An ambulance crew on an emergency call for a patient with a suspected stroke had to pull over after an object was thrown through the vehicle's windscreen
The object damaged the vehicle's windscreen in Handsworth, Birmingham (UK), and an alternative ambulance was dispatched
It "delayed the response" to the patient by about 10 minutes, the West Midlands Ambulance Service said.
The incident on Worlds End Road on Saturday was captured on the vehicle's CCTV, which will be passed on to police.
THE BEST TRAINING AND ALL UPDATES FOR EMS PERSONNEL: VISIT THE DMC – DINAS MEDICAL CONSULTANTS BOOTH AT EMERGENCY EXPO
UK ambulance emergency operations director Nathan Hudson's dismay
"There is only one thing that an ambulance travelling on blue lights is doing and that is trying to get to a patient in need.
"Given where the damage is, I am just so glad that none of the crew were hurt. It doesn't bear thinking about, what could have happened."
He added the service would work with police to try and find and prosecute the person responsible.

(Foto West Midlands Ambulance Service WMA)
THE BEST HELICOPTER RESCUE EQUIPMENT? VISIT THE NORTHWALL STAND AT EMERGENCY EXPO
Read Also:
Quickly Finding – And Treating – The Cause Of A Stroke May Prevent More: New Guidelines
Emergency Museum, England: The Ambulance Heritage Society
UK, Smartphone Cameras Helping To Treat Ambulance Patients
UK, Ambulance Crews And Care Home Patients Must Be Vaccinated By 11 September
Source: