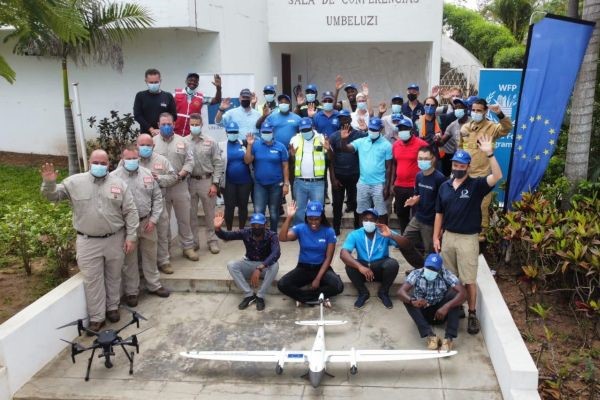 Mozambique, UN project to use drones for post-disaster search and rescue
Mozambique, drones in post-disaster search and rescue:the project developed an app for faster interpretation of drone images, enabling more effective locating of people in need of post-disaster assistance
The University of Portsmouth has been part of an international collaboration into the effectiveness of drones for post-disaster search and rescue missions in Mozambique
The experiment was run by the United Nation's World Food Programme and the UK Institute of Search and Technical Rescue, in conjunction with Mozambique's national disaster management agency (INGD).
The University of Portsmouth team, led by Professor Richard Teeuw, worked alongside teams from Mozambique, Canada, South Africa and Portugal, as well as a British International Search & Rescue (UK ISAR) team.
The experiment involved many types of drone – both fixed-wing and quadcopter – looking for targets on land and in water, with simultaneous flights over multiple sites.
For a situational overview of the drone test area, the Portsmouth team provided imagery from the European Space Agency's Sentinel-1 radar satellite and the PlanetScope micro-satellite constellation, as well as elevation data from the Japanese-American PALSAR radar satellite.
The University's Global Earth Model (GEM) group provided expertise in coding and Big Data analytics, to produce a prototype app for faster interpretation of drone images, enabling more effective locating of people in need of post-disaster assistance.
EQUIPMENT FOR CIVIL PROTECTION EMERGENCIES? VISIT THE SERAMAN STAND AT EMERGENCY EXPO

Use of drones in Mozambique, statements from protagonists

Professor Teeuw, from the University's Centre for Applied Geosciences, said: "This was one of the largest experiments ever conducted into the effectiveness of drones for wide-area searches.
The team were able to apply expertise developed during NERC-funded fieldwork into the impacts of Hurricane Maria in Dominica and research into coastal risk mapping carried out during the ongoing CommonSensing project, funded by the International Partnership Programme of the UK Space Agency."
Toby Meredith, from the University's Faculty of Creative and Cultural Industries, provided support for the drone experiment and the onsite World Food Programme media communications office.
He said: "Due to the size of the experiment, the logistics of deploying multiple drones was very complex.
The University team played a key role in the drone deployment and processing of the ensuing aerial photos, for over 30 drone flights."
Read Also:
Botswana, Drones To Deliver Essential And Emergency Medical Supplies
UK, Tests Complete: Tethered Drones To Aid Rescuers For Full View Of Scenarios
Germany, Test Of Cooperation Between Helicopters And Drones In Rescue Operations
Source: