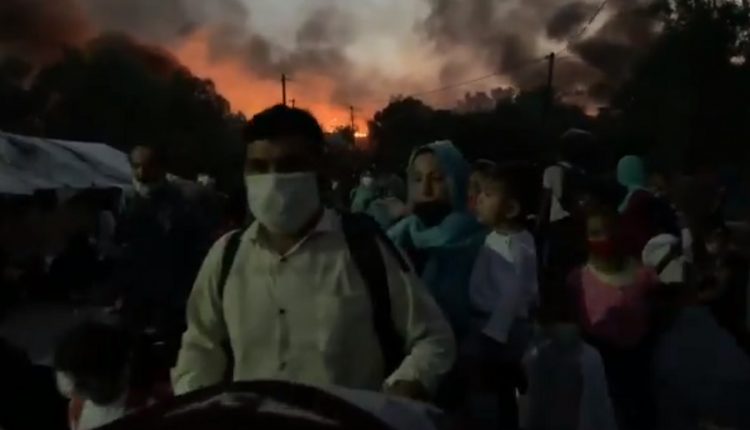 Refugee Camp in Lesbos on fire: gas tanks explode
In the refugee camp of Moria, in Lesbos (Greece), a new fire broke out after 6 p.m., possibly caused by the explosion of some gas tank used by the refugees to cook.
Reported by Der Spiegel on Twitter, the refugee camp of Lesbos is on fire again because of some gas tank that exploded.
Gas tank explosion: refugee camp devastated again
Meanwhile, the Minister of the Interior, Takis Theodorikakos, and the Minister of Immigration, Notis Mitarakis, announced at a press conference this afternoon that they have arranged three boats – including the Blue star ferry – to accommodate 3,500 people who were left homeless after a fire broke out last night and devastated the refugee camp on the island of Lesbos, which housed 13,000 thousand people.
Another 3,500, ministers added, will go to areas not affected by the flames or to centers identified by the authorities. As many as 400 unaccompanied minors will instead go to stay inland.
"No victims or missing persons have been reported," said Immigration Minister Mitarakis, according to which "the multiple fires" were set by asylum seekers in open protest with the quarantine imposed in the camp after some residents were positive to COVID-19.
Meanwhile, in Brussels, in front of the European Parliament headquarters, a sit-in was organized to protest against the conditions in which refugees and asylum seekers live in Moria. To organize the initiative, which aims "to invite the Commission, the Council and the Member States to take action to respond to the emergency in Moria, the largest refugee camp in Europe, and to put an end to the ongoing humanitarian crisis", two parliamentarians of German origin: Damian Boeselager, both from the Green Group and the European Free Alliance.
"12,000 people – denounced the two MEPs – have been forced for a long time to live in tents in appalling conditions, despite the camp's official capacity of 3,000 guests. This tragedy could have been avoided if the EU and the Member States had acted years ago," added the parliamentarians who then invited everyone to participate wearing anti-COVID masks and to respect the social distancing.
Fires in the Camp, Fire in nearby fields , teargas from police , hundreds who fled #moria are heading back . pic.twitter.com/0SsUj44jXE

— Giorgos Christides (@g_christides) September 9, 2020