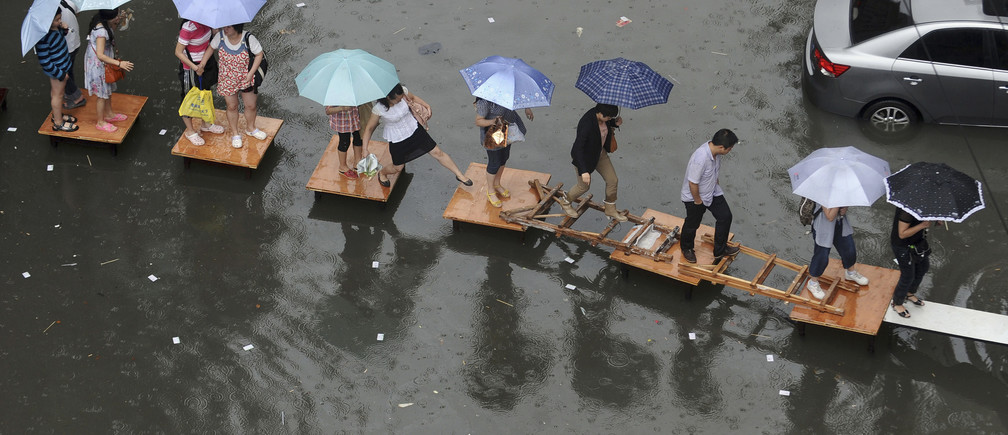 Disaster resilience: DRR to Support Sendai Framework Implementation
The global campaign for urban risk reduction has engaged over 3,300 resilient cities to know more, invest wisely and build more safely.
Cities that sign up share experience and know-how, and work to implement the Ten Essentials for Disaster Resilient Cities. 146 Korean cities and townships are currently participating.
Resilient cities: a great challenge
Cities are hubs for ideas, commerce, culture, science, productivity, social development and much more. At their best, cities have enabled people to advance socially and economically.
Yet now that half of the world's population live in cities, making sustainable and resilient cities – amidst a changing climate, rapidly depleting resources, and unplanned urbanization – is one of our greatest challenges and opportunities.
What is the role of technological innovations in disaster resilience?
Given that solutions to today's global challenges both require and benefit from technological innovations, there is a unique opportunity at the Korea International Safety & Security Expo (KINTEX) to showcase the Korean tech sector, which includes some of the world's leading innovators, as well as inspire broader Korean tech sector engagement in developing solutions for sustainable development, including disaster risk reduction and climate change adaptation – particularly in cities.
The aim is to:
engage Korean local government authorities and tech innovators to present key innovations in technology for disaster risk reduction
develop an understanding of urban disaster risk
spark innovation of technologies that may support solutions to preventing, mitigating and creating new risk
Urban risk reduction and technology: a strict link
Fast-paced tech developments have the potential to help the world rein in the impact of natural and human-induced hazards, notably when it comes to tackling urban risk.
This annual Korean Making Cities Resilient event, held at the annual K-Safety expo, drew 222 officials from 176 Korean cities for a special 'Tech for DRR' seminar in partnership with ICLEI, KAIST and POSTECH.
City officials learned about some of the current and future technologies to help address disaster risk
Tech innovators better understand challenges and opportunities to innovate for risk reduction
Connections among Korean cities and Korean technology and disaster institutes were established, as well as Korean cities with Hyogo Prefecture, Japan, Making Cities Resilient