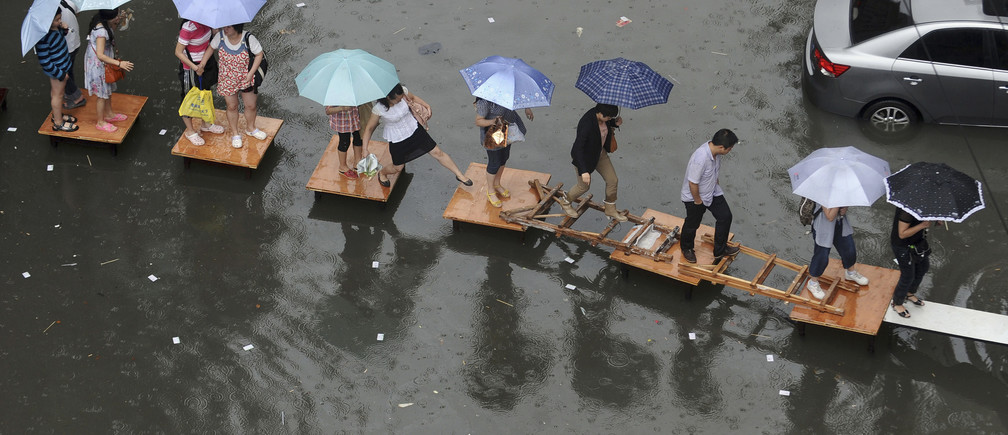 Urban Resilience - Resilient Cities Plug In to Technology for Response and Recovery
Here some ideas on how to make cities even smarter and resilience have been showcased. Recent natural disasters must be faced with a precise preparedness plan in each city to give populations even safer way of life.
At CES 2019, many ideas on how to make cities smarter have been launched. There is tremendous pressure on cities; by 2050, they are expected to provide for 70 per cent of the world's population. Already, 1.4 million people are moving to cities each week. Although this influx can fuel economic growth and cultural vibrancy, it can also strain cities' abilities to keep their residents safe, healthy and prosperous. In the wake of recent and repeated natural disasters and civic threats, there is a real sense of urgency to make cities more resilient and sustainable.
At the end of the article, you will find other links to preparedness tips in case of natural disasters.
The Paris-based Organisation for Economic Co-operation and Development (OECD) identifies resilient cities as ones with the ability to absorb, recover and prepare for future shocks that can vary from environmental, economic, social and institutional. Smart technologies are helping cities cope with these challenges with preparedness, responsiveness, and recovery for a more secure world.
"Over the last decade, successful businesses and governments have been guided by the principle of fostering
innovation," said Gary Shapiro, president, and CEO of the Consumer Technology Association (CTA)™. "Looking
ahead, resilience is the watchword of the future."
"Recent natural disasters—from floods to fires—as well as manmade tragedies remind us that we need to build preparedness and recovery into everything we do," Shapiro said. "We need technology that aids the continuity
of critical infrastructure and the ability to operationally bounce back—or keep going—during a crisis."
This is a philosophy embraced by the Smart Cities Council®, which educates and works with cities to help
them become more livable, workable and sustainable. In partnership with Qualcomm, the Council launched
the Readiness for Resilience Program to help areas devastated by natural disasters. The goal is to assist cities in rebuilding and becoming more resilient. The initial efforts are focusing on Puerto Rico, which was ravaged by Hurricane Maria, and communities in Texas that were impacted by Hurricane Harvey.
"The history of our country is a history of investing in infrastructure for the benefit of citizens—the transcontinental railroad, the power grid, the telephone system, and the internet are just some examples," said Jesse Berst, chairman of the Smart Cities Council. "Today, there is a huge opportunity to create smart cities projects that make our cities more resilient". Shapiro adds that by 2050, the majority of the world's
population will live in cities. "Now is the time to lay the groundwork for smart building and infrastructure," he writes in Ninja Future: Secrets to Success in the New World of Innovation. "This means building buildings with backup water and energy systems that harness the power of renewable energy sources.
It means investing in standardized emergency bridges, like those used in Haiti following 2016's Hurricane
Matthew, that can be quickly assembled with readymade, interchangeable pieces. And, it means developing
resilient internet systems built on decentralized, distributed networks that can preserve our data in the wake
of emergencies."
Creating a culture of responsiveness and resiliency
The U.S. Federal Emergency Management Association (FEMA) stated that as the 2017 calendar year came to a
close, more than 25 million Americans (nearly 8 percent of the U.S. population) had been affected by unprecedented disasters. "The range of disasters from flooding, hurricanes or wildfires and the significant losses didn't affect just one person or one family, the impact of these events is felt by us all," FEMA staff blogged.
"More than anything else, 2017 highlighted the need for the nation to change the way we prepare for and
mitigate against future hazards. We need to change the way we think and create a true culture of preparedness.
Investing in mitigation activities before the next disaster is the key to building a more resilient nation."
During times of crisis and natural disasters, how can cities best prepare for unknown outcomes, protect lives
and resources, and support community-wide recovery?
More than national or state governments, cities are often best positioned to help people recover from a crisis.
The United Nations Office for Disaster Risk Reduction (UNISDR) notes that city governments "are often the
first responders to citizens' needs (and complaints), provide basic services and oversight, engage in urban
development, and manage emergencies and disaster risk. Thus, they need knowledge, tools, capacities and
resources to act on these responsibilities. They need to understand how making cities resilient can help them deliver better on their many responsibilities. Local governments are often forgotten as targets by the national
and international community when policies are set and resources become available."
Technology can breach jurisdictional boundaries and silos to provide rapid response, coordinated communication and improved recovery. Some experts believe artificial intelligence (AI) could be a cornerstone for the future of smart—and resilient—cities.
How rapidly advancing technology is responding to crisis mode
Technology has fueled huge improvements in disaster response and recovery in just the past decade. The use
of mobile communications, geographic information systems (GIS) and thermal imaging for rescues has
become commonplace. And, although much of the focus is on weather-related and natural hazards, communities
have also invested in planning and new tools to deal with disruptive incidents of civil unrest, cyber threats, public health emergencies and acts of terrorism.
"Technology makes us more efficient in our responses," said Johnson County, Texas Emergency Management
Director Jamie Moore. "The key is figuring out how to utilize it most effectively. There's a lot of technology out
there, so it's finding the pieces that will work in your community that are affordable and then implementing
those pieces."
The emerging technology being developed for disaster response varies by governmental organization and need.
Here are some examples of current projects fueled by resilient creativity that provide a fascinating look at the
possibilities:
The U.S. Department of Energy is funding research and development of "advanced tools and controls" to improve the resilience and reliability of the nation's power grid. The Transmission Reliability Program is looking for ways to use big data, artificial intelligence, and machine learning technology to derive more value from the sensor data already being gathered and used to monitor the health of the grid and support system operations.
Disaster robotics has been with us for a while, from bomb-defusing robots to drones used to survey damages and map geological activity. But, the field is advancing rapidly. The Texas A&M Center for Robot-Assisted Search
and Rescue (CRASAR) has supplied robots for disasters including earthquakes, hurricanes and nuclear accidents. In 2018, a CRASAR team was dispatched to Hawaii to join the response effort at the Kilauea Volcano eruption. Using small unmanned aerial systems (sUAS) together with air-quality sensors, advanced imaging tools, and
GIS data for spatial analytics and mapping, the team provided real-time aerial views of the eruption. They
were able to identify a new fissure not visible from the ground, project the lava flow rate during the night when manned helicopters were not allowed to fly, and provide ongoing data collection from new thermal sensors technology.
The city of Miami used support through the Smart Cities Council Readiness Challenge to help with its Sea Level Rise Pilot Program to battle reoccurring flooding. The program, a collaboration with the Environmental Systems Research Institute (ESRI), is a high-tech approach that will integrate geographic information systems, 3D modeling, waterfront sensors and LIDAR (light detection and ranging data) to give the city information about its most vulnerable areas and provide timely flooding alerts.

READ MORE
resilient-cities-plug-in-to-technology

URBAN RESILIENCE – READ ALSO