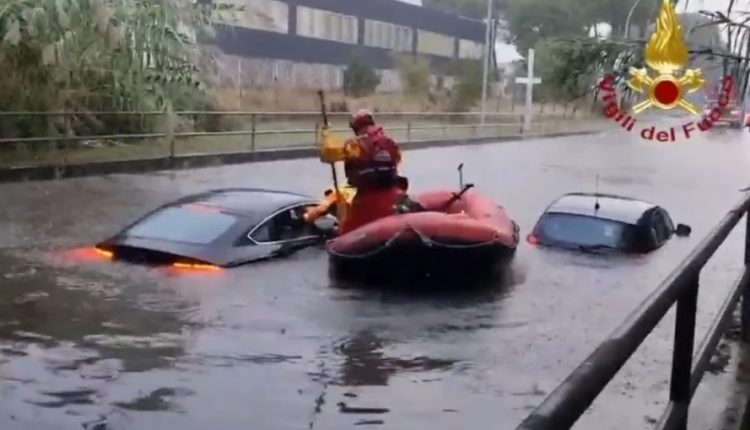 Italy, water bomb in Forlì: firefighters save two motorists
Yesterday morning, shortly before 8 a.m., a violent thunderstorm hit the city of Forlì. Several fire brigade interventions
SPECIAL VEHICLES FOR FIREFIGHTERS: VISIT THE ALLISON BOOTH AT EMERGENCY EXPO
A violent thunderstorm hit Forlì shortly before 8 a.m. this morning, causing flooding, including inside some schools, and disrupting traffic
The fire brigade was on the job with various teams.
In the area of via Niccolò Copernico, to the east of the city, river rescuers and three teams rescued two motorists stuck in a subway due to the rising water level, also using rubber dinghies and a crane truck.
The local police were also on site to close the road to traffic, and fortunately no injuries were reported.
In addition to the chaos created by the heavy rain, a car burst into flames and a traffic accident occurred on the ring road.
SETTING UP SPECIAL VEHICLES FOR THE FIRE BRIGADE: DISCOVER THE PROSPEED BOOTH AT THE EMERGENCY EXPO
In this case too, the Fire Brigade intervened with another team: four cars were involved with one injured person being rescued by the Romagna soccorso staff.
Finally, in Sant'Andrea, in the municipality of Forlimpopoli, a team was called out to deal with a fire in an electrical panel, presumably caused by lightning, while in Via Mondina in Forlì, another fire was caused by a broken gas pipe.
There were also several interventions to remove fallen trees and for flooding.
#Maltempo stamattina nell'area di #Forlì, con alcuni allagamenti e disagi per via della forte pioggia. Nella zona di via Niccolò Copernico soccorsi dai #vigilidelfuoco due automobilisti bloccati in un sottopasso #30settembre pic.twitter.com/EWNtF2iaJQ

— Vigili del Fuoco (@emergenzavvf) September 30, 2021
Read Also:
Firefighting Drones, Fire Drill In A High-Rise Building Of The Laixi Fire Department (Qingdao, China)
VR Immersive Simulation In Firefighter Training: A Study From Norway
Source: