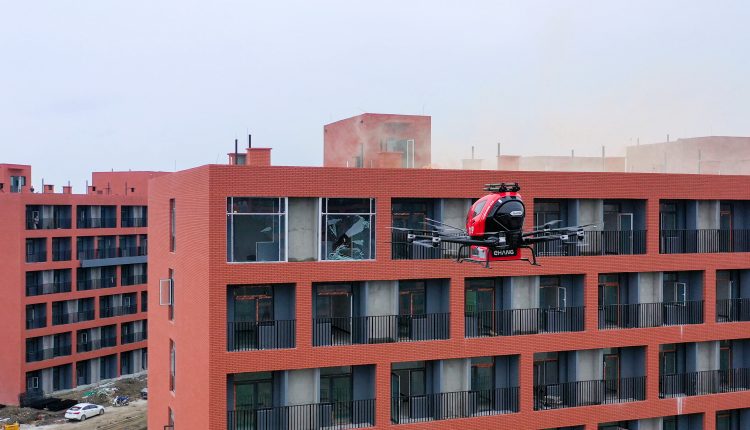 Firefighting drones, fire drill in a high-rise building of the Laixi Fire Department (Qingdao, China)
Firefighting drones, fire drill of Laixi Fire Department: EHang Holdings Limited, the world's leading autonomous aerial vehicle ("AAV") technology platform company, announced that EHang AAVs including EH216F (firefighting model), EH216 and Falcon B Series were utilized in the recent UAV fire rescue drill in Laixi City, Qingdao, in Shandong Province, China
Fire-fighting drones, first fire brigade exercise with AAVs in China
The AAVs were deployed to work with the local emergency management office, fire brigade, building and construction office and other departments to successfully complete fire and emergency rescue drills in a high-rise building with intelligent emergency rescue and aerial firefighting technologies.

Firefighting drones: the exercise replicated a multi-storey fire scenario on a construction site
The drill replicated a high-rise fire scenario on a construction site.
The Emergency Command Bureau of Laixi City quickly dispatched multiple EH216F, EH216, and EHang Falcon B Series to provide emergency air support.
The dispatched aircrafts successfully completed tasks such as fire detection, aerial broadcasting, airdropping emergency firefighting supplies, breaking high-rise windows and extinguishing fires, and rescuing trapped persons among other functions as solutions to critical pain points in urban high-rise firefighting and greatly improve emergency rescue and firefighting efficiency.
SPECIAL VEHICLES FOR FIREFIGHTERS: VISIT THE PROSPEED BOOTH AT EMERGENCY EXPO
This fire drill is based on the authentic lack of capabilities in local high-rise emergency rescue and firefighting forces, fully demonstrating the advantages of Firefighting drones in high-rise rescue
These certainly include overcoming space limitations, rapid response, remote monitoring, cluster management, multi-machine linking and incident avoidance.

Meanwhile, AAVs also supplements the UAV emergency rescue and firefighting force in Laixi City, Qingdao, helping to establish an efficient unified command, prompt response, and orderly coordination UAV emergency rescue and firefighting linkage mechanism.
This would provide more accuracy for more effective auxiliary decision-making in handling emergencies and improve the overall capabilities of urban emergency rescue and firefighting forces.
"The fire rescue drill in Laixi city, Qingdao, demonstrated the practical utilization of EHang to support smart city emergency response and firefighting management in air firefighting and rescue scenarios," said Mr. Huazhi Hu, Founder, Chairman and CEO of EHang.
"EHang provides a new solution based on our core AAV technologies for intelligent aerial fire emergency rescue through integrating multiple functions such as aerial fire detection, fire extinguishing, rescue, emergency and firefighting management, etc.
In the future, this can be expected as a fundamental element in building a lifeline for more urban high-rise firefighting scenarios and power the optimization of smart city emergency response and firefighting management systems."

Read Also:
Firefighting Drone: The New Intelligent Aerial Firefighting Solution
Fires And Drone Use, Google's Project For Rapid Emergency Response
Robotic Technologies In Forest Firefighting: Study On Drone Swarms For Fire Brigade Efficiency And Safety
Source: