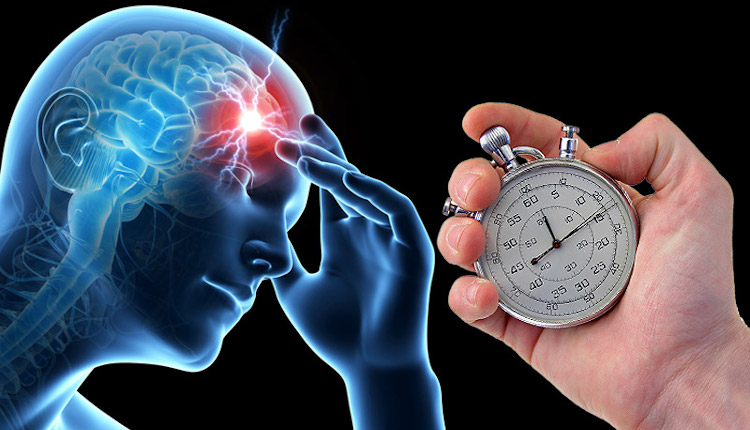 Cerebral stroke is a time-dependent disease, celebrating World Stroke Day on 29 October
Cerebral stroke: weakness on one side of the body, crooked mouth, difficulty in speaking or understanding (aphasia), less strength in moving an arm, a leg or both, double vision or reduced field of vision, violent and sudden headaches, onset of confusion, not being able to coordinate movements or balance: these symptoms, in whole or in part, indicate that it could be a stroke.
ONE IN FOUR PEOPLE WILL SUFFER A CEREBRAL STROKE IN THEIR LIFETIME
"The World Stroke Organization has decided to put the spotlight on the importance of early recognition of symptoms for the 2021 edition of World Stroke Day, with the theme 'Minutes can save lives', because when it comes to stroke, any loss of time can cause problems.
One in four people will suffer a stroke in their lifetime, but every minute is precious': just think that for every second you delay after a stroke, 32,000 neurons are burned and for every minute as many as 1.9 million,' says Andrea Vianello, new president of A.L.I.Ce. Italia Odv, the Association for the Fight against Brain Stroke.
Professor Mauro Silvestrini, president of the Italian Stroke Association (Isa) and head of the Neurological Clinic Ospedali Riuniti in Ancona, says that "stroke is a time-dependent pathology.
The positive results that can be obtained thanks to the available therapies (thrombolysis and mechanical thrombectomy) are closely linked to the early intervention.
It is therefore essential to recognise the symptoms as early as possible and to call 112 in order to be able to get to hospital quickly.
In this way we can expect to reduce not only the risk of mortality, but also to avoid particularly serious strokes, trying to limit future damage and above all the consequences of disability, very often disabling, caused by this disease".
WHAT TO DO IF CEREBRAL STROKE SYMPTOMS APPEAR
If even just one of the symptoms described above appears, it is necessary to call 112 (in those regions where the single emergency number is active) or 118 immediately, because it is essential that the person is taken as quickly as possible to hospitals, possibly with organised treatment centres, i.e. Neurovascular Units (Stroke Units).
These departments are highly specialised for the clinical-diagnostic-therapeutic framework and for the best management of the disease, from the acute phase to the early neuromotor and cognitive rehabilitation and the prevention of possible complications.
THE IMPORTANCE OF RAPID INTERVENTION IN THE PRESENCE OF A CEREBRAL STROKE

It is therefore necessary to implement all possible strategies to make citizens aware of the 'time factor', because the time window for intervention is enclosed within the first 4.5 – maximum 6 hours, even if a recent study published in the journal Stroke (Time to Endovascular Treatment and Outcomes in the Dawn Trial) points out, reporting numerous cases, that the space for effective intervention has now been extended up to 24 hours.
However, these are cases where brain damage is limited.
WHAT ARE THE RISK FACTORS FAVOURING THE ONSET
A.L.I.Ce. Italia Odv has always been involved in information campaigns to promote awareness of cerebral strokes and the risk factors that promote their onset, stressing that 80% of all episodes could be avoided, starting from the identification of conditions on which it is possible to intervene, thanks to appropriate changes in their lifestyle by adequately controlling the diseases that can cause it.
These include atrial fibrillation (AF), a cardiac arrhythmia that affects about 1 million people in Italy and is the cause of about 20% of ischemic strokes.
Professor Ciro Indolfi, president of the Italian Society of Cardiology, explains: "Those suffering from AF have a fourfold increase in the risk of thromboembolic stroke, which is generally very serious and disabling because the embolus that starts in the heart closes off larger arteries, causing ischemic damage to larger portions of the brain.
In fact, this form of stroke causes a 30% mortality within the first three months of the event and leaves disabling outcomes in at least 50% of patients'.
Read Also:
Stroke, A Small CT Scanner On Ambulances And Helicopters To Aid Rapid Diagnosis
Broken Heart Syndrome Is On The Rise: We Know Takotsubo Cardiomyopathy
Treatment On Mobile Stroke Units Give Patients Better Outcomes: Study In The New England Journal Of Medicine
Source: