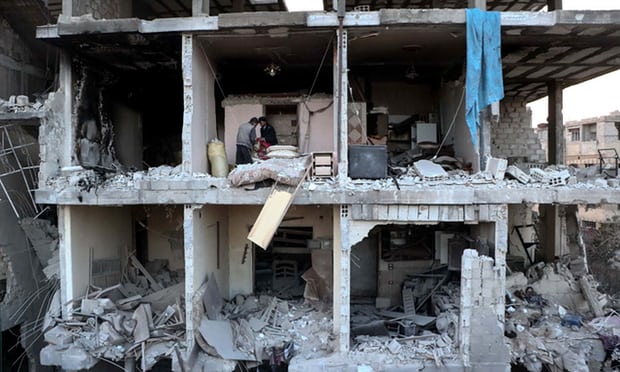 East Ghouta conflict - Doctors and nurses collapse as medical response reaches its limits
East Ghouta conflict – MSF calls for an immediate ceasefire to enable the basic human act of helping the sick and wounded Saturday, February 24, 2018 — MSF calls for an immediate ceasefire to enable the basic act of helping the sick and wounded.
Casualty numbers in Syria's besieged East Ghouta enclave are soaring as the capacity to provide healthcare is in its final throes, international medical humanitarian organization Médecins Sans Frontières/Doctors Without Borders (MSF) warned today.
Hospitals and clinics supported by MSF have seen more than 2,500 wounded and over 520 dead after just five days of intense bombing and shelling, from the evening of Sunday 18 to the evening of Friday 23 February. However, these figures are certainly an under-estimate, as the number of facilities who were able to report is decreasing, and many facilities in the area that MSF does not support have also received wounded and dead.
Yesterday, Friday 23 February, women and children represented 58 percent of the wounded and 48 percent of the deceased recorded by the 9 MSF-supported facilities that managed to report figures.
Over the same period 13 medical facilities, fully or partially supported by MSF, have been hit by bombs or shells. Medics in East Ghouta who were already pushed to the brink have been working now for six days straight, without a break, with no realistic hope of being able to adequately treat their patients in such extreme circumstances. MSF is calling for an immediate ceasefire to enable the basic human act of helping the sick and wounded.
"As a nurse who has worked through extremely grim conflicts, I am devastated to hear doctors and nurses in East Ghouta saying they have 100 wounded patients and no hospital because it has just been reduced to rubble by bombing," says Meinie Nicolai, General Director of MSF.
"There is a level of desperation and exhaustion that comes from working round the clock, finding no time to sleep, no time to eat, permanently surrounded by bombing, and simply being in the middle of absolute distress. Adrenaline can only keep you going for so long. If doctors and nurses collapse, humanity collapses. We must be determined to not let that happen."
On the third day of this offensive, the medics that MSF supports were calling for increased medical supplies. Now, after six days of incessant bombardment, they are saying that even with supplies they would have no physical capacity left to keep treating the wounded. They are calling for the bombing to stop.
As the war in Syria has increased in intensity, the frequent calls by MSF and others for International Humanitarian Law (IHL) to be respected have fallen on deaf ears. MSF is now adding specific plea: for the medics to be able to do their job the shelling and bombing by the Government of Syria and the armed opposition groups in East Ghouta must pause immediately – we call on the supporters of these belligerents to use their influence to alleviate this extreme situation.
With high numbers of medical facilities hit and damaged or destroyed, with roads for transferring patients either impassable because of bomb-rubble or from fear of bombing, with medical supplies limited or entirely lacking, and with extraordinary numbers of patients and exhausted medics, a humanitarian response is urgently required. MSF insists the following should be included in the response:
• pause the bombing and shelling to allow a reorganization of the medical response;
• allow medical evacuation of the most critical patients;
• allow independent humanitarian medical bodies to enter the area to provide hands-on assistance;
• provide a massive resupply of life-saving medicines and medical supplies; and
• ensure before, during and after any pause in fighting that civilian areas on both sides, including medical facilities, are not hit.
We call individually on the member states of the UN that are militarily engaged in Syria or are supporting warring parties in Syria to acknowledge their complicity in the unfolding medical catastrophe and to urgently exert their influence to alleviate this crisis.