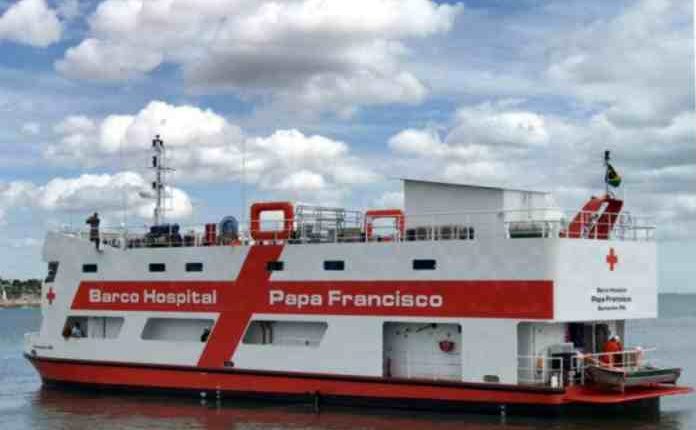 Emergency Extreme - The visit of Pope Francis ship in the heart of Amazon Forest
Pope Francis is not only the name of the current pope but also the name of a hospital ship with unique characteristics.
As you can imagine, the name 'Pope Francis' on the boat is a dedication to the current pope. On the other hand, it takes inspiration to the project, determined precisely by Francis Bergoglio, and to his effective help in donating an ultrasound scan.
Another characteristic concern the place where it sails: along the Amazon River, in order to reach the most remote villages, located in the Brazilian state of Parà, inhabited mostly by indigenous people.
Pope Francis: Where to?
The ship is part of an initiative of the Fraternità Francesco d'Assisi nella Provvidenza di Dio, who built two hospitals in the localities of Obidose and Juruti.
The Brazilian government financed the movements of the ship, which assigned to this project the profits due to collective moral damage refund that had to be paid by the companies Shell and Basf S.A.
Pope Francis hospital ship is 32 meters long and is equipped with diagnostic, treatment and hospitalization equipment. It provides treatment for different diseases, concerning ophthalmology, odontology, surgery, radiography, mammography, cardiology and those requiring laboratory analysis.
Born in the shipyards of Fortaleza, Pope Francis, if not travelling, is anchored at the port of Óbidos: between sections performed and sections planned, it will serve a potential basin of 700 thousand people, scattered in about 1,000 locations, travelling for one ten days for each mission.
A dozen people on board as crew and twenty among doctors and health personnel. Among them also the Italian members of "Mattoni di gioia", operating for many years in Brazil.
A third feature is also interesting: the Pope Francis ship is ideally prepared for telemedicine.
This is causing ongoing feedback between operators on board and colleagues from various hospitals, which is taking place. A will that increases skills (and consequently help the patient) significantly.
A wonderful initiative, don't you think? Facing such emergencies in such remote places. But there are many operators even a few steps away from us, who contribute to making in a wonderful way the daily life of those who have made Rescue and help their own key to existence.
READ ANOTHER ARTICLE OF OUR COLUMN "EMERGENCY EXTREME"
Emergency Extreme: fighting malaria outbreaks with drones