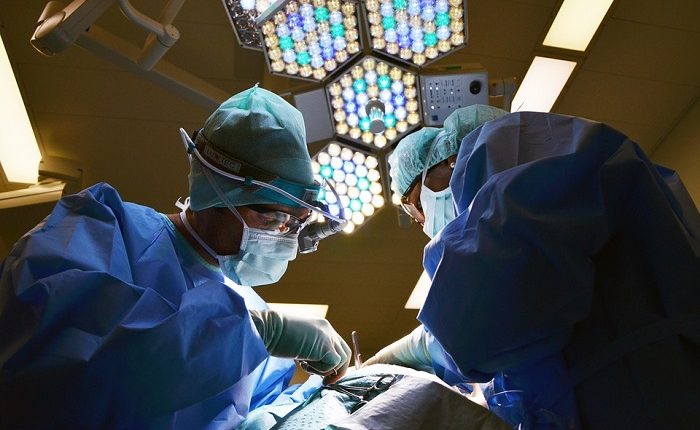 Titanium knee prosthesis from 3D printer: Gemelli receives world's first implant
3D titanium prostheses: the inventor of these revolutionary prostheses was Dr Ivan De Martino together with two other American colleagues, Dr Thomas Sculco and Dr Peter Sculco, with whom he worked for seven years in New York
A revolutionary new knee prosthesis made with a 3D printer has been implanted for the first time in the world at the Fondazione Policlinico Gemelli
The operation was carried out by Dr Ivan De Martino, inventor with two American colleagues of this innovative 'porous' (trabecular) titanium prosthesis, on a 49-year-old man who had developed a form of secondary arthrosis following a fracture of the tibial plateau caused by a car accident.
The Agostino Gemelli University Hospital said in a statement. Dr De Martino is only 38 years old and is a 'returning brain' in Italy after seven years in the USA.
"Arthrosis is a degenerative process of the articular cartilage,' explains Dr Ivan De Martino, orthopaedist at the Uoc of Orthopaedics and Traumatology of the Agostino Gemelli Irccs University Polyclinic Foundation, directed by Professor Giulio Maccauro, 'which we normally observe in the elderly.
The average age of those who have to undergo a hip or knee replacement is around 65-70 years, but today, with the increase in sporting activity and the consequent trauma to the meniscus or cruciate ligaments or due to joint fractures in youth, you can get the so-called secondary arthrosis, as early as 50 years".
Traditional knee replacement surgery involves the use of bone 'cement' (polymethyl methacrylate, PMMA) to anchor the prosthesis to the bone.
However, the cement can fail after 15-20 years and the prosthesis can 'come off the bone'.
This is why," explains Dr De Martino, "young people need to anchor their prostheses in a different way, and so new solutions have been developed: new-generation cementless prostheses, which are inserted directly into the bone, allowing the bone to adhere directly to them.
An attempt of this kind was already made some twenty years ago, but without success."
Dr De Martino continues: "The problems then have been overcome with modern technologies, such as cementless prostheses produced using a 3D printer"
"These solutions are suitable for young people, who have different needs from the elderly, including the need to return to certain types of sporting activities such as playing tennis or skiing; this involves different loads on the prosthesis, which is used more and for a longer period.
Here at Gemelli we were already at the forefront of knee prostheses in young people and now we are the first in the world to use one of these new innovative prostheses in humans.

On 29 April, we implanted the first 3D-printed titanium prosthesis in a 49-year-old patient with post-traumatic arthritis due to a fracture of the tibial plateau in a motorbike accident.
3D printers have already been tested for hip replacements; only recently has this technology been applied to cementless knee replacements
Today, with 3D printing," says Dr. De Martino, "it is possible to recreate in the laboratory a trabecular, porous structure, similar to that of bone; titanium can be 'printed' with a variable porosity and biomechanical properties very similar to bone, both in terms of macro- and micro-architecture; this allows the patient's bone to grow back inside this 'porous' (trabecular) titanium prosthesis and to better resist stresses.
The inventor of these revolutionary prostheses was Dr. De Martino himself, together with two other American colleagues, Dr. Thomas Sculco and Dr. Peter Sculco, with whom he worked for seven years in New York, at the Hospital for Special Surgery, a true temple of world orthopaedics (for 12 years it has been the first hospital in the world for orthopaedics, according to NewsWeek's ranking): it was here, in 1974, that the first modern knee prosthesis was born.
The idea of these 'porous' titanium prostheses," recalls Dr. De Martino, "began as a research project, through which we studied various solutions to establish the best distribution of the porosity of the titanium in the prosthesis.
The anchorage system of the new prosthesis is represented by two main taproots; however, where to place them topographically required a long study accompanied by computer simulations with mathematical models, which made us understand what the ideal topography was, which is then the one we chose for our prosthesis.
The new prosthesis was developed and marketed with an Italian company, Lima Corporate of Villanova San Daniele (Friuli), a world leader in 3D printing in orthopaedics and manufacturer of the world's first 3D printed hip prosthetic component in 2007.
The use of 3D printers has greatly improved the characteristics of implants and their adaptation to the host bone," explains Professor Giulio Maccauro, Director of the Uoc of Orthopaedics and Traumatology, "and these methods are currently used in major prosthetic revisions, in the field of oncology of the musculoskeletal system to allow the creation of implants that perfectly reproduce the bone removed for implant mobilisation or neoplasia.
More recently, they have also been used in traumatology to faithfully reproduce fractures before surgery, and to prepare and adapt the means of synthesis to be used in the operating theatre; finally, 3D printers are also used to make primary prosthetic implants, such as the one made by Drs De Martino and Sculco'.
Read Also: 
Philippines: Doctors Trained In Treatment Of Weapon-Wounded Patients
Tunisia, 3D Printed Bionic Hand: Grows As The Amputee Child Grows
Source: