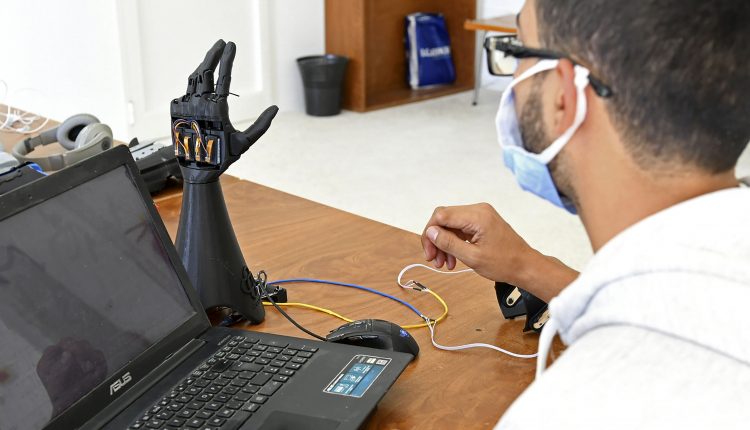 Tunisia, 3D printed bionic hand: grows as the amputee child grows
Tunisia, the startup Cure Bionics, by young Mohamed Dhaouafi, is developing a 3D printed solar-powered bionic hand for amputees in Africa. Composed of cubes similar to those of Lego, it grows by adapting to the physical growth of the child to which it is applied.
Mohamed Dhaouafi, founder and CEO of Cure Bionics, stressed: "Compared to what exists on the market, the prostheses we are developing are much smarter because we are trying to integrate machine learning into our algorithm to facilitate the recognition of the user's muscle signals.
It is also lighter because it is customizable through 3d printing".
Bionic Hand, a 100% Made in Tunisia project
Dhaouafi designed the prototype as an engineering student, and it is 100% Made in Tunisia.
"There are many challenges: administrative, legal, financial, especially in the medical and hardware sector.
There is also the aspect of importing components and difficulties in online payment – he said -.
These are the problems we encounter every day of our adventure.
I still decided to stay in Tunisia and develop Bionics.

It is more than a personal challenge because there are thousands of people around the world who need what we develop here.
Cure Bionics hopes to commercialize its first bionic hands within a few months, first in Tunisia and then in the rest of the continent.
The device works with sensors connected to the arm that detect muscle movement and software-assisted by artificial intelligence that interprets them to transmit instructions to the figures.
The hand itself has a wrist that can rotate sideways, a mechanical thumb, and fingers that bend at the joints in response to electronic impulses.
Read Also:
Coronavirus In Tunisia Face Masks Ready In 2 Minutes
Source: