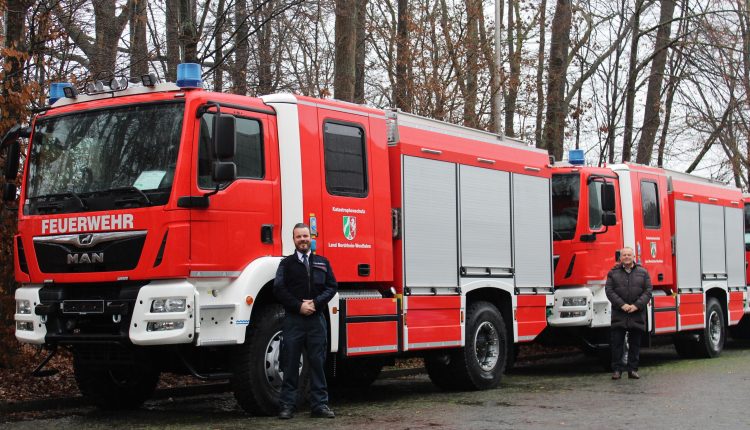 Firefighters - Civil Protection in North Rhine-Westphalia (Germany): Federal State Opts for MAN TGM with Allison Fully Automatic Transmission
Firefighters – Civil Protection in North Rhine-Westphalia (Germany): The federal state of North Rhine-Westphalia (NRW), Germany, has ordered 109 new LF 20-KatS fire-fighting vehicles on MAN TGM 18.340 chassis with Allison 3000 Series™ fully automatic transmissions.
A total of 38 vehicles have already been delivered to local fire departments, with another 30 scheduled for delivery by September 2021 and the rest to quickly follow. The Institut der Feuerwehr Nordrhein-Westfalen (IdF – fire brigade institute of North Rhine-Westphalia) in Münster had opted for this vehicle configuration to maximize driver control, comfort and economy.

Germany, the choice of the Institut der Feuerwehr Nordrhein-Westfalen fire brigade is Allison Trasmission
MÜNSTER, Germany, January 2021 – North Rhein-Westphalia is investing heavily in disaster management.
On behalf of the North Rhine-Westphalian Ministry of the Interior, the Institut der Feuerwehr NRW (IdF NRW), the largest German fire department training facility, has ordered 109 completely identical Magirus LF20-KatS vehicles on MAN TGM 18.340 BB 4×4 chassis, with Euro 6 emission standard and Allison 3000 Series™ fully automatic transmissions.
To date, this is the largest procurement project for firefighting vehicles in the state of North Rhine-Westphalia.
Due to the COVID-19 pandemic, delivery of the 109 MAN TGM vehicles to the local fire departments in the districts and independent cities in North Rhine-Westphalia has been delayed and is now expected to be completed by the end of 2022.

Germany, Teutonic fire brigade institute opts for fully automatic transmission
Rather than an automated manual transmission (AMT), the IdF NRW opted for fully automatic transmissions with a torque converter and continuous power to the wheels.
The decisive factors were improved acceleration and excellent off-road capability, reduced wear and, above all, the increase in driver control and comfort for the vehicle's nine-member crew.
"It is important to us that the overall configuration of this vehicle offers maximum safety for the crew. The smoother and safer the ride, the more confidence the crew has in the vehicle," said Chief Fire Officer Sebastian Datema, Deputy Head of the Department of Technology and Technical Service at the Institut der Feuerwehr NRW.
"We get very positive feedback from the local fire departments about the Allison fully automatic transmission.
The intelligent transmission logic thinks for itself and supports the driver both on- and off-road."

Fire brigade vehicles in Germany: MAN TGM 18.340 BB 4×4 with Magirus bodywork
The MAN TGM 18.340 BB 4×4 with Magirus body is driven by an Allison 3000 Series™ fully automatic transmission and a 6-cylinder diesel engine with Euro 6 emission standard.
The diesel engine has an output of 251 kW (340 PS) and can achieve a maximum speed of 100 km/h. The all-wheel drive provides off-road capability at any time.
The LF 20 KatS NRW is able to drive through water up to 90 cm and can maneuver at a tilt angle of up to 32 degrees, which also has a very positive effect on cornering. The water tank has a capacity of 1,000 liters.
The entire equipment exceeds standard specifications by far and has been adapted to the application scenarios encountered in North Rhine-Westphalia.
The LF20-KatS disaster control and civil protection vehicles must be ready for operation when everything else fails. They carry out tasks in case of nuclear, biological or chemical (NBC) threats and floods.
They provide emergency medical services and assistance and support for people. In addition, the vehicles are used for local fire protection in the communities.
"In recent years we have had an increase in incidents for which these powerful vehicles are needed," said Matthias Kalthöner, Government Fire Director and Head of the Technology and Technical Service Department at IdF NRW.
"These are, for example, supra-local assistance in so called large-scale operations and disasters such as floods, forest fires, severe weather conditions or NBC defense.
The vehicles are currently enjoying a high level of acceptance among local fire departments."

The Allison 3000 Series™ transmission was specifically designed for the emergency vehicles requirements
"We recommend fully automatic transmissions for these vehicles, especially since the fire services are largely run by volunteer
firefighters
," said Stephan Marker, Germany Market Development Manager at Allison Transmission.
"The easy maneuverability of the vehicles simplifies the work of the drivers.
They don't have to change gears and can focus fully on the job and the road, moving at speed.
Allison's patented torque converter multiplies engine torque during start-up and acceleration.
There is no interruption in traction during gear shifts but a seamless transfer of power to the wheels."
"With the series release of Allison transmissions, MAN has responded to the request of numerous fire departments for a drive configuration that offers outstanding performance, reliability and ease of operation in extremely challenging conditions," said Harald Rosenauer, Account Manager for MAN at Allison Transmission.
"Allison's torque converter transmission enables MAN engines to deliver full power shifts.
This enables the MAN TGM chassis to provide exceptional traction and acceleration for emergency vehicles."
Allison fully automatic transmissions have demonstrated exceptional reliability and robustness in the most demanding conditions and as a result are used by numerous firefighting fleets worldwide.
Read Also:
Germany, COVID-19 Did Not Stop The FLORIAN In Dresden: 10 Thousand Visitors For The Fire-Fighting Expo
EMS In New York, The Impact Of COVID-19 On Emergency Services 9-1-1: Study Supported By New York City Fire Department
COVID-19 Looms On Our 2021 Skip INTERSCHUTZ: Appointment At June 2022
Source: