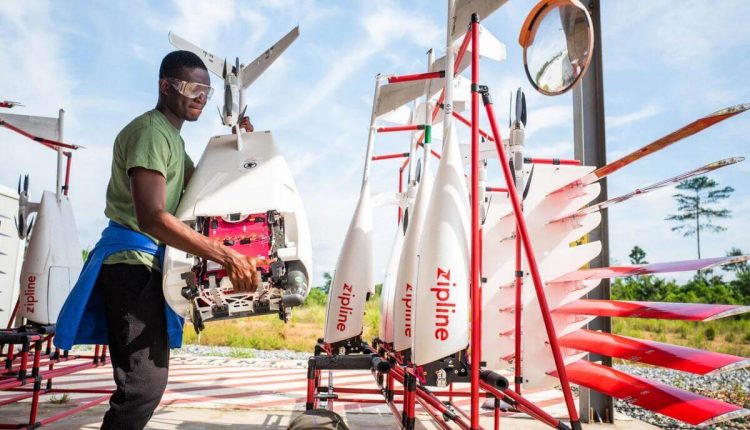 Nigeria: delivery of drugs and medical supplies to be carried out using Zipline drones
Zipline has announced a partnership with the government of Nigeria and the regional government of Bayelsa State for the establishment of drone-based medical delivery services in the region
The agreement covers the establishment of a new distribution hub in Bayelsa State which will be used for the operation of 24/7 drone logistical services delivering medicines, blood, and other medical equipment.
The distribution center will serve an area of around 20,000km2.
The service will be carried out using a fleet of Zipline's proprietary autonomous drones
The service will be operated using a fleet of Zipline's proprietary autonomous drones and will deliver supplies to a range of state-run healthcare facilities.
Under the arrangement, health workers will place orders by text message or call and should receive their delivery within an average time of 30 minutes.
The drones can carry 1.8kg of cargo at a cruise speed of 110km/h, with a circular trip range of 160km, and should substantially improve access to medical care in the region.
Bayelsa State spans the delta of the Niger river and contains several significant settlements which are almost or entirely surrounded by water and inaccessible by road.
Zipline: the announcement follows similar agreements in Nigeria and other African countries
Dr Pabara Newton Igwele, State Commissioner of Health, said: "This partnership is significant to us as it will complement our efforts in hitching up primary health care delivery services in Bayelsa.
There is no doubt that leveraging technology for medical delivery should be a game changer for even distribution of medical commodities."
The announcement follows the signing of similar agreements with other Nigerian states, including Kaduna and Cross River.
Zipline also signed an agreement in December 2021 to implement a similar system in fellow West African country Côte d'Ivoire

Complementing the agreement with Zipline, the Nigerian Ministry of Health has signed a separate agreement with a Zipline-led consortium which also includes DrugStoc, Health Spaces and Sterling Bank, which will ensure the continuous availability of medical supplies for distribution by the logistics operation.
Zipline partners with Magellan Rx Management to distribute medicines in North Carolina
Zipline also announced a partnership with Florida-based pharmacy benefits manager (PBM) Magellan Rx Management to deliver medication via Zipline's Kannapolis-based distribution center in the US state of North Carolina.
Magellan Rx, a subsidiary of Magellan Health, expects the service to begin operations this year, pending approval from the Federal Aviation Administration (FAA), and says that the option will initially be exclusive to customers in the North Carolina service area.
The service will be capable of serving customers within a 20,201km2 area, and will have an approximate delivery time of as little as 15 minutes.
"The team at Magellan Rx Management is thrilled to collaborate with Zipline and be the first PBM to deliver specialty and traditional medications via drone," said Mostafa Kamal, CEO at Magellan Rx Management.
"Reliable, on-demand deliveries with Zipline help us advance our existing consumer-centric approach where patients can get the critical medications they need delivered, on their time, when they need them, right to their own homes."
Read Also:
Mozambique, UN Project To Use Drones For Post-Disaster Search And Rescue
Botswana, Drones To Deliver Essential And Emergency Medical Supplies
UK, Tests Complete: Tethered Drones To Aid Rescuers For Full View Of Scenarios
Ivory Coast, Medical Supplies To Over 1,000 Health Facilities Thanks To Zipline Drones
Source: