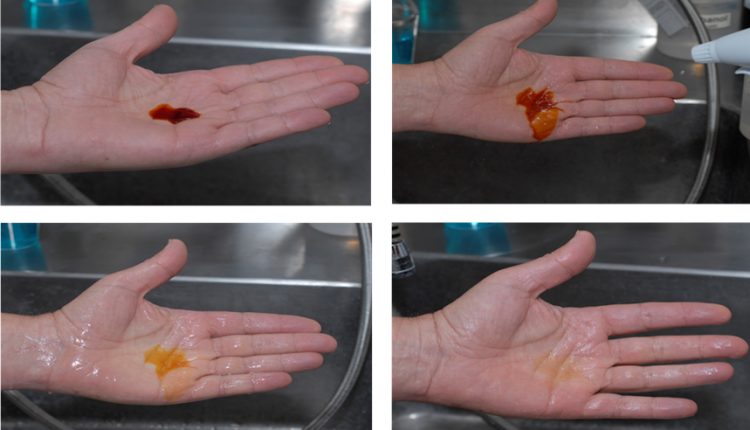 SkinNeutrAll®: Checkmate for skin-damaging and flammable substances
SkinNeutrAll® offers a solution to a problem that every rescuer must face. Chemical incidents, in fact, represent one of the most critical and dangerous emergency intervention scenarios.
The risk of injuries in the presence of skin-damaging chemicals is very high and requires special attention.
These are situations in which both the operator and the patient risk significant permanent damage, if not their own lives.
Precautions in such scenarios are never enough and are part of the training of rescuers.
Now, however, medical and civil protection interventions can benefit from a simple and innovative product that makes it easier to deal with chemical accidents: SkinNeutrAll®

SkinNeutrAll®, the solution in intervention scenarios involving chemicals or fire risk
SkinNeutrAll® is the new spray produced by Dr Martin Weber's ILMA BIOCHEM, which can help, simply and effectively, all those involved in a rescue theatre with chemical agents or fire risk.
A new-generation skin-spray appliable directly to the (non-wounded) skin, clothing or equipment and that, in just a few seconds, can neutralize numerous skin-damaging or caustic agents, rendering them harmless.
An example? Try spraying its solution on red elemental iodine: it will change into colourless, neutral iodide in just a few moments.

SkinNeutrAll® has effective results with countless chemicals such as: 
Hydrogen peroxide, chlorine, bromine, peracetic acid or other oxidising agents
Strong acids and alkalines, formaldehyde or phenols
Hydrofluoric acid and fluorides
Explosives
Organic solvents
Heavy metals
The winning feature of SkinNeutrAll® is its ease of use.
After inserting the two bottles into the dual-chamber nebulizer in the correct order, the spray is ready to use at all times and should thus be kept on hand in hazardous areas, first aid stations and ambulances.
It is also stable in warm industrial halls or vehicles at temperatures up to 35 °C until the expiry date.
SkinNeutrAll®  owes its effectiveness to these active ingredients: 
Ascorbic acid neutralises (via a redox reaction) strong oxidising substances such as hydrogen peroxide, elemental bromine, chlorine bleach, calcium hypochlorite, nitrous gases, nitrates and many others
Amino acid buffer for neutralising acids and alkalis such as sulphuric acid, caustic soda, nitric acid or hydrochloric acid
Amino acid glycine (part of the amino acid buffer) for binding formaldehyde as an imine, binding phenol as an amine and for complexing heavy metals
Calcium chloride for precipitating fluoride as insoluble calcium fluoride, thus also inactivating hydrofluoric acid, and for precipitating silver as insoluble silver chloride
In addition, polyethene glycol and glycerol as solubilizer for organic chemicals. As ascorbic acid is not stable with the other substances, a dual-chamber spray was necessary.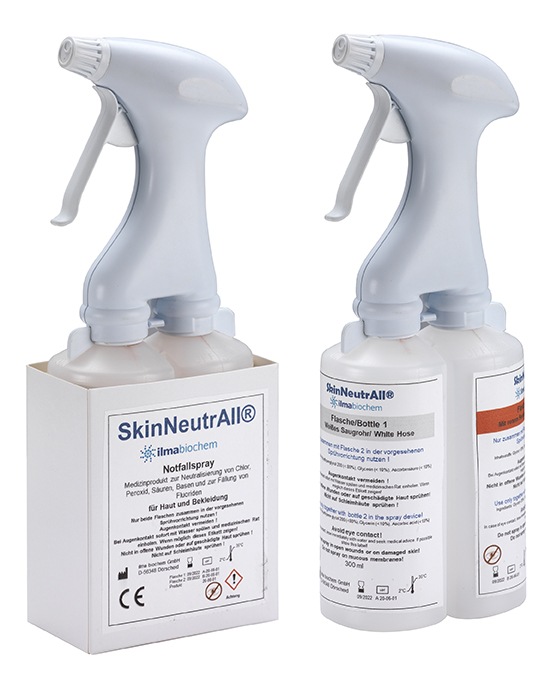 The spray is certified by the European Union, classified as a class I medical device (emergency kit for the prevention of skin damage) approved according to the requirements of EU Regulation 2017/745.
In addition, it has been registered with the German Federal Office for Drugs and Medical Devices under number 00149466. This registration is valid throughout the European Union.

One of its better features is that it has no undesirable skin allergies, and no irritating effects (dermatologically tested by Dermatest® in Münster and certified as a medical product for use on the skin throughout the EU, CE mark), provided the instructions for use are followed (application on the uninjured skin and exposure for no longer than one hour).
However, its strengths do not end there.
SkinNeutrAll® has many advantages: 
It neutralizes skin-damaging chemicals in seconds:
It can also be used with unknown chemicals. It means that the rescuer does not have to worry about this during the rescue hectic phases.
It requires no training for its use, and its use is not restricted to doctors and paramedics. However, we would like to remind you that every first responder should be supported in any medical device use.
The product is quality certified according to DIN EN ISO 13485:2016;
SkinNeutrAll® is reusable and stable until the end of the expiry date at a storage temperature up to 35 °C.
The expiration date is at least 2.5 years after arrival at the customer.
The spray has been scientifically reviewed in the magazine "Der Notarzt": Weber, M.; Deze, C-A.: Decontaminants for skin and clothing against toxic or corrosive transdermal chemicals, Der Notarzt 2017; 33(04): 155-15811.
A small but great quality innovation, then, the new product from Dr. Martin Weber's ILMA BIOCHEM, a truly important aid for every rescuer faced with major difficulties such as handling skin-damaging and dangerous substances. Its ease of use will certainly make it an indispensable tool in the backpack of every rescue worker.
Demonstration video SkinNeutrAll® 
Sources of supply for SkinNeutrAll®
Amazon
E-Mail: cbrn@schmitz-feuerwehr.de
E-Mail: info@dst-protect.de
Contact as reseller or customer:
Read also:
Women Scarred With Acid: What Should The Rescuer Do?
Patrick Hardison, The Story Of A Transplanted Face On A Firefighter With Burns
How To Manage A Prehospital Burn?
Source: