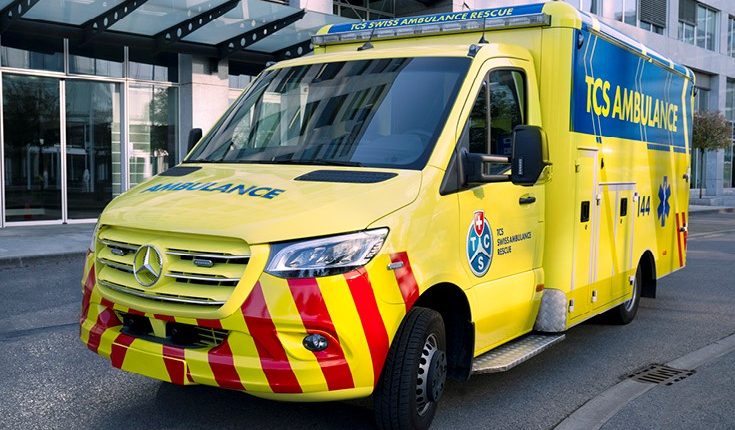 Switzerland, TCS Swiss Ambulance Rescue AG announced: Switzerland's largest private operator
TCS Swiss Ambulance Rescue AG, with its 162 employees, 38 vehicles and 38 bases, is the largest private provider of rescue and patient transport services in Switzerland
Switzerland's largest rescue and patient transport company founded: TCS Swiss Ambulance Rescue AG
Touring Club Switzerland (TCS) and the investment company Aevis Victoria yesterday announced the foundation of TCS Swiss Ambulance Rescue AG .
TCS acquired a majority stake in Swiss Ambulance Rescue Genève (SAR) a year ago.
Now, through the simultaneous acquisition of the companies Krankentransport Alpha Medic AG (KAM) and Unité de Secours Régional SA (USR), a group with a total of 162 employees, 38 vehicles and 10 logistics bases in the cantons of Geneva has been created.
Vaud, Zug, Aargau and Zurich are active.
TCS Swiss Ambulance Rescue AG is thus the largest private provider of rescue and patient transport services in Switzerland
Swiss Ambulance Rescue was formed in 2016 from the merger of Ambulances Odier and Ambulance Services.

TCS has been active in the medical field for more than 60 years and in particular carries out medical consultations and repatriations under the ETI protection letter.
Aevis Victoria invests in personal services and infrastructure. KAM was founded in 2018 with its head office in Baar (ZG) and locations in Zurich West, Zurich South and Rupperswil (AG).
USR has been active in the canton of Vaud since 1998 and has three operational offices in Lausanne (Centre and CHUV) and Villars-Ste-Croix.
Read Also:
Emergency Live Even More…Live: Download The New Free App Of Your Newspaper For IOS And Android
Civil Defence Ambulances: Swiss Made Vehicles Will Improve Safety
HEMS: Swiss Air-Rescue Rega Orders Nine Airbus H145 Five-Blade Aircraft
Source: