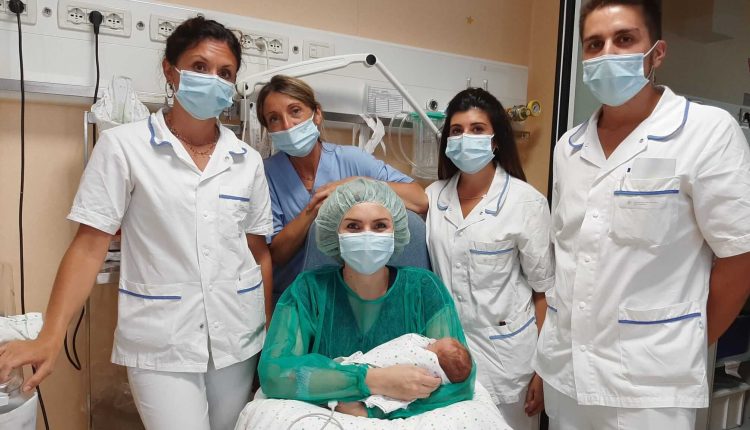 Caesarean section, then emergency intubation for Covid. And now the appeal: 'Get vaccinated'
Caesarean section, then emergency intubation: a 38-year-old woman from Bologna contracted the virus in her 33rd week of pregnancy, and only now that she has recovered has she been able to meet her baby
From the first symptoms to an unexpected Caesarean section – Claudia's time in just a few weeks
When she returned from holiday at the end of July, the first symptoms followed by the dreaded confirmation that she was Covid positive.
She then received remote medical assistance and stayed at home, where, however, within a few days she realised that she was not getting any better, indeed she was getting worse by the day.
Then the emergency hospitalisation and a new diagnosis, which confirmed her feelings, and attested to the worsening of the disease and a serious pneumonia.
A worrying condition, especially for her who, although healthy, was also 33 weeks pregnant at the time.
But, in the end, the misadventure of Claudia Pizzirani (38 years old from Bologna) ended with a great little happy ending.
Today, both she and little Matteo, who was born by caesarean section, are well and recovering peacefully at the Maggiore hospital.
The place "where a wonderful and extremely well-prepared team", says the new mother today, "saved my life and that of my son".
Because of pneumonia, Claudia had to be urgently intubated, but this was impossible until Matteo was born.

The doctors at the Maggiore Hospital therefore delivered the baby by caesarean section, before intubating Claudia
And yesterday, at last, the two were able to meet and spend their first happy hours together as mother and son.
Matteo now weighs more than two kilos, and "he just needs to grow a bit", says Claudia, but otherwise "he's fine, he's very well, and so am I, thanks to these wonderful doctors".
And now Claudia has an appeal for all women who are expecting a child: 'Get vaccinated. I wasn't fully informed and hadn't done it yet.
But now that I know how important it is, without wanting to frighten anyone, I say openly that it is essential, because it saves lives.

Read Also:
Maternal And Child Health, Pregnancy-Related Risks In Nigeria
Pregnancy: What Happens To Your Hair During And After Giving Birth? Expert Answers
Source: