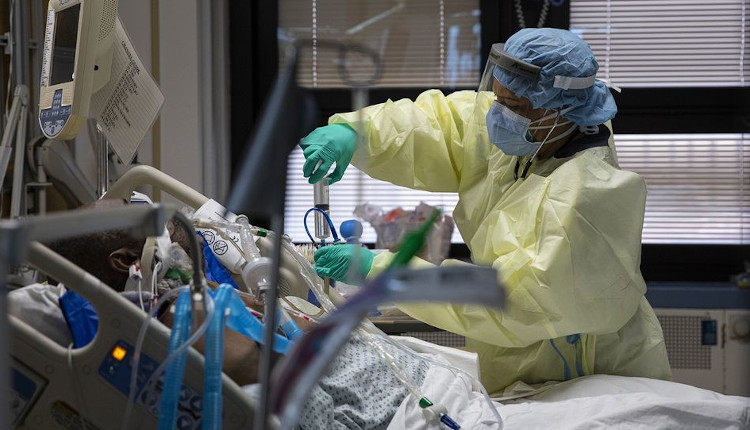 Covid, the anaesthetists' alarm: "Intensive therapies risk clogging up within a month"
Intensive care, the president of the Siaarti anaesthetists Antonino Giarratano: "With the arrival of the flu there is a risk of overcrowding of admissions. Politics should not wait for the arrival of the yellow zone to act. Go ahead with the third dose"
Reaching 10,000 new cases of people infected with Covid-19, with +95% of admissions and +8% of intensive care admissions are increasingly serious and important signs that we are now inside the "fourth wave" of the SARS-CoV2 pandemic.
"With these figures and this worrying trend, which falls in the autumn and winter period in which critical areas are already under pressure, within a month the hospital system of intensive care is dangerously at risk of becoming clogged up," says Professor Antonino Giarratano, president of the Italian Society of Anaesthesia, Analgesia, Resuscitation and Intensive Care-SIAARTI.
Anaesthetists sound the alarm on the occupation of intensive care units in Italy
"It must certainly be said that fortunately we are not in the dramatic situation we experienced last winter," adds Giarratano, "today we have vaccines that are defending the health of millions of Italians in an important way.
This means that today's in-patients are mainly people who have refused vaccination and others who – even if vaccinated – have particularly fragile conditions and high risk factors and are coming out of full coverage after ten months.
But this situation will soon be compounded by the seasonal flu, which causes around 8,000 deaths among the most frail patients and which will start to circulate in our country in the coming weeks, leading to a dangerous and probably unsustainable overcrowding of hospitalisations".
President Siaarti continues: "It needs to be repeated clearly: following admission to intensive care, patients have a 30-75% chance of dying.
We must avoid this type of admission as much as possible.
Our appeal as the Scientific Society of Anaesthesiologists-Reanimators, and therefore the professionals who more than anyone else have experienced and live the pandemic in the front line, is therefore clear and precise: we ask all Italians to get vaccinated and those vaccinated for more than six months to make the third dose – remembering that still some millions of Italians have not even done the first for different reasons, sometimes ideological, sometimes for fear – and to follow very carefully the rules of prevention, I refer to the use of masks and frequent hand disinfection.

We call on the government to take the necessary steps to increase social and health care, without waiting for the 'yellow' colour, which already means 15% more hospitalisations and new deaths.
The high number of admissions to intensive care units puts pressure on Italian anaesthetists and non-Covid admissions
"In the presence of increasingly high numbers of admissions, we will have to reserve intensive care beds for COVID-19 inpatients, thus reducing the number of beds available for chronic exacerbated patients, surgical patients including oncological patients, heart patients, polytraumatised patients, and all those with acute syndromes that compromise vital functions," the SIAARTI president recalls.
"We are all invested with the organisational, personal and social responsibility that this situation is avoided.
For this reason, we hope that decisions on the expansion of the vaccination campaign, including the third dose, will be speeded up throughout the country: we cannot afford today to undo all the immense work that, particularly in Italy, healthcare professionals and organisations on the ground have done so far.
We consider with great attention a worrying fact: with the intensive care units clogged up, next year we could be forced to the tragic count of many deaths among non-COVID-19 patients due to delayed or lack of care," concludes Giarratano.
Read Also:
When Drunken Bystanders Don't Want To Collaborate With EMS – The Difficult Treatment Of A Patient
Nurse's Appeal From Intensive Care: 'We're Exhausted, Use Your Heads'
Source: