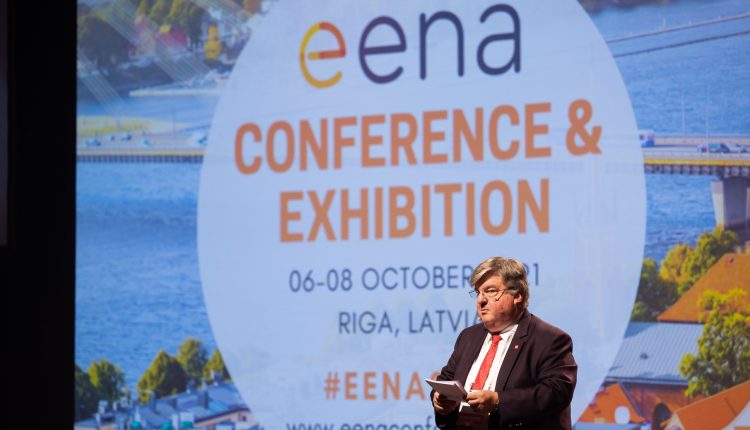 EENA Conference & Exhibition 2021: EENA's medal of honour for Distinguished Service during COVID-19
This year, we opened the  EENA Conference & Exhibition 2021   in a very special way. Emergency services officials from all over Europe were awarded with EENA's medal of honour for Distinguished Service during COVID-19 – a touching gesture that moved everyone
A minute of silence was held to mourn the victims of COVID-19, a disease that already decimated more than 4.5 million people around the world.
Among these tragic deaths, more than 115,000 were healthcare workers.
DO YOU WANT TO KNOW MORE ABOUT NUE 112? VISIT THE EUROPEAN EMERGENCY NUMBER ASSOCIATION STAND AT EMERGENCY EXPO

EENA Conference & Exhibition 2021, a tribute to rescuers and their spirit of sacrifice
After the most challenging of years for emergency services professionals, we wanted to pay a fitting tribute to all those who put their lives on the line to protect our health and wellbeing.
In a video recorded for the event, Ursula von der Leyen, President of the European Commission, joined EENA to show the European Commission's support and recognition to all those at the forefront of the fight against the virus.
"We Europeans owe so much to our emergency services. This year, even more than in the past.
Your entire life is a service to our communities, and I want our Union to be at your side.

Not just with gratitude but with policy and action. Thank you and congratulations on this well-deserved award" said President Von der Leyen.
The President of EENA, Demetrios Pyrros, reiterated the symbolism of handing these distinctions.
"Medals of honour are usually the government's highest and most prestigious decoration.
That's what you mean to us, and that's why we want to honour you because you are our modern-day heroes — the embodiment of courage, resilience and selflessness."

Read Also:
NUE 112, Everything You Need To Know About The Single European Emergency Number: Visit The EENA Booth At Emergency Expo
Emergencies And 112, EENA Meets Italian Firefighter Federico Brizio: The Interview
Source: