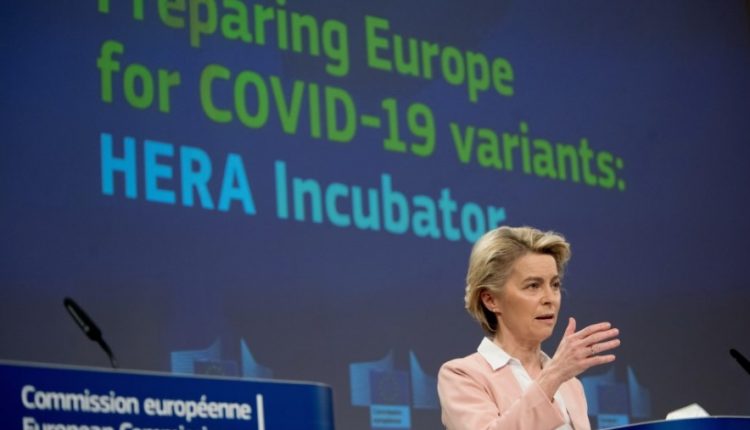 From 'Hera Incubator' to 'Health Emergency Agency': EU plan against Covid-19 variants
EU plan against COVID-19 variants: priorities include developing new 'ad hoc' tests, speeding up vaccine authorisation process and strengthening vaccine production
COVID-19 variants, EU plan:
It is called "Hera Incubator" and is "a new public-private cooperation involving researchers, biotech companies, industry and public authorities with the aim of identifying new variants" of Covid-19 "and providing organisational and financial support to develop new vaccines and adapt existing ones to the new variants of the virus".
This was announced by the President of the European Commission, Ursula von der Leyen, at the press conference presenting the new EU plan to combat variants of the new coronavirus.
Von der Leyen said that this was a crucial step because, as she explained, "the situation is evolving fast and today we have more and more cases of Covid linked to new variants that are multiplying and spreading in Europe and worldwide".
The Hera Incubator anti-variant strategy to tackle Covid-19 variants will become the new EU Health Emergency and Response Authority in the long term, she said.
Priorities include developing new 'ad hoc' tests, speeding up the vaccine authorisation process and strengthening vaccine production.
According to von der Leyen, the new European incubator aims to help EU countries identify variants by sequencing the virus genome of at least 5% of positive samples.
A network of 16 EU countries and five non-EU countries (including Switzerland and Israel) will be set up to test and exchange clinical information.
NOT ONLY VARIANTS. COVID-19 VACCINE, KYRIAKIDES (EU): READY FOR EMERGENCY APPROVALS
"We are ready to propose an emergency approval procedure for vaccines in Europe".
This was said today by EU Health Commissioner Stella Kyriakides during a press conference presenting the European strategy against Covid.

She pointed out that such a measure would require agreement and shared responsibility with national governments.
"In this regard, we need to assess whether it will be necessary to update existing agreements" with manufacturers "or to conclude new ones", she added.
Covid, Von Der Leyen: "Sputnik vaccine? Not on the table for now"
"As far as the Russian vaccine Sputnik is concerned, there is no question of it for the time being, since no authorisation has yet been requested from the European Medicines Agency (EMA) and they do not have any production facilities in Europe," she said.
This was clarified by the President of the European Commission Ursula Von der Leyen, responding to reporters' questions about the introduction of the Russian vaccine against Covids into the European single market.
Von der Leyen also expressed some concern about the Russian supply of vaccines: "We are wondering why Russia is offering other countries millions of doses if it has not yet sufficiently vaccinated its population," she concluded.
Read Also:
Ecdc, The European Centre In Favour Of The Vaccination Certificate
WHO – World Health Organisation Authorise Two Versions Of Oxford-Astrazeneca Vaccine
Source: