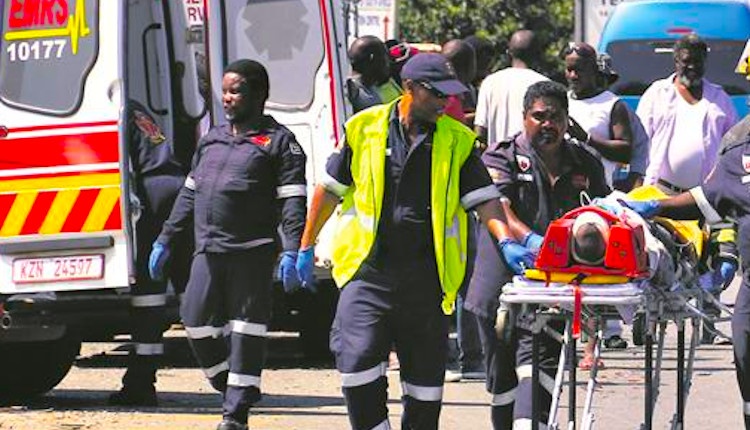 How to become a paramedic in South Africa? The Kwazulu Natal Health Department requirements
Paramedics are essential in emergency medical services (EMS) all over the world. In this sense, many young people aspire to become a paramedic and in South Africa, there are precise requirements, like anywhere else in the world, that is necessary to take this career.
When a person is not in a health facility and is living an emergency situation needs the intervention of a paramedic. It is essential to be trained and skilled to eventually treat him with the equipment on the ambulance and then, transport him to the nearest hospital. The Ministry of Health, Department of Kwazulu-Natal explains how to become a paramedic in South Africa.
How to become a paramedic in South Africa? The requirements
The Ministry of Health, Department of Kwazulu-Natal reports all the main functions that paramedics should do is to provide Emergency Medical Care to patients in the pre-hospital setting. Wherever the patient is, it is important to reach him/her out and provide the properly assisted transportation and treatment with the ambulance. This could be at the patient's house or workplace, in the street, or down an embankment.
However, paramedics should provide more than just simple first aid or care. They must also be caring and give confidence to their patients. During an emergency situation, the patient is almost always agitated and nervous. Paramedics must be absolutely calm and give psychological confrontation to the patients. The patient's care continues inside the ambulance and a paramedic must be trained also to be prepared for any case of reaction by the patient.
In order to become a paramedic, we must understand that it must not be seen as a "job" but as a calling. The non-technical skills required are:
Self-confidence
sociability
Physical health
Being caring
How to become a paramedic in South Africa? The levels
There are different procedures and levels for each paramedic, according to their qualification. These are currently different levels of care which paramedics in South African can perform.
Basic Life Support (short course)
A paramedic that provides Basic Medical Care interventions to patients in Emergencies provides BLS. This will include CPR, stopping of bleeding, helping women in labour and other non-invasive procedures. To become a paramedic with Basic Life Support you need Matric, Code 10 Drivers License and PrDp. To be qualified as a Basic Ambulance Attendant (a one month course) and be registered with the Health Professional Council of South Africa.
Intermediate Life Support (short course)
These practitioners provide Intermediate Medical Intervention including IV therapy (drips) Bronchodilators, Defibrillation (shock) & chest decompression etc. To become a paramedic with an Intermediate Life Support you need 1000 operational hours as BLS, pass the pre-course examination for entry into ILS course, then complete the four-month training course and register as ILS at the HPCSA. Plus all other requirements as for BAA.
Emergency care technician
You require to pass the two-years formal training. Part of the selection criteria for KZN EMS staff to attend the ECT course the staff must be an AEA and pass several other entrance exams, including a test paper and fitness test.
There is then followed with two years for formal training. The scope of practice of an ECT is only slightly less than of the advanced life support paramedics. The vision for is that ECT's replace the ILS as the mid-level worker in the EMS field.
Advanced Life Support Paramedic
In order to become an ALS paramedic, you need to be skilled in Advanced Airway Management, IV Drug Therapy up schedule 7 drugs, Advanced midwifery, Advanced Resuscitation, Aviation Medicine, Marine Medicine.
South African ALS paramedics are highly requested worldwide due to the nature of training and skills. However, there have been massive changes in the way paramedics are trained.
How to become a paramedic in South Africa? The different proficiencies
You have to know that, there is no longer registration of Basic ambulance assistants and Ambulance emergency Assistants/ ILS, with the HPCSA. These figures have been replaced with courses that are all NQF recognised and that can smoothly progress from one course to the other.
The courses to become a paramedic in South Africa:
ECA – Emergency Care Assistant
One year course.
Diploma in Emergency Medical Care
This will be a two-year course, or only one year if the ECO has been completed. 

Bachelor of health sciences
A four-year course provided at universities. It is level NQF8 and equips the paramedic with all the necessary skills to practice as advanced life support.
There is also some private college that started to provide training for the ECA and Diploma Emergency Medical Care courses and several universities currently offer a Bachelor of health sciences.
HPCSA accredited training institutions entry requirements to become a paramedic in South Africa
Of course, there are entry requirements to access HPCSA accredited training courses. The applicants with a national senior certificate with a higher certificate endorsement must have either 1 or 2 or 3 ratings.
All the applicants with a Senior Certificate (Prior to 2009) must have at least a minimum of an "E" on Higher Grade or a "D" on Standard Grade for all of the following subjects:
English
Mathematics
Biology and/or Physical Science
A Rate Code 3 (40%-49%) in the National Senior Certificate of at least for each of the following:
English
Mathematics
Life Sciences and/or Physical Sciences
Minimum pass of 60% in the National Certificate (Vocational) for all of the following subjects:
English
Mathematics
Life Sciences and/or Physical Sciences
Note: please consider that symbols/marks for the career achievement can change according to the college or university. KZN EMS only does in-house (for KZN EMS staff only) medical training at our college.
READ ALSO
Resources