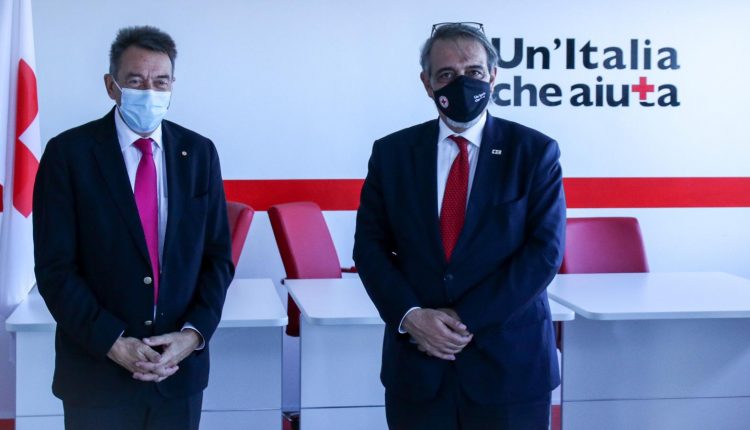 ICRC, President Peter Maurer visiting the Italian Red Cross: "proud to cooperate with CRI".
ICRC summits visiting Rome by the Italian Red Cross. ICRC President Peter Maurer, accompanied by ICRC President Francesco Rocca, visited the national headquarters.
The ICRC leader wanted to go to the CRI National Response Centre to talk to the operators who, since the first hours of the Covid emergency, have provided concrete and psychological support, with a peak of 13,000 calls per day in the months of lockdown.
ICRC, Peter Maurer's visit to the Rome office
The afternoon ended with an informal greeting at the Solferino Academy, a project of the International Federation of Red Cross and Red Crescent Societies and the Italian Red Cross, a tool of the International Movement to do training and research, create leads, and build a think tank of the humanitarian world.
Maurer praised the work of Italian volunteers, in particular the response to the Covid-19 pandemic: "Of the 192 National Red Cross and Red Crescent Societies, the CRI is undoubtedly at the top.
But there is no emergency that the Italian Red Cross, with the experience gained, can only deal with within the best possible way.
I think about how it has approached the migratory flows in recent years and how, in recent months, it has distinguished itself concerning activities to combat the virus.
We are proud, as ICRC, to cooperate with it and support it where necessary.
On the contrary, we want to draw inspiration and learn from the Italian Red Cross, which has created and exported good humanitarian practices all over the world".
The statements of Francesco Rocca:
"I would like to thank President Maurer for visiting the Italian Red Cross – I stressed Francesco Rocca – and for the praise, he has paid to the work of our volunteers and operators.
It makes us proud to think that we are considered international excellence and, above all, an example of good practices.
I wanted to remind the ICRC summit how our effort to fight the Coronavirus continues, daily.
Today we are witnessing the so-called "second pandemic", that of poverty.
That is why today's meeting is very important: we will overcome it only if the whole Movement makes a common effort. We must protect our communities and, at the same time, reach out to all the countries with the most fragile health systems.
Because the virus affects the most vulnerable twice over. And we must not leave anyone behind".
Read Also:
Migrants From Guatemala And Honduras Assisted By The Red Cross
Source: