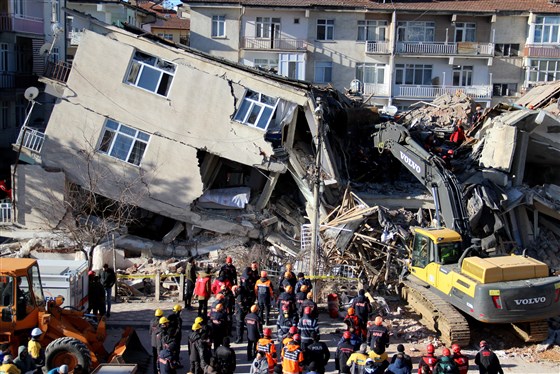 Powerful earthquake in Turkey: over 20 deaths and hundreds of injured
Earthquake in Turkey of 6.8 magnitude: at least 22 dead, more than 1,200 injured on friday everning.
Firday everning of January, 24 a powerful 6.8-magnitude earthquake in Turkey has shaken the ground of the Elazig province. Rescue workers of AFAD (Ministry of Interior Disaster and Emergency Management Presidency) are now in search for people buried under the rubble of collapsed buildings.
The dead toll now is 22, but the death toll could rise, Turkey's Health Minister Fahrettin Koca said. In this moment, around 42 people had been pulled out from under the rubble.
Another problem is now threatening the activities of rescue workers and will make even more difficult the management of survivors: the cold.
Tonight has been very cold as temperatures dropped below freezing. Rescue workers and other prople, with their hands, drills and mechanical diggers are trying to remove bricks and plaster from collapsed buildings in the city which has a population of around 300,000 people.
6.8-magnitude Earthquake in Turkey: the Turkish Red Crescent Action
As reported by the Relief Web, The Turkish Red Crescent Society (TRC) has been on alert from the very initial moments of the Earthquake. 105 disaster management experts including PSS staff were mobilized at the first stage and 22 vehicles including emergency response and communication vehicles and mobile catering units were sent to the affected area.
4 Mobile Kitchens with capacity to serve hot meal for 5K a day are on the way to affected area from Erzurum, Muş and Adana Regional Disaster Management Centers. In addition, local branches have been on alert and loading trucks with ready-to-eat packages. In total 2.500 tents, 14.000 blankets, 5.000 beds and 1.400 heaters have been mobilized to the disaster area from several neighboring TRC logistic centers.
AFAD: preparedness for disasters
In the end of 2019, the AFAD published the yearly emergency preparedness plan addressed to all citizens of Turkey. Here all the information.
What to do in case of emergency disaster? Be prepared. Discover how to prepare your emergency kit!