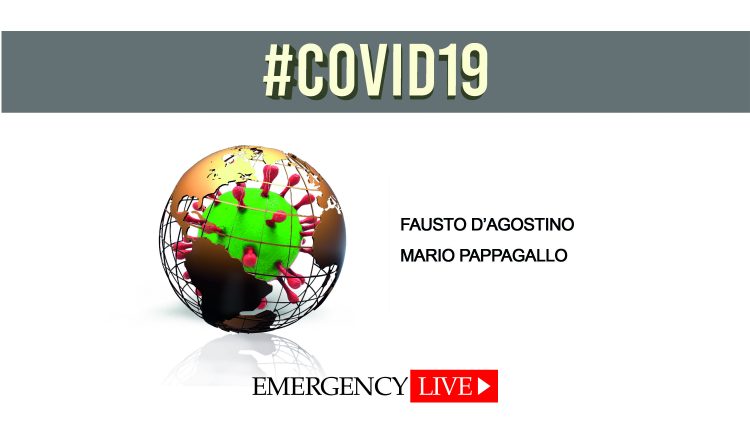 #COVID-19, the first Online Conference of Emergency Live on 18 July: new scenarios in Emergency Medicine
New Conference / Webinar on #COVID-19. The coronavirus disease spread has overwhelmed and disrupted every single field of daily life. From social relationships to the economy, from training to working environments. Nothing has remained unchanged.
#COVID-19, the Emergency Medicine webinar at the time of coronavirus
The entire world of Emergency Medicine, prehospital care and patient care, in general, has not been spared. It is perhaps superfluous to point out that these fields suffered deep changes in protocols and objectives.
Emergency Live has decided to organize an online symposium, inviting important personalities from the Italian emergency medicine and healthcare world. They will take their own peculiar experience and point of view on COVID-19 pandemic and how they had to modify the approach to the patient.
The hope of Emergency Live is that each reader could identify themselves in the topics discussed by the professionals involved. More generally, the whole group of professionals interviewed believes that #COVID-19 is a topic to solved in an exhaustive way.
From resuscitation management to legal protections for healthcare professionals, passing through the hospital and prehospital triage, we have chosen to discuss the impact COVID had on patient management in any part of the emergency flow.
The hosts, and "scientific directors" of the meeting, will be Dr Mario Pappagallo, doctor and journalist and Dr Fausto D'Agostino, authors of the book #COVID19.
Published by Edizioni Minerva Medica, Hashtag COVID19 is, in our opinion, the first real scientific text dedicated to health professionals who have to deal with the coronavirus pandemic.
#COVID-19, how to take part in our webinar dedicated to Emergency Medicine?
It's very simple, as simple will be asking questions to the speakers on specific topics you are most interested in: just fill in the form that you will find at the end of this article. The language of the entire webinar will be Italian, however, it will be possible to ask questions also in English and an interpreter will moderate for you the communication.
Emergency Live is proud to propose this event to its readers: it is our contribution to the scientific community and to the Emergency Medicine world, so intensely engaged in the fight against coronavirus.
#COVID-19 – SPEAKERS AND PROGRAMME
Saturday 18 July 2020, ore 3 pm – 6 pm (Rome GMT)
EMERGENCY LIVE #COVID19 MEETING 
PRESENTATION
Fausto D'Agostino , Scientific manager
INTRODUCTION
Mario Pappagallo, Medic and Journalist
HISTORY AND PHYLOGENY OF COVID-19
Massimo Ciccozzi, Associated Professor at Epidemiologic and Medical Statistic Unity Department, University "Campus Bio-Medico" in Rome
COVID-19 PATIENT RESUSCITATION MANAGEMENT

Fausto D'Agostino, Anesthetic and Resuscitation Department, University "Campus Bio-Medico" in Rome; Italian Ministry of Health; Director of ITC AHA "Medicine Education Center"
COVID-19: CAMPUS COVID CENTER EXPERIENCE
Felice Eugenio Agrò, Director of Campus COVID Center Intensive Care, Anaesthesia, Resuscitation and Intensive Care Professor at University "Campus Bio-Medico" in Rome
COVID-19 PATIENT MANAGEMENT IN PREHOSPITAL CARE SETTING
Pierfrancesco Fusco, Anesthetic and Resuscitation Department at San Salvatore Hospital. HEMS (prehospital care), L'Aquila
HOSPITAL AND PREHOSPITAL TRIAGE
Stefano Ramilli, UOC Emergency Department and Emergency Medicine, Maggiore Hospital in Bologna, 118 Prehospital emergency response system
COVID-19 PATIENT DIAGNOSIS
Carolina Carillo, Thoracic Surgery, Umberto I Policlinic in Rome
COVID-19 PATIENT AIRWAY MANAGEMENT
Stefano Ianni, Anesthetic and Resuscitation Department, Umberto I Policlinic in Rome
MINISTRY OF HEALTH ROLE
Lecce Maria Giuseppina, "4 DGPrevenzione" Office, Ministry of Health Italy – Headquarters
"GRAY-ZONE": COVID-19 OR NOT?
Ceccarelli Giancarlo, Public Health and Infective Diseases Department, "Sapienza" University in Rome
LEGAL PROTECTIONS FOR HEALTHCARE PRACTITIONERS
Michela Scafetta, barrister
ITALIAN SOCIETY IN TIMES OF CORONAVIRUS
Pacifici Noja Laura Elena, Associate Professor, UniCamillus University in Rome
READ MORE