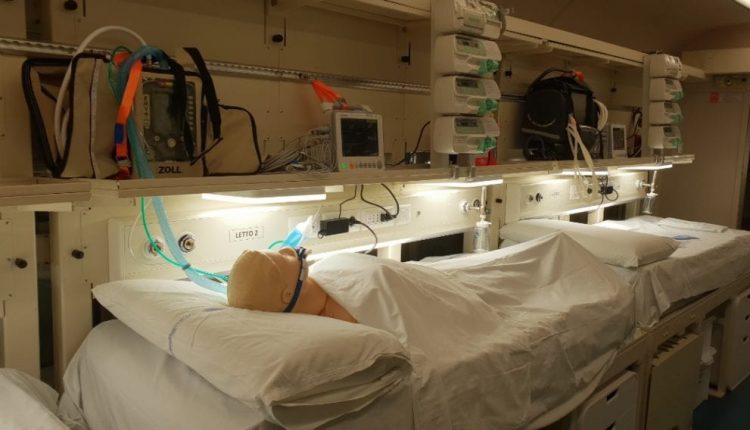 Italy, the 'ambulance train' inaugurated today: this is what medical transport by rail is all about
An "ambulance train" for the medical transport of patients by rail during disasters and emergencies, the Covid-19, was inaugurated today. The train was provided by FS
Ambulance train departs from Termini station (Rome): statements at today's inauguration
The adventure of the ambulance train, the convoy made available by the FS for the treatment and transport of patients during disasters and emergencies, starting with the current one linked to the management of the spread of Covid-19, begins in Rome.
The presentation took place this morning at Termini Station in the presence of Health Minister Roberto Speranza, FS CEO Gianfranco Battisti and the president of the Lazio Region and outgoing secretary of the Democratic Party, Nicola Zingaretti.
The train is equipped with dedicated medical staff in carriages fitted with specific medical equipment.
It contains 21 intensive care beds. On board there is a chief physician, a referral physician, five technical operators, six resuscitating anaesthetists and 18 nurses with expertise in intensive care.
A configuration that can be varied according to patient needs.

For the covid emergency, the ambulance train ensures a virus-proof environment
We are very pleased with this train, which we built in-house in our workshops in Voghera," explained Battisti.
We are very pleased with this train, which we made in-house, in our workshops in Voghera," explained Battisti.
"It is a train with 8 carriages for 21 patients, with all the necessary technology, but it will not necessarily be linked to the management of covid patients, but may be used for other emergencies throughout Italy and Europe, where there are no other examples of this type.

I spoke about it recently in France where they were positively surprised and were thinking of implementing something similar".
"For a more effective response we need to put together all the pieces of our country's system," Speranza added.
This train is an example.
The railway will be able to link up with our regional health service.
The train will be able to transport patients to other parts of Italy or abroad to relieve the pressure on the various hospitals.
But the morning also served to recall the new vaccination hub in front of Termini station, already presented last week, a structure equipped with 21 vaccination stations, including two dedicated to people with disabilities.
At full capacity, 1,500 vaccinations per day are planned.
Two projects by FS in collaboration with the Civil Protection, the Lazio Region, the Italian Red Cross and the Lombardy Regional Emergency Agency.
Read Also:
London Under COVID-19 Attack, NHS Sets Up Two Ambulance Buses: An Italian Idea In The UK
Source: