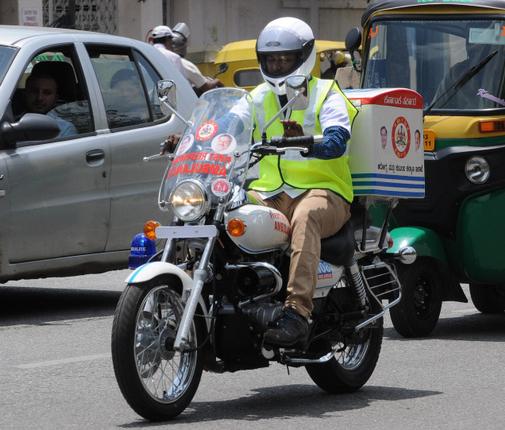 Bike ambulance service comes handy in emergency
HUBBALLI: In order to deal with emergency cases during road accidents and other incidents, the bike ambulance service was launched by authorities last week in the twin cities. And it's tasting some success.

Yallappa Madivalar, an emergency medical technician (EMT), said, "Recently I attended a call on PB Road, where a bike and autorickshaw had collided. I reached within 15 minutes of the call and treated the victims who had suffered minor injuries and suggested further treatment at KIMS."
Madivalar said people gathered at the spot appreciated the new life-saving bike ambulance, and welcomed the move of authorities to get closer to needy people during emergency. According to sources, after complaints of delay in the 108 ambulance and other problems, the well-equipped bike ambulance has come as a life-saver.
Guru Pradhan, emergency management executive (EME), said, "We receive one or two calls a day. Many people are not aware of such a service. We'll need a month or two to get bigger response. We are planning to conduct demonstrations in major circles such as KC Circle and also in schools and colleges. "We have requested the fire department to inform us during their educative programmes and demonstration programmes in the schools and colleges."
The bike ambulance is equipped with first-aid kit, life-saving drugs, testing machines for BP and sugar levels, suction kit and oxygen mask. The authorities have given training to the EMT who operate the bike ambulance. Each ambulance requires two well-trained personnel and the service work from 8am to 8pm.
Original source: The Times of India