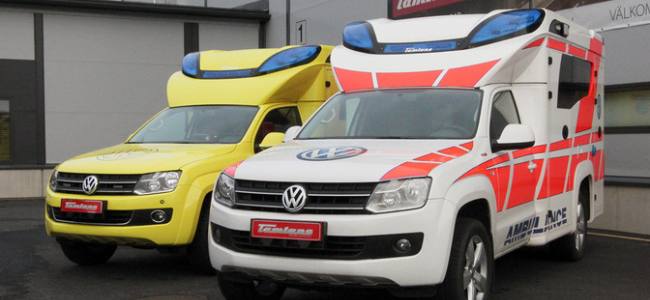 EMAS NHS preview: the next generation 4×4 Ambulance for UK
Ambulex is the UK exhibition exclusively targeting ambulances, ambulance support, accessible and community vehicles and related equipment. It attracts visitors from the public, private and volunteer transport fleet manager sectors, senior NHS Trust managers, community and accessible transport providers.In the 2014 edition there will be an interesting presentation of a new kind of ambulance. Amarok, EMAS NHS Trust and VCS will present a new 4×4 ambulance designed specifically for various tasks in the UK health Service.
The vehicle is based on an Amarok chassis which has an approved chassis extension which gives the correct internal longitudinal length needed for medical work to be carried out at the head end of the stretcher. The exterior body is designed by VCS partner company Tamlans
Mark Kerrigan "Technical Director" explains: "We have worked closely with East Midlands front line paramedic Staff and EMAS Head of Fleet Services to develop this specialised 4×4. It will operate in remote areas where accessibility for larger vehicles is troublesome and difficult to negotiate".
The Amarok Ambulance has full VW approval and has the ability to achieve full CEN compliancy requirements.

To see the new vehicle visit stand 76 at Ambulex.